When data is stored in on-premise software over long periods of time, there is always the increased risk of a costly data breach. Be it by accident or at the hands of a cyber-criminal or hacker, financial data is the most sensitive and sought-after information. However, there are steps that can be taken to mitigate the risk of a data breach; one of these being adopting a Cloud technology software solution which offers a significantly more secure cyber security option.
Digital storage requires stringent access policies, strong security, and clear visibility over your system to ensure compliance. Without these, a data breach becomes much more likely - and all the repercussions that come with it. We've researched a few of the most damaging breaches the UK has seen in recent years, all of which could have been reduced or even avoided with thorough implementation of cloud technologies.
So, what is the average cost of a data breach?
According to a report on the cost of data breaches, the global average cost of a breach is $4.24 million (£3.3 million) in 2021, a 9.85% increase on the previous year average of $3.86 million (£3.1 million). This of course demonstrates the potentially enormous cost of having an inadequate security system in place; a cost that many businesses cannot afford to pay.
Real-life examples of costly data breaches so far
Morrisons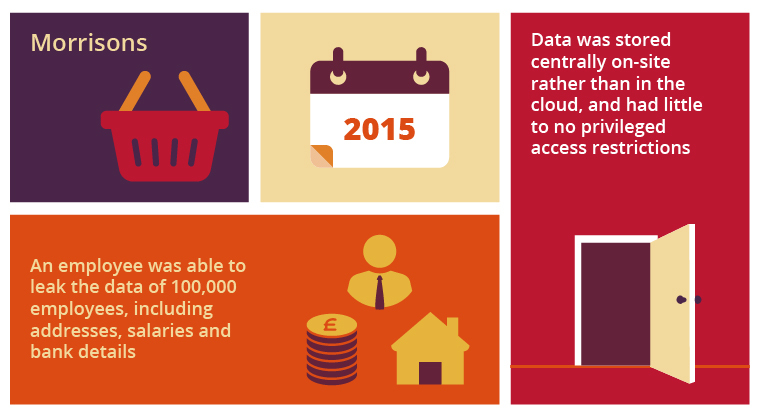 Dixons Carphone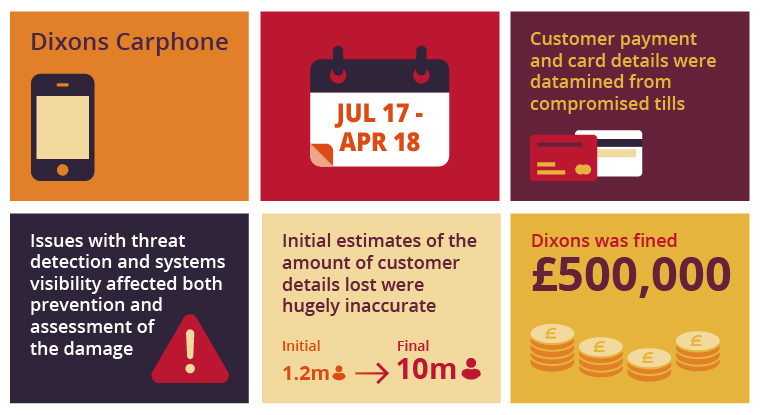 Virgin Media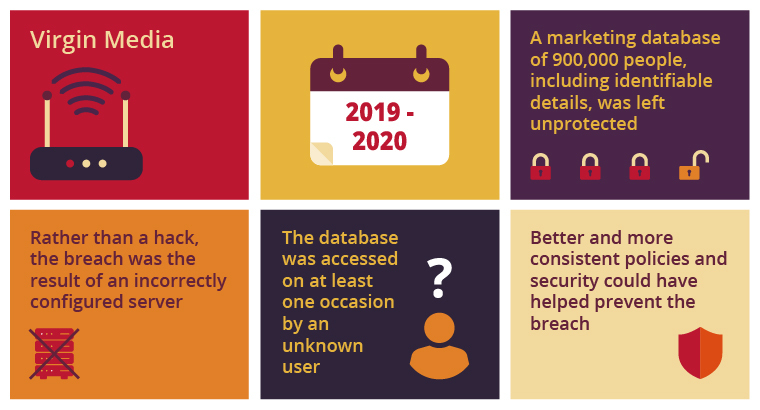 How can Cloud technology help security?
Data protection is something that organisations must take seriously. The law demands it, and customers expect it. Employees also trust their employer to protect their own sensitive data around their HR record, bank details and personal information.
Dixons Carphone was fined £500,000 for a data breach that allowed a cybercriminal to install malicious software in 5,390 tills in retail stores. But the fine could have been much higher if the breach had occurred a few months later and fallen under the regulation of GDPR.
The 2014 merging of Dixons Retail and Carphone Warehouse may well have meant that the business was operating a host of legacy systems that were vulnerable to being unpatched or unprotected. This highlights the difficulties of updating and securing legacy systems when dealing with so much sensitive customer data.
But how could this have been prevented? The most sensible precaution might have been to implement a full migration to a contemporary Cloud-based system that was built for purpose. Digital solutions are designed to enable regular updating, security monitoring and remain compliant with legislation and regulations, even as they change.
The consequences of using inadequate data protection systems highlight the need for solutions that use encryption, with data stored across highly secured Cloud-based servers. The operators of these servers invest heavily in constantly monitoring and challenging their own systems to stay one step ahead of cybercriminals.
Unlike traditional IT security systems, Cloud-based security provides access to infrastructure on-demand. As part of this Infrastructure-as-a-Service (IaaS) model, your data is moved to off-site servers that are managed by a third party. Using it, your company can access the hardware, software, and other infrastructure it needs to run its daily operations.
Cloud security consists of a set of policies, procedures, controls, and technologies that work together to provide protection for cloud-based systems, data, and infrastructure. These measures are configured to protect data, conform to regulatory compliance and ensure customer privacy, as well as setting authentication requirements for individual users and devices.
The finance function is increasingly vulnerable to cyberattacks in the current cybersecurity environment. This means that the reactive, traditional IT measures of the past are no longer sufficient. As finance teams continue to rely on technology to conduct their day-to-day tasks, keeping the organisation safe from hacks, exploits, and breaches will require Cloud security tools.
Advanced Financials Cloud accounting software is based on Amazon Web Services (AWS), one of the world's most trusted Cloud platforms. It provides 24/7 system availability, full disaster recovery and 99.5 percent product uptime, for maximum customer confidence.