ADVANCED PAYROLL
Payroll software that conquers your payroll processes
Say Yes to transforming the way you run payroll and ensure accuracy and compliance throughout each and every pay cycle with Advanced's HMRC recognised payroll software. Gross-to-net calculations for 10,000 employees in less than 20 seconds.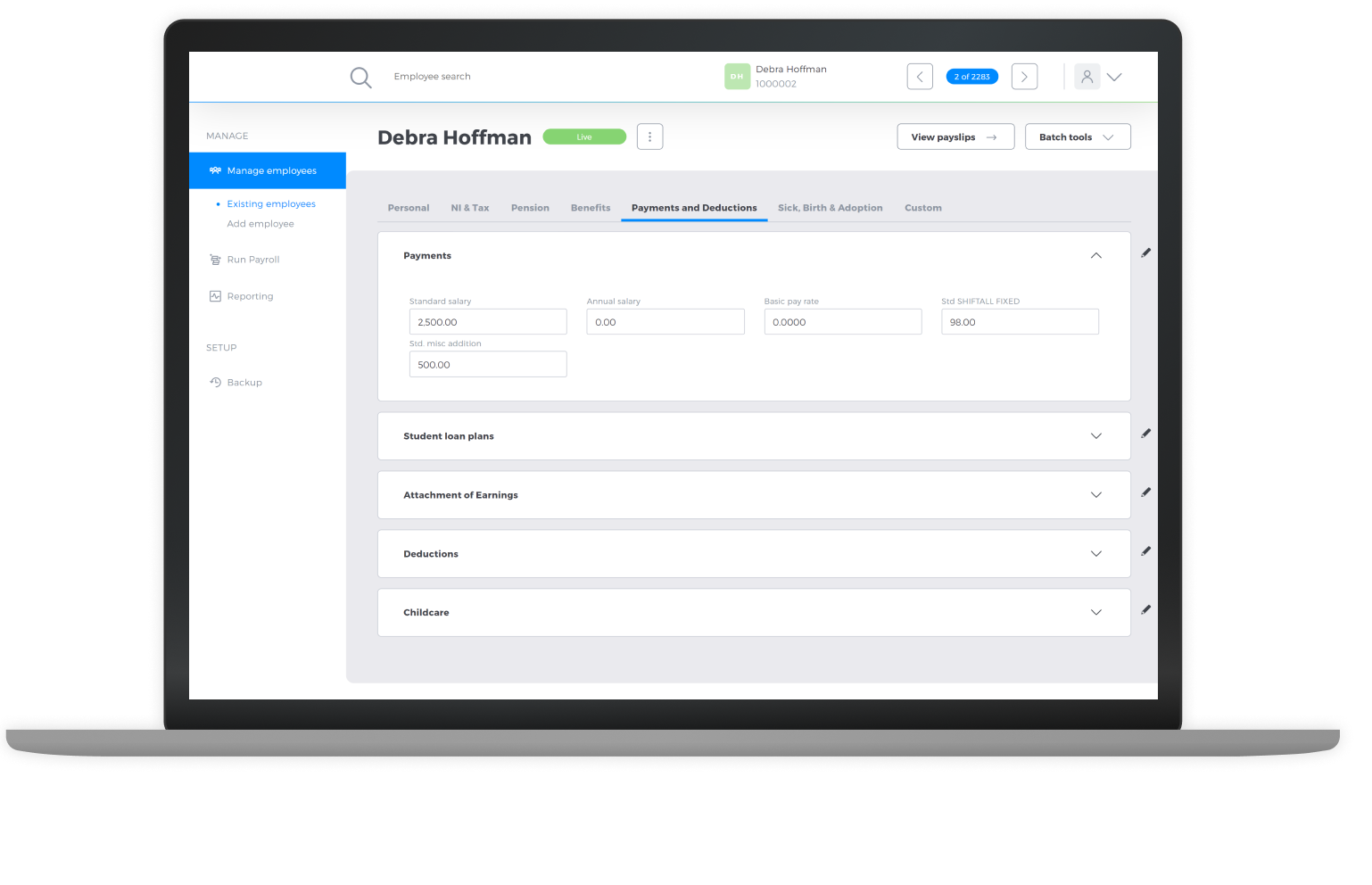 Trusted by over 3,500 organisations in the UK
to pay their people correctly
Case Study

Find out how McCain benefit from a reliable and flexible payroll system, alongside an excellent customer experience and support.
Case Study

Find out how Yearsley Food save time on creating and populating reports and spend more time on their daily duties.
What Advanced Payroll can do for you
Fast and compliant
Say goodbye to waiting for payroll to run and be confident in meeting your compliance requirements. Advanced Payroll delivers instant payroll with gross-to-net calculations for 10,000 employees in less than 20 seconds.
Flexibility
Save hours of time by tailoring your payroll set-up to your specific organisation's requirements. Whether it's number of employees, complexity of salaries, bonuses or multiple sites, on-premise or Cloud-based payroll, we've got you covered.
Pay on demand
Our pay on demand feature was built to accommodate for employees who need advance access to their earned wage. It helps your people to better budget their finances and promotes healthy financial wellbeing, at no extra cost to your business.
Powerful Reporting
Advanced Payroll offers in-depth and flexible reporting features that allow you to take control of your costs and provide insights into your spending, enabling your organisation to make better decisions, anytime, anywhere.
In-house or bureau
Our payroll solutions can handle single or multi-company payrolls, making it the go-to-software for bureau, accountants and in-house teams.
Seamless integration
Seamless integration with our HR and Time and Attendance solutions ensure you have the complete Workforce Management solution, with all the information you need in one place.
We take the pain out of your payroll
Payroll inaccuracies caused by human error
Manual processes are error-prone as there is no built-in mechanism to prevent mistakes. The smallest change to employee's information becomes subject to payroll inaccuracy.
Supporting financial wellbeing
It is estimated that employee financial problems cost businesses 4% of productivity. Your payroll is the ideal foundation for driving forward positive action for employee financial wellbeing.
Burden of constant payroll legislation changes
Payroll teams must stay up to date with the demands of ever-changing employment and payroll legislation to ensure their payroll stays compliant and accurate.
Lack of reporting capabilities
Salaries are often a company's biggest cost, meaning it's vital for finance teams to be able to report and analyse payroll data and its impact on the bottom line.
Say yes to quick-as-a-flash-payroll
Want to see Advanced Payroll software in action? Get in touch to schedule a demo using the button below now.