NETDOCUMENTS
Document Management
Powerful collateral management that boosts performance and lets you work securely, anytime, anywhere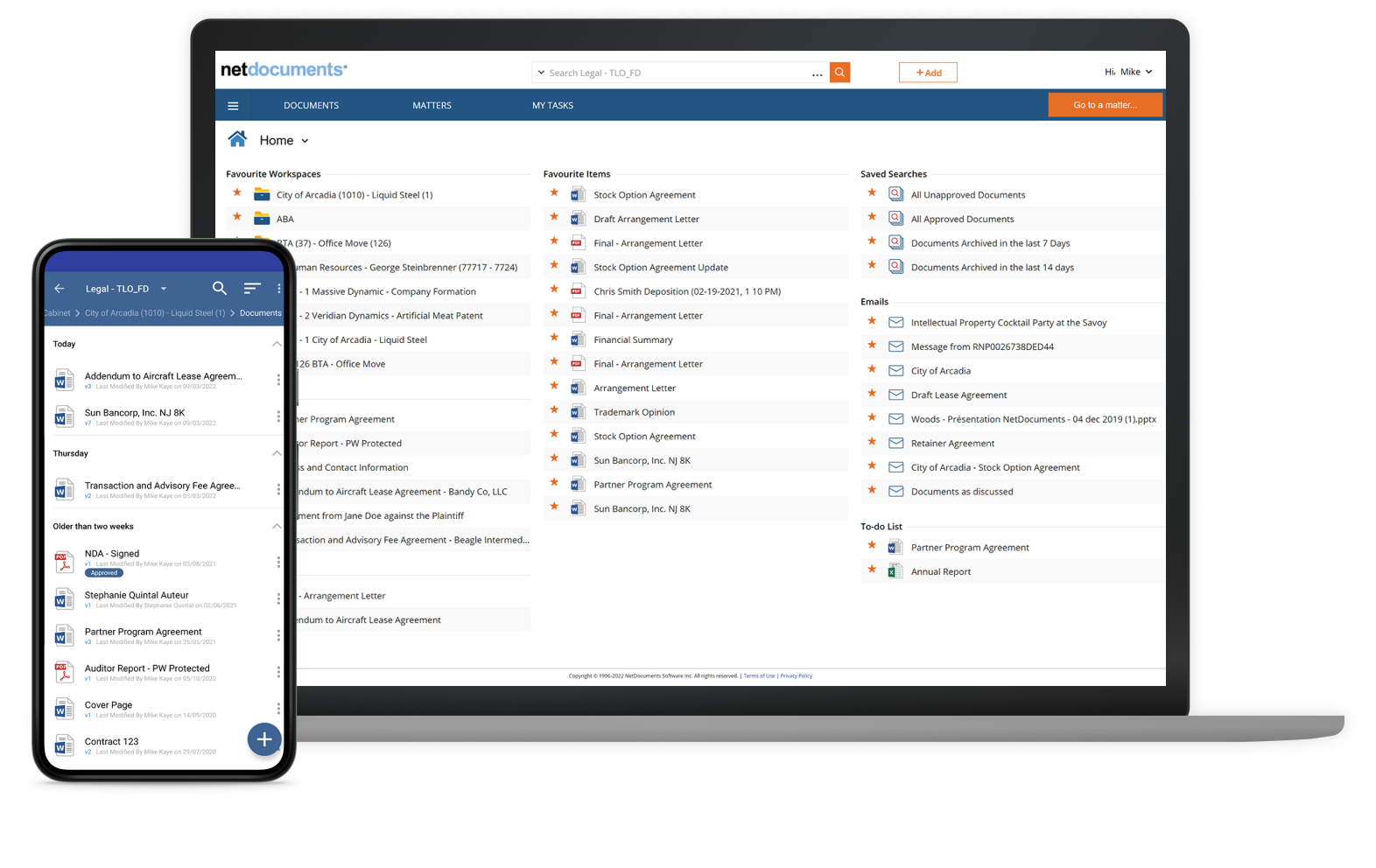 Maximise productivity by choosing the global leader in document and collateral management
The preferred choice of hundreds of thousands of professionals worldwide, NetDocuments is used within industries regulated by strict compliance and data security requirements. They include top 100 global law firms, corporate legal departments, and financial institutions.
"As soon as we saw NetDocuments we knew it would meet all of our needs in saving and retrieving documents safely."
Yasmin Vinogradm Co-Managing Partner, Merovitz Potechin LLP
Key capabilities
---
Build a customised document solution
---
Secure sharing and collaboration
---
Two-way file synchronisation
---
API enabled
---
Powerful search functionality
---
Build tailored workflows
---
Analytic tools
---
Digital versioning, reviews
and mark-ups
---
Robust security, governance, compliance
---
Accredited delivery, training,
support
---
We understand and solve your key issues
Providing solutions that are designed to solve our customers key challenges.
90%
Of firms have experienced
a document security issue
50%
Of documents not held in
a secure document system
10%
Productivity drop from poor
document management
Featured resources for you
WEBINAR
How to prove the value of a DMS – base ROI on hard data
54 minutes
Speakers: Peter Zver, Colin McArdle
Join this webinar to discover the tangible cost savings that accrue when you implement a new DMS system.
REPORT
Recovery and Growth
Author: Doug Hargrove
The role of technology in helping firms achieve their post-pandemic goals
Read report
CAPABILITIES
More than just document management
Find out more about the powerful features that sit within NetDocuments
How NetDocuments can help you
FEATURES & BENEFITS
Maximise productivity

A content services platform that's the perfect solution for legal firms

NetDocuments removes the barriers and transforms your documents into an efficiency engine for collaboration, productivity, growth and inspired work - all without limitations or restrictions. It's easy-to-use, scalable and protected by end-to-end security and encryption.

A world class 24/7 solution

NetDocuments is a Cloud-based document management platform that provides users with secure access to all of their documents, via the Internet, from anywhere in the world.

Powerful functionality

Select functionality from five distinct solutions and additional purpose-built add-ons

Choose the precise capabilities you need to build a customised solution that meets all your requirements

Integrate additional applications with NetDocuments, during implementation - or in the future

A fully safeguarded platform, offering robust security, governance, and compliance protection

Exceptional support

As a global platinum NetDocuments partner, we're able to advise on document strategies and implementations

Advanced are accredited by NetDocuments in the delivery, training and support of the platform

You can rest assured, knowing our ISO-accredited support team is available whenever they're needed - 24/7/365

Our NetDocuments certified team can deliver tailored onsite, remote, or online training programmes

ORGANISE

Increase productivity, collaboration, organisation, and security

This market-leading Cloud document solution delivers all of the functional capabilities you need. It uses optical character recognition (OCR) to help you attain new levels of productivity with document and email management.

NetDocuments

A reliable and secure way to create, edit, store, locate, and collaborate on documents helps your fee earners remain focused on clients and outcomes.

Working together

With NetDocuments, millions of scattered documents become one unified source of information

Allow people to share and collaborate wherever they choose to work, without any security risk to your firm

Enable efficient remote working with two-way file synchronisation between NetDocuments and local computers

Use workspaces designed around matters and projects, with document versioning, and unrivalled searchability

Automated Intelligence

The powerful components of process automation provide law firms with the ability to work smarter and faster, and frees your teams to work on higher value tasks.

ndMail

Use predictive technology, powered by artificial intelligence (AI), to accurately file any email

Make inboxes secure, organised and collaborative so users can file, and find, emails quickly and accurately

The power of OCR

OCR works behind the scenes 24/7 to automatically digitise content

Digitising and indexing collateral, including documents and photos, makes content searches much smarter

Every item becomes a fully integrated, searchable piece of your firm's collective knowledge

Joined up functionality

Support remote and hybrid working, and empower your teams, by providing them with the tools they need to work efficiently - whenever and wherever they need to.

Microsoft Power Automate

Automate manual document processes by adding user interface flows and robotic process automation

Create WorkSpaces and CollabSpaces, add users to a repository, create groups, add to a cabinet, and more

The NetDocuments Connector for Power Automate provides access to 58 NetDocuments API calls

ndSync

This additional document technology option enables uninterrupted, secure remote working

It does this by providing two-way file syncing between NetDocuments content and the user's local machine

PROTECT

Advanced security safeguards your valuable information

Add further controls and protections that go beyond NetDocuments' native, award-winning security capabilities. These tools allow you to create, and apply, security policies across your organisation, guarding against unauthorised exfiltration with a robust security framework.

Extra layers of protection

We help you put tailored security policies in place to make sure your workspace is fully protected.

Data Loss Prevention

Ensure all of your sensitive data and documents are safe from unauthorised access or use

Classify content to create and enforce unique policies that control user actions

Secure all content to reduce the risk of unintentional or malicious data breaches

Workspace Security Manager

Streamline and simplify security policy management

Create, edit, and apply security policies to all of the content in your workspaces

Enforce additional security by using ethical walls or limited access security environments

Additional security modules

Further levels of protection for your critical information.

FlexStore / FlexStore Pro

Enable your firm to manage and control the physical location of data

You can make sure confidential information stays closer to the people who actually need it

FlexStore Pro adds a Distributed Cryptographic Service, to encrypt and decrypt content closer to end users

Managed Encryption Keys

NetDocuments includes the first two layers of encryption. This option adds a third layer

Provide dual-custody control to apply encryption at the client or matter level

Revoke and reapply keys, and apply advanced encryption to whatever specific content you choose

PLAN

Help your teams become more efficient and productive

Focus your people, and information, on achieving results and improved client service. These convenient, easy-to-use tools co-ordinate teams and manage tasks with built-in checklists and workflows.

Keep the lines of communication open

Reduce inbox congestion and keep communications flowing smoothly to make collaborative working even more effective.

ndThread

A secure, governable, and convenient way to chat, share, and comment on files individually, or with a group

Secure, real-time chat capabilities eliminate inbox clutter and reduce the need for email filing

This innovative chat messaging client was designed specifically for legal firms

ChatLink

Connect real-time messaging, collaboration, and document management to maintain security and governance

Benefit further by securely integrating your NetDocuments platform directly with Microsoft Teams

Faster document progress

Save time by streamlining your document processes and manage complex projects and workflows more efficiently.

Margin Notes

Conveniently review, annotate and mark up documents without having to download them to a desktop

Using easily accessible Margin Notes, users can conveniently annotate files with their colleagues in real-time

Tasks

Providing your firm with the tools to build, and manage, customised workflows within workspaces

Easily track and progress team member activities from one convenient location

Perform searches, link to other content, and share task information with colleagues

DELIVER

Remove efficiency barriers

These additional options provide everything you need to safely organise and share content with clients, outside counsel, or other groups. Create sharable workspaces, similar to extranets or deal rooms, so users can compile, organise and collaborate on document sets securely.

Seamless content sharing

Remove the cost and time associated with paper distribution and get things done more quickly.

CollabSpaces

This efficiency feature allows law firms to safely share content with authorised colleagues or external users

Intuitive and easy to use, all parties can access and collaborate on content immediately - without training

Remove the requirement to transfer content by using a third-party file sharing service or extranet

Invite an unlimited number of external parties - you never have to worry about licensing restrictions

SetBuilder

Quickly organise documents into sets or binders and securely distribute them with this additional option

Remove the task of spending hours in a closing room physically preparing printed documents

Bring standardised processes, streamlined workflows and fast delivery to document compiling and distribution

LEARN

A searchable, single source of truth

LEARN offers faster, easier and safer access to information that provides a deeper, more actionable understanding of your documents and how people use them.

Intelligent Documents

These additional options make your content an even more productive and intelligent platform to help support your growth and success.

Analytics

Access data analysis and visualisation tools that track user behaviours

Quickly identify who is using the system, reward top contributors, and encourage increased participation

See how your teams are working together and find areas for improvement and training

Monitor the performance of the entire system, so you can address problem areas and maximise your ROI

NetKnowledge

Replace the slow, frustrating process of searching through various systems and applications individually

Create a single source for all information stored in systems across your organisation

Respects all data access restrictions that have been put in place to prevent unauthorised document access
IMPLEMENTATION
Welcoming you onboard
1 month
Starting your journey
We're fully invested in making your journey a success. Our team of knowledgeable experts will meet with your teams to provide product demonstrations, ask questions, and discuss your requirements.
1 month
Understanding your challenges
We'll present a comprehensive offer with solutions based on our previous conversations. We'll make any adjustments required until you are fully satisfied that this offer delivers what you need.
1 week
Planning your journey
Once you've signed up, a Project Manager will be in touch to explain the implementation process. They'll also introduce you to the Lead Consultant who will be in charge of the technical work required.
2 months
On the road to go live
To ensure a smooth implementation, our experienced Project Delivery Team will build a plan of action and set up a UAT which is like a comprehensive test drive for NetDocuments before it goes live.
1 month
Delivery and up and running
You're ready to go. As NetDocuments goes live, we'll be on hand with any help you might need. Our implementation packages are designed to fit around each customers individual needs.
HOW CAN WE HELP?
Hi, we are Advanced. Talk to us.
Transform document efficiency and collaboration with NetDocuments.