CARPE DIEM
Time Recording
Record every revenue event, maximise billable time and boost realisation rates to ensure increased profitability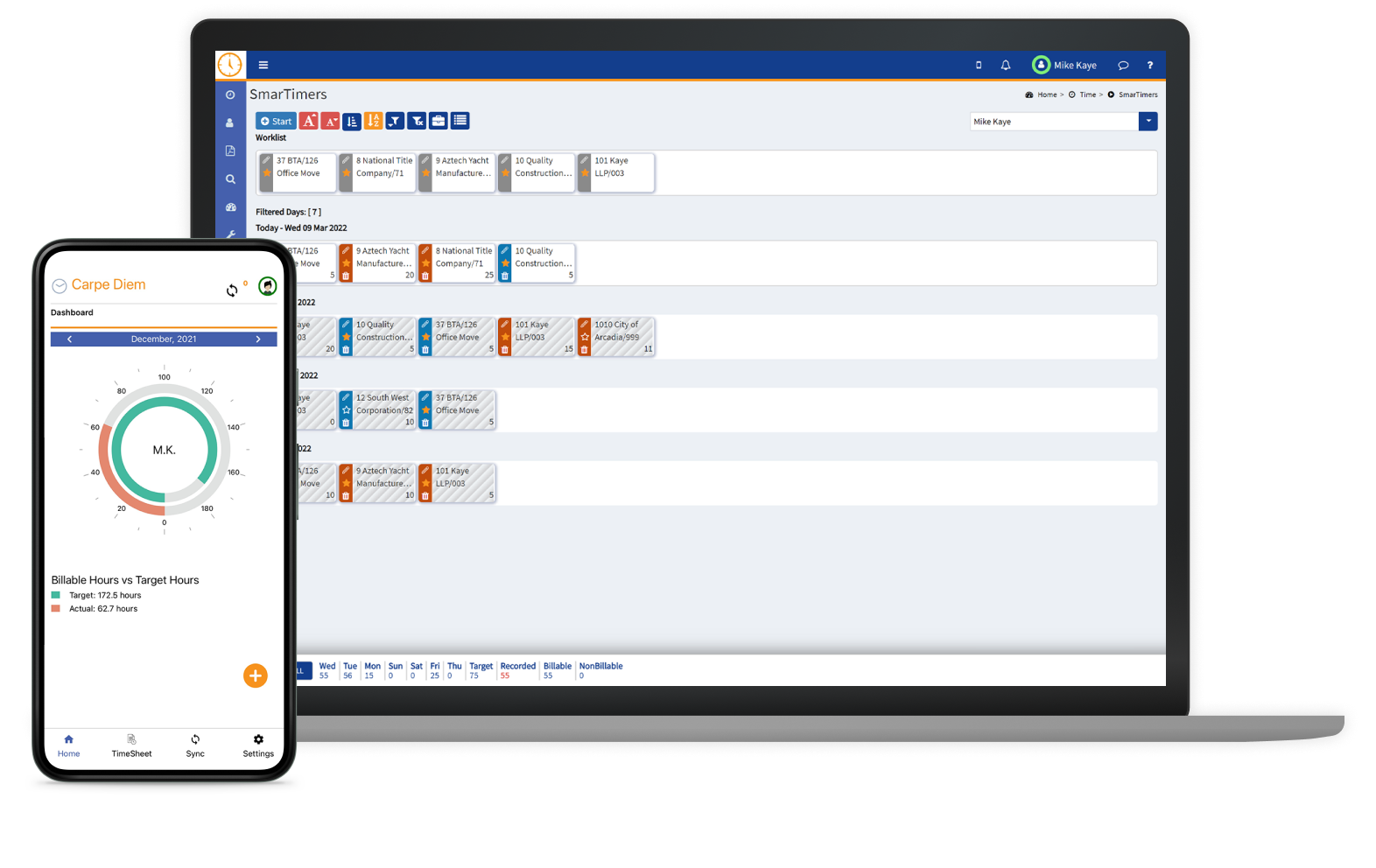 Easy, accurate time recording for legal firms
Correctly capturing billable time is one of the most challenging tasks that busy legal practitioners undertake. Carpe Diem is an innovative time recording solution that enables professional users to more easily capture every moment, from any location, at any time, on any device.
"Our professionals are taking advantage of the stopwatch-style timers to capture more time, faster than before."
Simon Baun, Head of IT, Kammeradvokaten Poul Schmith
Key capabilities
---
24/7 Cloud accessibility
---
Native mobile app
---
Intuitive, consistent user interface
---
Quickly capture time as it is worked
---
TimeFinder functionality
---
Performance tracking
---
Digital reporting dashboards
---
Automated compliance and risk management
---
Aligned with the billing process
---
Key technology integrations
---
We understand and solve your key issues
We build products which are designed to solve our customers key challenges.
CAPABILITIES
More than just Time Recording
Find out more about the powerful features that sit within Carpe Diem
How Carpe Diem Time Recording can help you
FEATURES & BENEFITS
Smart time capture

Use time strategically to maximise revenue and growth, and meet compliance obligations

Carpe Diem can boost firm-wide performance by helping you to cut time capture administration, increase billed hours and revenue, improve your billing process, and enforce best practice. It's an easy to use Cloud solution that's instantly accessible, and always available.

Enhance firm efficiency

Our market-leading time capture system has been vigorously stress tested and currently supports 25,000+ timekeepers with 800,000 time postings a day in the Cloud.

Relieve time pressures

An intuitive, easy-to-use interface that is consistent, whilst providing a unique experience cross all devices

Users can choose to automate time capture - or type, handwrite or dictate time entries

Find missing time easily by responding to automated, intuitive prompts

Fee earners can stay on track by comparing their time capture rates against time-keeping performance targets

Carpe Diem SmarTimers

The core feature of Carpe Diem, our SmarTimers follow a user's activity and allow them to instantly start and stop time recordings as they move between projects and tasks.

Instantaneous capture

SmartTimer tool bars float above all open applications, giving easy visibility

A quick click is all that is required to start recording time, or to stop and start another timer

Running timers follow users whenever they change devices

Timers are colour coded according to their status so they can be easily filtered and ordered

Intelligent, intuitive time recording

Work more efficiently with powerful, automated features that provide multiple ways to capture both current and past time, and reduce delays between activity, time recording, billing and payment.

Achieve more in less time

Natural language processing analyses free form text to extract key words or phrases to create accurate records

Predictive assistance auto-completes time forms, and provides in-line spell checks for quick time entry

A time gap recovery feature helps users auto-populate historic timesheets based on their digital footprint

Fully exposed APIs allows seamless integration with other leading industry applications

Transparent billing

Time capture is critical for correct billing and client satisfaction. Automating time recording, and the billing process, can significantly contribute to client retention and the growth of your firm.

An easier process

Carpe Diem easily integrates with billing platforms, ensuring time data is tracked across its entire journey

Users can conveniently close project time periods at their desk, or on the move

Time entries are sent directly to the accounts department for invoicing

Billing errors are reduced by validating time at submission

Faster payments

Provide the flexibility to easily adhere to Alternative Fee Arrangements (AFA)

Avoid costly write downs that result from incidents of non-compliance to client billing rules

Build client trust and loyalty by providing transparent invoices that clearly show the time spent on a matter

Benefit from faster payments by shortening the bill-to-payment cycle

Comprehensive reporting

Carpe Diem's fully customisable dashboards supply actionable management information that can improve performance, ensure compliance, reduce risk and improve cash flow. All with a single click.

Find new opportunities

Accurately capture the actual cost of matter completion in order to set competitive, but profitable rates

Data helps you schedule work and it can also help you identify which types of work to bid for

Finance teams can track, and work to reduce, the time between activity, time-capture, invoicing and payment

Using time data, you can develop price strategies for blended hourly rates, fee caps, discounts or fixed fees

Become more flexible

Gain insight into work patterns, identify areas of low usage or those under stress from too much work

Allow dynamic reallocation of work to those with spare capacity

Understand the relevant resources required to fulfil matters, at the right price, within required timelines

Develop tactical business development initiatives to drive work to any underutilised practice areas

Cloud efficiency

A solution for forward thinking legal practices

Carpe Diem is a contemporary, high performing, reliable and extensible Cloud platform. 24/7 availability allows higher levels of billable time to be recorded, which eases the pressure on fee earners, and means more revenue for your firm.

Business compatible

The Cloud ensures that wherever you are, Carpe Diem's SmarTimers are available 24/7 to capture every billable moment. This provides the benefits of greater resilience and flexibility to fee earners.

A smart, solid investment

Be assured that you're always on the latest product version, with automatic upgrades on new releases

Use new features with confidence as they are all explained within our convenient online guides

Incorporate new users quickly and easily with Carpe Diem's scalability

Save resources by reducing dependence on IT resources, physical space. and other associated costs

We're here to support you

Our aim is to always provide the highest levels of support to our customers. We also have a culture of continuous product development and actively encourage our clients to get involved.

Delivering peace of mind

Hotfix support and emergency platform fixes are always included as standard in the Cloud

Our helpdesk is ISO 9001 accredited and are available to help with any issues you may have

On-line, embedded help allows every user to get the most from the system's rich functionality

Users can submit enhancement requests through our Ideas Portal, and influence future product development

Security assured

You can be confident that safeguards to protect your data, and meet regulatory compliance, are a core part of the network architecture, ensuring your information is always protected.

Robust protection

Protected access: . Industry standard authentication via our Identity Server

Secure transport: data is encrypted in transit and HSTS (HTTP strict transport security) enforced

Data backup: transaction logs are backed up every 10 minutes and full database backups happen every 12 hours

Fortified storage: our Azure data centres are located in EU West, US Central, US East and Canada

The mobile app

A new, best-in-class time recording app

Access to work from any location is now an efficiency necessity for busy professionals. As a part of a fully mobile enabled Cloud platform, the app can support you in recording time while away from your desk, reducing time leakage and lost hours, while easily providing accurate time records.

Mobile time capture

We've removed all of the barriers to consistent time recording, by ensuring that users can access the complete set of Carpe Diem's time capture tools no matter where, or how, they're working.

Don't miss billable time

Complete time recording efficiency when working from home, on client premises or when travelling

All time is captured on one application, and is available to view from any location or device, on or offline

Time used for client communications, like calls or emails, can be captured automatically as they take place

24/7 efficiency

App users are provided with three, instantly accessible and convenient time capture options

Key metrics track and monitor time keeping performance, and the quality of the time recorded

Timesheets allows users to view all of their time entries for the day and to filter them by status

Convenience at your fingertips

Capturing time entries from a smartphone or tablet means users can instantly record billable time at the moment an activity happens.

Easy access

Fully accessible from both Apple and android devices

The app is available to all authorised users of Carpe Diem

Download and install from Google Play and Apple Stores, or deploy from a mobile device management (MDM)

Safe and protected

Our mobile app connects to the server via secure web APIs. This provides industry standard security and removes the need for additional infrastructure.

Your data is secure

Authentication is handled via the Carpe Diem identity server, providing secure user authentication

External authentication providers like OKTA, OneLogIn, Azure AD, and others, can also be used

Fingerprint recognition is also provided, as standard, to offer another layer of robust security

API traffic is encrypted, whether at rest or in transit

Key integrations

Working in technology silos can cause work duplication, lost time, and lower revenues

Carpe Diem is an extensible platform with a comprehensive suite of APIs that allow seamless integration with your firm's existing software. Incorporating these additional solutions delivers greater flexibility and maximises the time capture benefits your firm depends on.

Boost functionality

Legal technology applications that complement each other maximise their respective value by delivering convenience, improved efficiency and enhanced performance.

Develop a legal ecosystem

Benefit quickly as limited time and resources are required to implement, or maintain, integrations

Help fee earners find all case related data directly from your practice and case management system (PCMS)

Combine with your accounting solution to significantly simplify compliance and the billing process

Sync with your document solution to make it easier to uncover hidden billable time

Practice and Case Management

Carpe Diem integrates with PCMS platforms seamlessly, ensuring time data is tracked across its entire journey with no disruption to other core processes.

Enhanced functionality

Move standard PCMS time capture tools to the next level of efficiency

Synchronised data is instantly available from your PCMS database

Fee earners can easily find information for billing, compliance, budgets or alternative fee arrangements

Continue to record time on the move, there's no need to be at your desk

The Carpe Diem NetDocuments Connector

Uniting these two powerful, market-leading solutions ensures fee earner time spent working on documents and emails can be recorded by Carpe Diem, from directly within NetDocuments.

Uncover hidden time

Accelerate the functionality of the Carpe Diem platform

Ensure every second spent on a matter is captured without effort

Ease pressure on fee earners by providing the tools they need to hit billing targets

Clarify billing by providing clients with full visibility of the time spent on their matter

General Counsel

Demonstrate the contribution of your in-house legal team

Internal legal departments are becoming more central to routine business operations. The result is pressure from greater workloads, and increasing complexity. Budgets are also squeezed as in-house teams are under greater levels of scrutiny in regards to the delivery of value and cost controls.

Build a strong business case

Carpe Diem provides a clear measure of how time is used. This transparency allows for informed strategic decisions to be made for the effective insourcing, or outsourcing, of work.

True performance insight

Track workloads over time periods to help plan an optimal allocation of resources in the future

Enable your teams to easily allocate specific types of work to the most cost-efficient resource every time

Understand the real value of work done externally and price accordingly to negotiate fee arrangements

Show cost efficiency

By providing accurate time data for each matter, Carpe Diem clearly demonstrates the cost effectiveness of in-house legal services, while acting as a valuable management tool.

Improve performance

Save time, and work more efficiently, by capturing time while away from the office

Remove capex costs with all charges paid on a subscription basis

Ease pressure on internal IT teams with automated updates that require minimal effort

Ensure you have the flexibility to meet current business needs with a fully scalable solution
CUSTOMERS
Who succeeds with us
25,000+ legal practitioners depend on Carpe Diem every day

"It's not a particularly expensive product, and in terms of return on investment, I'm sure it's paid for itself over and over again."
— Brian McDonald, Head of IT, Peters & Peters

"The Carpe Diem interface is well designed so it is very efficient to use. We also benefit from its smooth compatibility with iManage, the platform that sits at the core of everything we do."
— Nick Whalley, Head of Operations and Transformation

"We are now able to enter time much more quickly and in many different ways. Tracking has become seamless."
— Dr Keriene Dovile, IT and Business Project Manager, Ellex Valiunas

"Simultaneous time recording has allowed us to produce more precise and detailed invoices, which clients understandably prefer."
— Mette Marie Harder Winther-Sørensen, Office Administrator, IUNO

"Carpe Diem makes it much more likely that our lawyers will consistently produce correct and prompt timesheets."
— Leonardo Brandileone, CIO, Mattos Filho

"Carpe Diem allows us to capture more billable hours, increase the speed of time capture, and provide timely, and accurate, invoices to our clients."
— Jon Wyche, IT Director, Meunier Carlin & Curfman
IMPLEMENTATION
Welcoming you onboard
1 month
Starting your journey
We're fully invested in making your journey a success. Our team of knowledgeable experts will meet with your teams to provide product demonstrations, ask questions, and discuss your requirements.
1 month
Understanding your challenges
We'll present a comprehensive offer with solutions based on our previous conversations. We'll make any adjustments required until you are fully satisfied that this offer delivers what you need.
1 week
Planning your journey
Once you've signed up, a Project Manager will be in touch to explain the implementation process. They'll also introduce you to the Lead Consultant who will be in charge of the technical work required.
2 months
On the road to go live
To ensure a smooth implementation, our experienced Project Delivery Team will build a plan of action and set up a UAT which is like a comprehensive test drive for Carpe Diem before it goes live.
1 month
Delivery and up and running
You're ready to go. As Carpe Diem goes live, we'll be on hand with any help you might need. Our implementation packages are designed to fit around each customers individual needs.
Featured resources for you
WHITEPAPER
What to consider when choosing a time recording platform
It's a decision you must get right as it can impact revenue, profitability, client relationships, staff retention and morale.
Read whitepaper
VIDEO
Carpe Diem SmarTimers
3 minutes
An overview of the smooth time capture functionality of Carpe Diem SmarTimers.
VIDEO
Intelligent Time Recording
2.5 minutes
Learn more about how Carpe Diem incorporates machine learning and natural language processing to generate time entries.
HOW CAN WE HELP?
Hi, we are Advanced. Talk to us.
Transform your billable time capture rates with Advanced Carpe Diem