OKR Software -
A better way to track goals

ADVANCED CLEAR REVIEW
The benefits of short term goal setting
Advanced Clear Review has been designed to eliminate the outdated method of annual objectives and instead enable short term agile goals.

Few people are likely to stay focussed and motivated with the same objectives for a full year, and if company objectives shift for any reason, employee objectives may become out of sync with what the organisation is trying to achieve.

By having short term agile goals, employees can remain better focused, and goals can be changed to adapt with the objectives of the organisation or their wider team at that time. Tracking progress against these goals gives managers a clearer idea of how their employees are performing.
"We wanted to do away with individual scorecards, instead focusing on team goals that would foster a culture of teamwork and continual improvement." Francis Lake, Head of Organisational Development, Virgin Money
2M+
Pieces of Feedback Given
181K+
Active users
250K
Objectives set
We believe that organisations looking for an OKR tool (Objectives and Key Results) to help keep goals aligned to organisational objectives, should consider investing in a performance management tool. Linking together goal setting with organisational values, personal development and performance, means you can be sure for a smoother and more organised way of setting and tracking goals.
OKR software is all about defining measurable goals and tracking their outcomes. With Advanced Clear Review managers and their team member's work together to set short term goals that align with the person's role, the team's objectives, and company values. These goals will then be updated / signed off each time the manager and team member have a check-in, and new goals can be set whenever needed.
"Setting nearer-term objectives that could be regularly reviewed and updated suited the more agile world we were working in. This provided structure and motivation to employees who were getting used to working remotely." Jude Holt, Senior HR Business Partner and Talent Lead, A.G.Barr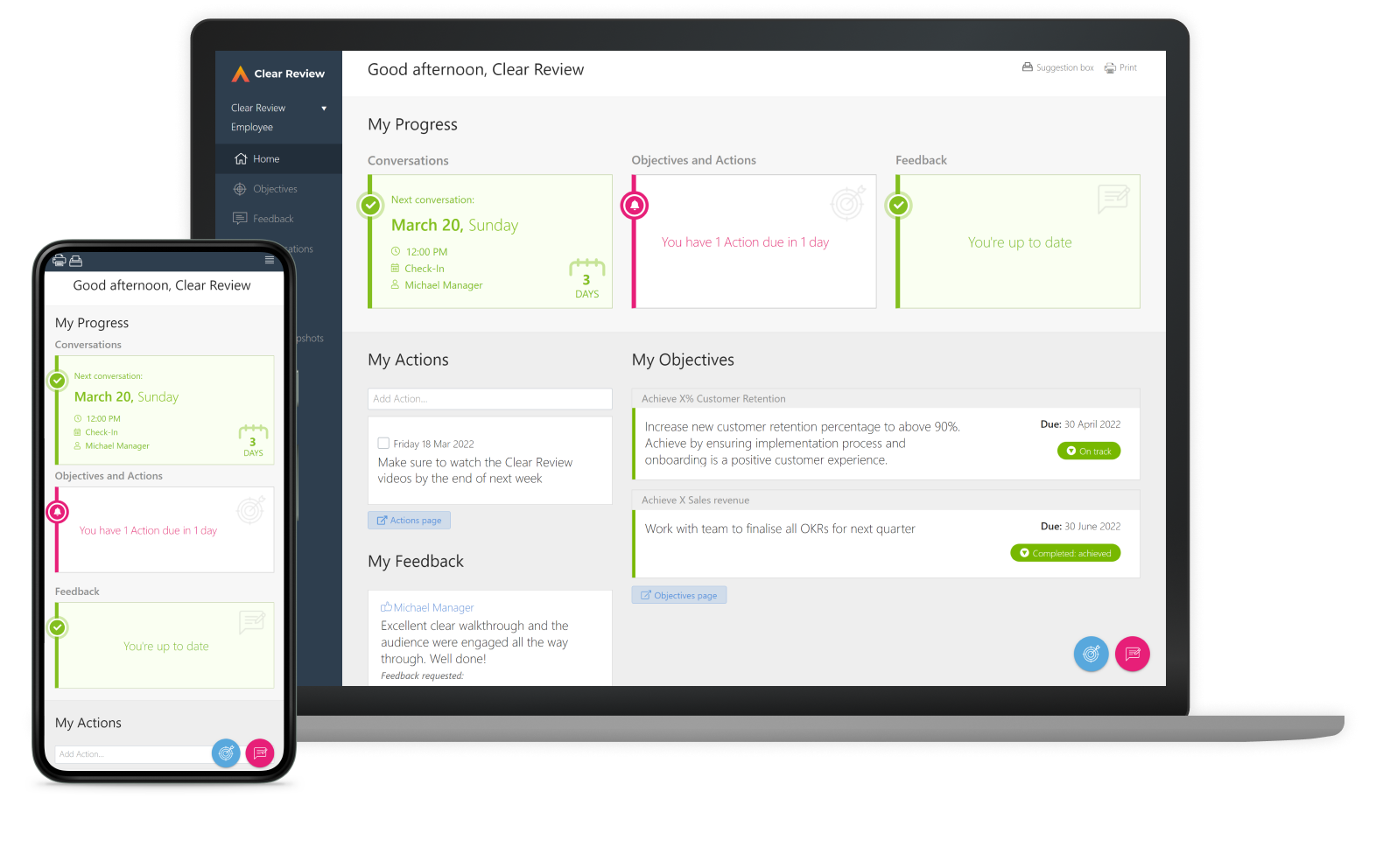 Real - Time Feedback
KEY FEATURES
Advanced Clear Review allows for employees to give and receive feedback in real time, enabling recognition for a job well done, and a way of giving pointers on where someone could improve in the future.
"The feedback functionality within Advanced Clear Review was initially the element I personally was most excited about, given the potential impact on engagement that this kind of recognition could bring". Gary Beggs, Development Partner, Ted Baker
Frequent Conversations
KEY FEATURES
The platform also encourages frequent one to one check-ins between managers and their team, allowing progress to be tracked, blockers to be addressed, and support to be given so burnout is reduced.
"We chose Advanced Clear Review for many reasons, primarily its ease of use and the fact that it means performance management becomed embedded into our working lives rather than simply being an annual appraisal." Jude Holt, Senior HR Business Partner & Talent Lead, AG Barr
With Advanced Clear Review employees will be given short term goals, rather than annual objectives, which increases motivation and ensures employees are aligned to organisational objectives, even if these change throughout the year.
"98% of staff are setting objectives. They love the simplicity and clarity that the platform provides". Kristy Rowlett, Head of People Development, Wesleyan
Top rated by our customers
Frequently Asked Questions
What is the point of OKRs?

As with any goal or objective setting methodology, the point of OKRs is to be able to increase the chances of achieving what matters to your organisation, to focus and align people and introduce a clear way to measure success.

What is the difference between KPIs and OKRs?

KPIs or Key Performance Indicators are usually a pure measure that is used for forecasting, whereas OKRs start with your revenue goal as the objective and then set key results.

What is the best OKR software?

Don't get carried away with the pseudoscience of OKR-specific software. The benefits of OKRs come from setting clear objectives and actually being able to take action and measure progress. For this an easy to use performance management platform like Clear Review is what you need!