Are you a small or medium-sized enterprise (SME) business looking for a software solution to support your growth within the digital era? As we enter the 4th Industrial Revolution, organisations are looking for more agile working to increase organisational efficiency. The correct ERP system (Enterprise Resource Planning) can support you with these goals. To assist your decision-making process, we have created a list of the five common problems an ERP system will solve for your organisation.
Difficulties consolidating information
Is your business suffering with poor communication? An ERP system will take you away from working with disparate, inefficient systems. Using multiple business solutions prevents an organisation from being connected. Without tools such as ERP, it is easy for tasks to take much longer than necessary, resulting in a reduction in productivity and lost opportunities. An ERP offering means there will be no delay in cross-departmental communication.
Struggles accessing data
Without an ERP system, SMEs may struggle to report on business performance in real-time. Investing in a system means you can view and export reports based on the latest business information. ERP solutions hold all costs, marketing and sales data in one system so you can be sure reports are accurate and up to date. A disconnect within a business can quickly result in missed opportunities and slow decision-making which is where an ERP system can be of assistance.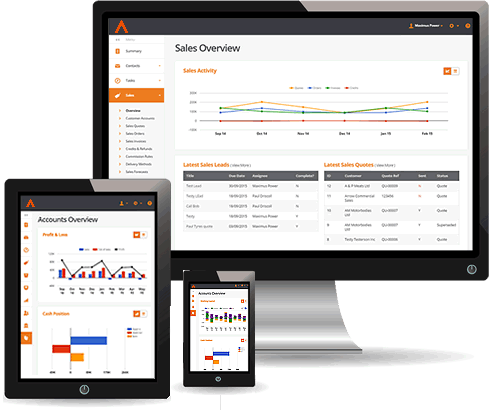 Limited information outside of the office
Always on the go? When away from the office, businesses require employees to have instant access to systems. A Cloud-based ERP system gives you access to all business information anytime and from anywhere meaning employees always have access to real-time business insights.
Overstretched employees
It is very easy for employees within SMEs to wear many 'work hats' and quickly become overworked. An ERP solution removes the burden of employees needing to complete manual processes and enables a digital way of working. Not only can this increase productivity, but the automation capabilities within an ERP system removes the need for repetitive tasks and the likelihood of mistakes. Having all necessary information readily available through an ERP system prevents wasted time spent manoeuvring through a variety of solutions to recall data.
Process inconsistencies
Without a common solution working as a backbone to an organisation, differing procedures and processes are very easily overlooked. For a business to run at its best, all teams should be working with the same network, communication across departments and working together for the business goals. ERP implementation facilitates a consistent culture throughout an organisation, providing a robust, yet flexible framework to support your organisation now and into the future.
Please contact us to find out more about how an ERP system can solve your business problems.