ALB/P4W
Practice and Case Management Software (PCMS)
Boost productivity, performance, and profitability by transforming the way your legal teams work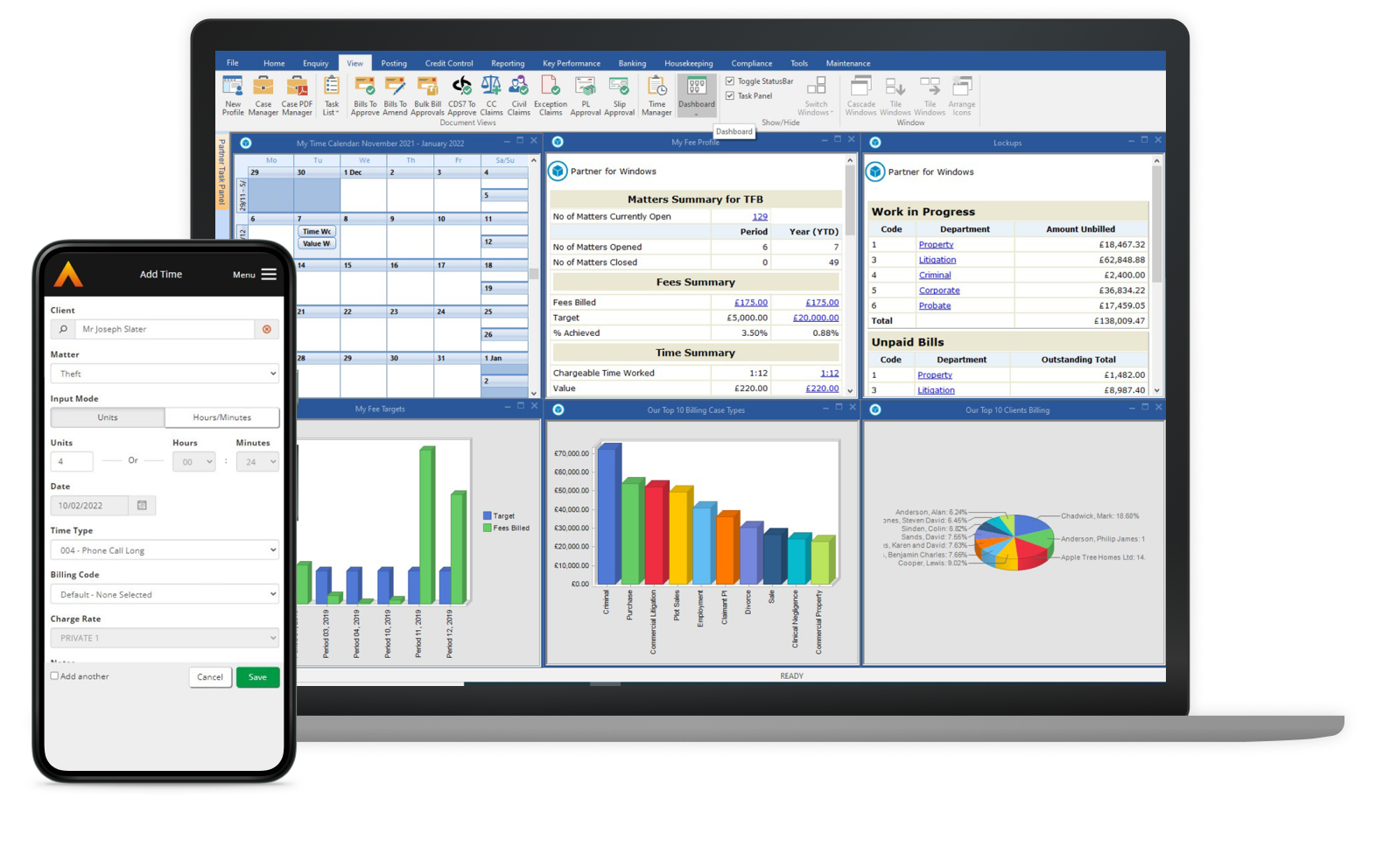 Delivering specialist PCMS functionality to every firm, across all practice areas
Finding the right PCMS software doesn't have to be a challenge. More than 1900 UK law firms trust our market leading solutions, ALB and P4W, to ease the pressure. These modern, comprehensive platforms manage all key processes, maximise 24/7 efficiency and support law firm growth.
"The change in the last 12 months has been massive. If we hadn't made the system change, we might be struggling to keep up now."
Adrian Barker, IT Manager, Ison Harrison
Key capabilities
---
Co-ordinated legal accounts
---
Task management
---
Process agendas & workflows
---
Single, integrated database
---
Document management
---
Optimised remote working
---
Key legal tech integrations
---
Legal marketing
---
Ongoing development & support
---
Built-in security and compliance
We understand and solve your key issues
We build products that are designed to solve the challenges legal practitioners face.
CAPABILITIES
Your PCMS is the engine room of your practice
Find out more about the powerful features that sit within an Advanced PCMS
How our Practice and Case Management Software can help you
FEATURES & BENEFITS
Financial Management

We focus on enabling law firms to manage their accounting process quickly and easily

Our solutions are specifically designed to help cashiers, secretaries and fee earners track spending, safeguard client monies, record time, simplify billing, control WIP (work-in-progress), manage P&L and perform client due diligence with ease.

Secure and compliant

You have enough on your plate. We make sure you don't have to worry about a non-compliant accounts incident or penalties that can deliver financial and reputational damage.

Inbuilt compliance

Our accounts packages are approved by the SRA (Solicitors Regulation Authority)

Our expertise in legal and accountancy ensures on-going compliance with any legislative changes

Integration with the Business Tax Portal uses PCMS data for compliant submissions to HMRC

An integrated 'Making Tax Digital' process enables compliant uploading of VAT returns, directly from your PCMS

Achieve more, in less time

Time is money in an increasingly competitive legal market. We provide accounting solutions that help you work faster and more efficiently without relying on multiple spreadsheets or paper files.

Seamless efficiency

An accounts structure that integrates with case management functions to allow efficient matter progression

Modern, user-friendly interfaces ensure accuracy and ease-of-use

Full draft billing capabilities speed up the bill-to-cash process and reduce administration time

A complete accounting package

We deliver all of the crucial processes law firms need to run an effective and successful accounting team.

Smooth functionality

Extensive functionality includes accounts postings, nominal postings. journals, billing, bank reconciliations

Easily complete interest calculations, VAT returns and archiving

Accounts package is linked to time recording, client and matter creation

View payments, approvals and reports – at anytime, from anywhere

Protect Revenue

An Advanced PCMS helps user firms improve their overall performance, with a specific focus on increasing income, maintaining a healthy cash flow, and ongoing profitability.

Capture billable time

Record time from a selection of mobile, silent, system-prompted or user-driven time capture features

Multiple time entries can be open at any time

Install prompts around documents and emails to ensure fee earners remember to record all relevant time

Track performance against WIP and time limits

Gain speed

Rolled up client-level billing and built-in authorisations speed draft billing and the bill-to-cash process

Provide prospective clients with online quotes 24/7, and automatically push the information into your PCMS

Enhanced legal aid workflow functionality can help make criminal law financially viable

Task Management

Amplify performance across your firm

With automated processes built in, time spent on daily administration is reduced, easing pressure on fee earners and accelerating matter completion. By using them, law firms can reduce the risk of human error, increase billable time and revenue, and satisfy client expectations.

Boost performance

Give your users total control over their working day while helping them to efficiently manage their clients, cases and documents, record time, process accounts and monitor performance.

Stay on track

Ensure users are aware of their daily work including appointments, limitation dates and standard matter tasks

View diary appointments in monthly, weekly or daily views, add key meetings and information quickly

Access critical business knowledge, and gain useful progress insight, through report screens

Enter information on an integrated database just once to ensure time savings, accurate records and compliance

Progress smoothly

Onboard clients quickly with inbuilt integrations, including conflict and AML checks, and postcode look-ups

Manage the risks of conflicts going un-noticed

Provide client updates and matter milestones online to save time and deliver an improved service

Efficiency workflows

Whether you specialise in legal aid, conveyancing, probate, personal injury or family law, our PCMS workflows will assist your fee earners in working faster and smarter.

Supercharge your firm

Deliver automated processes, accelerate working practices and ensure data consistency and compliance

Provide actionable steps and use information already in the system to populate documents and forms

Approval processes ensure that even less experienced members of staff can complete tasks efficiently

Tailor your PCMS by creating bespoke workflow capability or modifying standard case management modules

Client portals

Digital communication channels have become vital for law firms. Meet client and third party expectations by providing them with online access to their relevant milestones, updates and documents.

Fast track communications

Give clients 24/7 online access to case progression and prevent constant chasing

Introduce a self service element, allowing clients and third parties to upload and access documents online

Simply and securely automate the set-up of client or 3rd party users by sending them a registration link

Notify clients automatically when an issue needs their attention, or there is an action they need to complete

Document Management

Users can work in a digital format that ensures all document versions are securely stored in one accessible location, aiding case / client management and collaboration.

Stay on top of documents

File, access and revise documents in a secure, centralised location, with a full chronology of each file

Create standard documents, letters or emails within a matter, using templates that ensure correct versioning

Automatically populate template fields, merging client information from the central database

Automatically file emails and attachments

The Digital Workplace

Access crucial matter information, wherever you are

Our secure mobile tools enable your teams to work effectively from home, in the office or when they're on the move.

Spend less time on daily tasks

Juggling tasks and deadlines can be tough, especially when you can't access the information you need. Digital technology frees up time and ensures everything you need to work efficiently is at hand.

Keep progressing

Easily access matter information including diaries, time records, notes, disbursements and financial overviews

Ensure 24/7 access to client records and full contact details

Record time on the go – there's no longer any need to be at your desk

Automatically sync new content or updates to your desktop PCMS

Collaboration

Smooth communication is key to fast progression. We provide the digital channels that enable secure, smooth sharing of information between fee earners, support staff, clients and third parties.

Joined up thinking

Your teams can co-ordinate and share work easily, no matter where they are located

Digital documents ensure all document versions are securely stored in one easily accessible Cloud location

Communicate with clients in a timely manner, at any time, from any location

Keep matters progressing seamlessly by automatically interacting, and sharing data, with third party providers

Gain peace of mind

Fast-changing technology requirements can be a real challenge for law firms, especially when it comes to ensuring client funds and data are protected from human error or cyber crime. We can help.

Security and compliance

All of our client-facing solutions are built using the latest technologies

Safeguarded by the latest cybersecurity technology and the highest levels of expertise

Fully compliant with GDPR regulations

Managed user authorisations ensure confidential information remains protected

Full PCMS connectivity

We provide a secure, high performance operating environment for your PCMS. This delivers all of the stability you need to meet the demands of modern work requirements, today and into the future.

Hosting Services

Always-on environment that is accessible from anywhere 24/7

Remove the costs associated with infrastructure renewal, facilities, insurance and system management

Single point of contact for applications and outsourced IT services, providing a one-stop support solution

We offer several package options so you can choose the one that's just the right fit for your firm

Robust Protection

Security services to help keep you protected, reduce risk and maintain legislative and compliance requirements

Perimeter Security Service with network threat detection and prevention, protects your firm from cyber-attack

Delivered in accordance with ISO 27001:2013 controls, helping to ensure security risk mitigation

Comprehensively managed backups to ensure your data is always protected and available

Business Development

Client relationship management (CRM) is essential in a competitive legal market

More than ever, Legal firms need to connect with their audience to drive client recruitment and retention. They're very well-placed to generate information-rich content that prospects and clients will want to receive through emails, newsletters, thought leadership pieces or events.

Identify and grow opportunities

When your clients and prospects get the right message, delivered in an engaging way, they are much more likely to trust, and turn to, your firm whenever they require legal services.

Stay in touch

Gain valuable insight into your performance by asking clients for their assessment of your service delivery

Identify cross selling opportunities like offering a power of attorney to clients who've written a will

Establish your reputation by providing your audience with informative content that demonstrates your expertise

Build relationships and boost business development by inviting clients and prospects to webinars or events

Make your data work for you

Use the valuable contact information that's held within your PCMS to gain powerful insights into the preferences of your clients so you can communicate with them in a meaningful way.

Data driven marketing

Compile tailored communications by using the information available in the system you use every day

Segment contact data according to client preferences to ensure content is relevant to each recipient

Keep data clean with tools that identify duplicates and merge multiple records into one accurate file

Reduce data protection risks by ensuring the correct marketing opt-ins and methods of consent are recorded

Measure Performance

Tracking the response to your marketing efforts is key to success. It will allow you to clearly see the return on your investment, and help you improve future campaigns and conversion rates.

Progress reporting

Measure campaign success and see where new matters are coming from with intuitive, business source tracking

Compare marketing spend against activities to identify, and roll out, your most profitable efforts

Accurately track and understand mailing preferences to refine campaigns and build messaging that really works

Key Integrations

Incorporate additional value into your PCMS

Our own technologies, and strong partnerships with other leading suppliers of legal technology, ensure we can continue to offer some of the most versatile and innovative work solutions available today.

Advanced Integrations

Our legal technologies combine innovation with ease of-use. They drive efficiency throughout a legal practice, providing the tools you need to complete daily tasks and grow in a fast moving market.

Automated efficiency

Access full Digital Dictation functionality from directly within your PCMS

Collaborate easily with forms in .pdf or electronic format, and a digital submission platform, from Cloud Forms

Capture every moment of billable time with Carpe Diem, our market-leading time recording solution

Choose a CRM platform to enable productive marketing activities (including data management)

Enhance your client's experience

It's vital law firms modernise and improve efficiency processes to meet the demands of today's legal consumer. These client-facing technologies will help you to meet, and exceed, client expectations.

Improve service delivery

Incorporate a client portal to give authorised clients fast, 24/7 access to case information and documents

Offer the convenience of digital signatures so clients can sign any document, from any location, on any device

Provide 24/7 online price quotes, without the need to re-key matter information

Order, and receive, the third party information you need to complete matters quickly, directly from your PCMS

Make document management easier

Combined with your PCMS, our digital document solutions can help your practice meet the key challenges of consistency, accessibility and collaboration - while reducing your carbon footprint.

Document automation

Benefit from secure access, and retrieval of, case documents and collateral with a Cloud document repository

Adopt automatic document versioning tools to allow easy review and modification of case documents

Implement the time saving tools that easily create individual or bundled pdf's, with indexing and bookmarks

Control documents by using OneDrive or a portal - it's much more secure than email or post

NetDocuments

This Cloud platform enables unlimited 24/7 document access, along with smooth collaboration and productivity

Use as a firm-wide solution, or choose specific functionalities not served by case management

With 25+ years experience, we're accredited by NetDocuments for delivery, training and platform support

Reduce the risks

A global pandemic created new risks and intensified old ones. Large-scale adoption of mobile working, and online services, means firms increasingly need support in navigating this complex problem.

Safeguard your firm

Implement increased due diligence and risk management for the transmission of funds

Introduce a complete email disaster recovery solution into your practice

Use the accounts data from your PCMS to ensure all digital submissions are fully compliant

Automate the capture of key data to support anti-money laundering and governance procedures
CUSTOMERS
Who succeeds with us
1900+ UK legal firms use an Advanced PCMS

"We wanted to provide visibility of information to key personnel and lawyers to allow them to take ownership of client relationships more effectively."
— Nigel Johnson, IT Director
Monavate

"It's incredibly simple to use with a very user friendly interface allowing processes to be built, and changed, with ease."
— Philip McBride, Partner
"This technology has provided us with transparency around workflows, across all the practice areas we deliver; wills, probate, conveyancing and commercial are now all in one place."
— Lee Salih, Business Director
IMPLEMENTATION
Welcoming you onboard
1 day
Starting your journey
We're fully invested in making your journey a success. Our team of knowledgeable experts will meet with your teams to provide product demonstrations, ask questions, and discuss your requirements.
1 week
Understanding your challenges
We'll present a comprehensive PCMS offer with solutions based on our previous conversations. We'll make any adjustments required until you are fully satisfied that this offer delivers what you need.
2 months
Planning your journey
Once you have signed up with us you will have an introduction call with your new Customer Success Manager who will explain who they are and how they can help through the implementation process.
2 months
On the road to go live
To ensure a smooth implementation, our experienced Project Delivery Team will build a plan of action and set up a UAT which is like a comprehensive test drive for your PCMS before it goes live.
Delivery and up and running
We're all ready. As your product goes live, we make sure we're on hand with any help you might need. Our implementation packages are designed to fit around each customers individual needs.
In this day and age, you can do great many things direct from your phone, that you would've previously had to don a suit and sit in a branch or an office for, even apply for a mortgage. From a mere touch you can submit all supporting evidence, identification documents, bank statements and personal finances – and just like that, you're done.
The long-term goal of the majority of law firms is to improve profit margins, whilst achieving growth and remaining competitive. One way you can do this is by streamlining your business processes to allow time to be saved and more efficient working across your business.
Law firms in the UK are undergoing a rapid transformation as they transition at pace to a digital future. To remain competitive, law firms need to meet clients' expectations on how they operate, whether that is through digital means, being available online and accepting digital documents, meeting ESG commitments and developing a sustainable strategy, all whilst remaining competitive on price.