ADVANCED PAYROLL
Payroll Software
Say Yes to transforming the way you run payroll and ensure accuracy and compliance throughout each and every pay cycle with Advanced's HMRC recognised payroll software.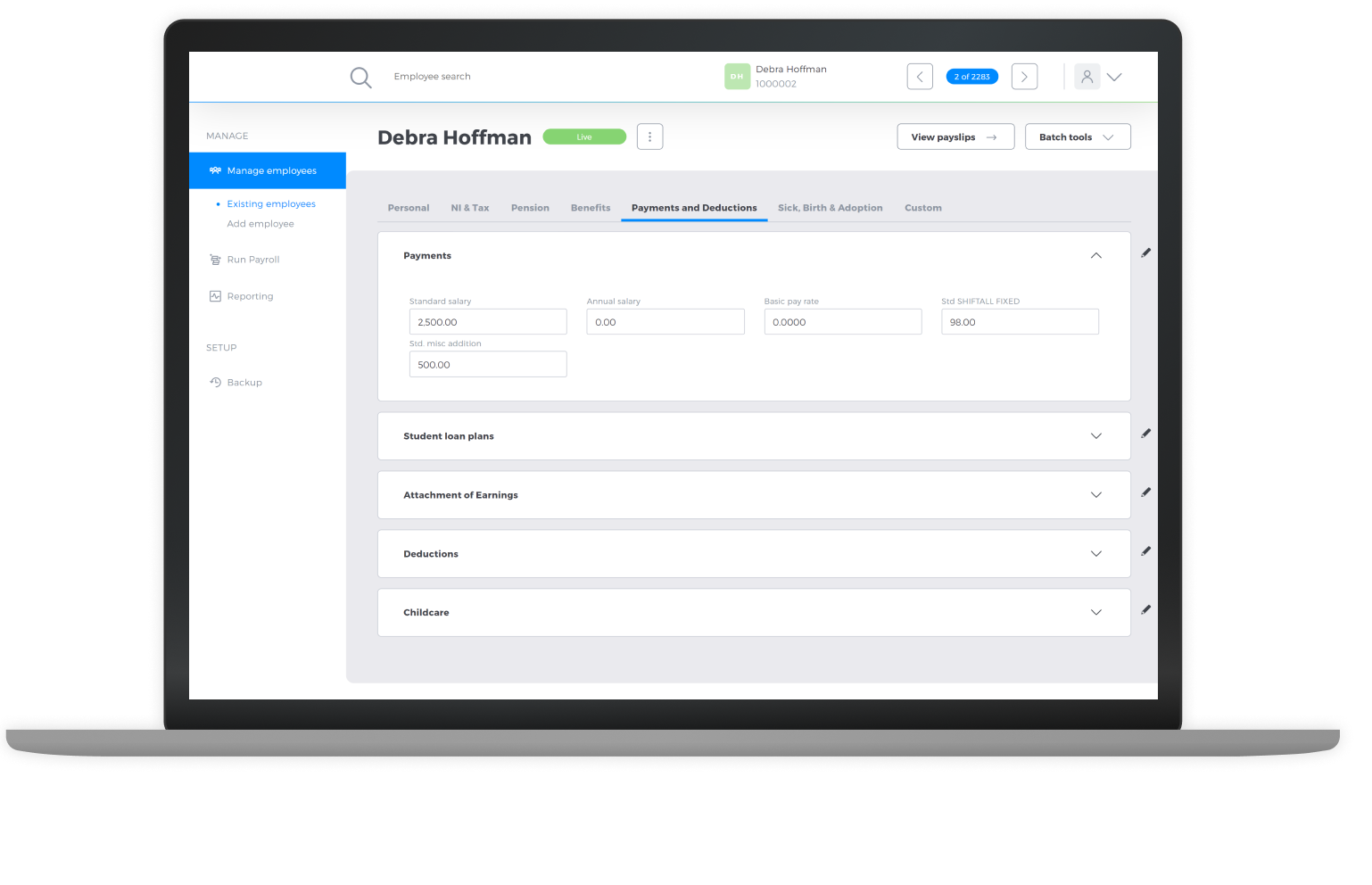 Payroll is a crucial operation but too many organisations find themselves languishing with clunky payroll systems.
Our payroll software, Advanced Payroll, offers you the framework you need to say yes to creating an accurate, compliant and efficient payroll experience with each and every pay cycle. Real time calculations, super speed processing and intuitive reporting come together to ensure that you have the visibility and control you need.
We provide payroll software to solve your key issues
Our payroll software is designed to solve the challenges that payroll teams face.
Key capabilities of our payroll software
---
Pay on demand
---
Gross to net calculator
---
Costing and nominal module
---
P11D management
---
Back pay
---
Optimised remote working
---
Compliance
---
Statutory and occupational sick pay
---
Reporting
---
CAPABILITIES
More than just Payroll Software
Find out more about the powerful features that sit within Advanced Payroll
Learn how Advanced Payroll can help your business
FEATURES & BENEFITS
Fast and Compliant

Take a look at the automated and compliance functionality within our payroll software.

Say goodbye to waiting for payroll to run and say yes to being confident in meeting your compliance requirements. Advanced Payroll offers real-time, super speed processing, no matter how complex your regular calculations are.

Super speed

Advanced Payroll offers super speed processing, no matter how complex your regular calculations are, delivering gross-to-net calculations for 10,000 employees in less than 20 seconds.

Streamlined processes

A basic business responsibility is to pay your people correctly and on time, our payroll software empowers you to do just that.

Using a solution as fast as Advanced Payroll allows payroll professionals to focus on other strategic tasks.

Complicated and long-winded processes are removed as well as the frustrations your payroll team face.

Automation

Avoid getting saturated with repetitive tasks which could easily be automated with features such as secure payslip delivery, pension auto-enrolment, validation checks and P11D processing.

Automate repetitive tasks

Gross to net calculator is always running in the background, which frees you from waiting for payroll to run.

Greater accuracy of payroll and hours of time gained back for your payroll professionals to make a difference.

At the end of each financial year your HMRC submission will be easy with pre-calculated P11D forms.

Compliance

Fully compliant with the latest legislation, our HMRC recognised payroll software helps you meet your organisation's RTI, automatic enrolment and data security requirements.

Meet legislation requirements

Let us worry about legislation while your payroll professionals complete the value adding tasks.

Comply with automatic enrolment practices without having to manually add eligible employees to the scheme.

Save hours of time worrying about data security knowing your payroll software is protected from vulnerabilities.

Back pay

The automatic back pay function allows users to calculate back pay when late notification of pay awards is given, requiring less manual effort and intervention by your payroll team.

Reduce manual effort

Automation of back pay calculations diverts unnecessary employee requests away from the payroll team.

If an employee is promoted and receives a salary increase, our solution will calculate proposed back pay.

Our automated payroll software will reduce error rates, removing the risk of wage violation cases against you as an employer.

Holiday pay

Make holiday pay calculations a breeze through automation.

Individual detail

Control the minor details by defining pay elements to include in your holiday pay calculation.

View by individual employee to see how their average weekly earnings value has been calculated.

Linking holiday pay to entitlement is automated through our payroll software and integrated HR module.

Flexibility

Take a look at the flexibility of our Payroll software

Save hours of time by saying yes to tailoring your payroll set-up to your specific organisation's requirements, whether that's number of employees, complexity of salaries, bonuses or multiple sites, we've got you covered.

Cloud or on-premise

We're not here to dictate your choices; that's why our payroll software is available in both Cloud and on-premise environments to suit your requirements.

Flexible environments

The Cloud gives you anytime, anywhere access to payroll information which is securely hosted in Microsoft Azure.

For highly regulated businesses, on-premise deployment provides peace of mind that data is stored within your in-house servers.

If in the future you want to switch deployment, we can be flexible to suit your needs.

Integrations

Our payroll offers the scalability you need to ensure your organisation is ready to meet the future, either as a standalone payroll solution or integrated into HR, Time & Attendance or finance solutions.

Scalable

Effective integration between our payroll software provides succinct information and reduces mistakes between teams.

Reduce your IT and support costs by having systems that integrate and can be managed as one.

In-house or bureau

Our payroll software can handle single or multi-company payrolls, making it the go-to-software for bureau, accountants and in-house teams.

Powerful payroll

With a powerful engine, our payroll software is scalable to the highest level of payroll processing.

An intuitive system to use for new payroll professionals and beyond powerful for experts in the outsourcing space.

Be confident in the security of data protection when processing payroll for multiple high profile clients.

Pay on demand

Take a look at the pay on demand functionality within our solution

Our pay on demand feature was built to accommodate for employees who need advance access to their earned wage. Say Yes to helping your people to better budget their finances and promotes healthy financial wellbeing.

Pay your people when they need it

Employees don't need to wait until payday; they can draw down pay when they need it. As the employer, you set the rules, and your workforce can access their earned wages when they need it most.

Flexible payments

No effect on cashflow because employees aren't paid for work they are yet to complete.

Move away from rigid, set-in-stone processes such as pay day at the end of each week or month.

Employees are happy in the knowledge that there will be funds available to deal with unforeseen costs and bills that occur.

Financial wellbeing for your employees

With your employees able to draw pay when they need it, you can ensure that your people's financial wellbeing is supported, so that your employees can stay happy, engaged and productive.

Employee wellbeing

You are more likely to recruit and retain top talent by implementing a pay on demand scheme.

Empowering employees to take control of their own wage or salary will improve their employee experience.

Without personal finance worries to distract them, employees will be more focused, engaged and productive.

Powerful reporting

Take a closer look at the powerful reporting capabilities of our Payroll solution.

The importance of data in the financial space is clear to all payroll and finance professionals, and with Advanced Payroll we've made it easier than ever for you to say yes to building the ad-hoc reports you need, anytime, anywhere.

Reporting & Dashboards

Our payroll software offers in-depth and flexible reporting features that allow you to take control of your costs and provide insights into your spending, enabling your organisation to make better decisions.

Being proactive

No longer rely on gut feeling when making decisions about benefits or employee compensation.

Better prepare for potential turnover spikes, employee milestones, bonuses and birthdays.

Become more proactive rather than reactive, saving your organisation time and money.

Visualising data in the time gained back from manually creating dashboards helps to make strategic decisions.

Saved time and resource

Without an effective payroll software, it can be difficult to run reports and dashboards, which can take a large amount of time away from your payroll professionals who are already up against the clock.

Automate reporting

Get access to automatically generated reports and dashboards that are ready to use instantly.

Have more time to digest the data and contribute towards strategic business initiatives.

If you need to send a report, it can be done in the solution or downloaded as excel or csv.

HR

Take a look at our integrated HR module to better support your employees' needs

Our integrated HR module has been designed to help you Say Yes to creating a more sympathetic and intuitive people management experience within your organisation. Our solution is designed with the aim of helping our customers achieve the most accurate record of their people via a secure, centrally localised data hub.

Employee Management

Employee management is the foundation of any great organisation and the systems that you use should help you place it front and centre within your business- that's the guiding philosophy around our solutions.

Automated efficiency

Appraisals are viewable in one place, making it easier for employees to see progress and track development and performance.

Hold information on new employees and those that are leaving without having to worry about physical documents.

Self-service of information empowers your people and frees your HR and payroll teams from the burden of admin-heavy tasks.

Track absences in one place and setup customised absence reasons to suit your organisation, so that your payroll is right first time, every time.

Automation

Eliminate the strain of repetitive manual inputs and admin-heavy tasks related to employee absence and payroll. Your employeees can directly view their leave entitlements and requests can be approved or queried automatically.

Self-service

We take the strain of keeping on top of complex holiday rules, saving you time and reducing inptting errors.

Our diary feature provides timely notifications before important dates are reached, so that you are always ahead of the next payroll run.

Customised workflows process the appropriate notifications and reports for quick on/off boarding and pay.

Reporting

Unlock reports that can help you understand underlying trends, skills gaps and any underperforming areas of the business to proactively rectify and plan ahead for the future

Understanding trends

Closely monitor anomalies, absences and sickness, and email reports for convenience.

Use real-time data to make better decisions that help to transform your people experience.

Report on employee qualifications to ensure you have the relevant people to contribute towards future success.
CUSTOMERS
Who succeeds with us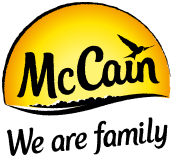 "Working with Advanced is like a partnership. It's a perfect example of developing a good long-standing relationship through offering a reliable and agile payroll system and merging it with an excellent customer experience and support."
— Steve Donoghue, Payroll Manager

"Another huge benefit of Advanced Payroll is the function of automated reporting for managers to assess absence records, for instance, enabling managers to save further time on creating and populating reports and spend more time on their daily duties."
— Stuart Carroll, Payroll and Systems Manager
IMPLEMENTATION
Welcoming you onboard
1 day
Challenge
We get a better understanding of you and your business to drive your Onboarding experience towards success with our payroll system.
1 week
Planning
We build a plan of action for your journey to Go-live with due dates and owners.
2 months
Journey
We provide the action plan to get you ready to adopt Advanced Payroll.
Destination
Congratulations you're live! This is where our Customer Success program really kicks in to provide you more value and make sure you are maximising your chances of reaching your goals.
Featured payroll resources for you
BROCHURE
Advanced Payroll Brochure
Advanced Payroll goes above and beyond industry standards for payroll software. Download the brochure to find out more.
Read Brochure
GUIDE
Choosing a payroll system that's fit for the future
This guide will give you an overview of payroll software and the key factors you need to consider when purchasing a new system.
Read guide
GUIDE
A business case for investing in modern payroll technology
Don't let your legacy systems hold you back from achieving payroll excellence. In this guide we'll take a look at the demands placed upon organisations by modern payroll requirements.
Read guide
In this article, we will explore the real-world benefits you'll see from integrated HR and payroll
Read blog
21 Aug 2023 by Hannah Hirst, Content Executive, Advanced
Discover the key signs your current payroll solution may not be serving your needs and when it's the right time to start looking for a new provider.
Read blog
06 Mar 2023 by Julie Lock, Commercial Director
We can all agree payroll is a pretty crucial element of your organisation right? After all, the ability to pay your people accurately and on time is a top priority and undoubtedly a cornerstone of your employee rewards and well-being schemes.
7 July 2023, by Nick Gallimore, MD of People Management
HOW CAN WE HELP?
Transform your Payroll function with Advanced Payroll
Say Yes to building the framework you need to create an accurate, compliant and efficient payroll experience with each and every pay cycle.