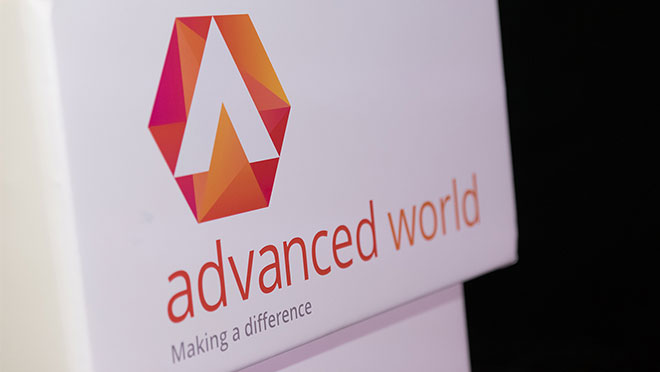 This week's Advanced World, our flagship customer event, proved to be the culmination of a year-long transformation of our business, which saw us spending two days at the Business Design Centre in London with over one thousand customers. The theme was making a difference, where we shared with customers our journey to date and provided an inside track on our plans and vision for the future.
Innovation was high on the agenda. With discussions of how Advanced will be meeting our customers' requirements in today's digital world, it was more than fitting to welcome Martin Taylor, Operating Principal at Vista, whose keynote speech took our customers on a spell-bound journey of the world of Vista, its partnership with Advanced and how this will make a difference to our customers. The key messages: not only will it ensure we are positioned well for growth, it means we can deliver technology innovations within our product portfolio. Martin shared some insights into the mega trends affecting the world of technology, looking at the Cloud, the Internet of Things (IoT) and data. The presentation was full of energy and, according to anecdotal feedback from customers, was certainly one of the highlights of the event. In addition to Martin we welcomed external speaker, Angela Eager, research director at TechMarketView to discuss the key market trends affecting organisations and the impact they will have on shaping our digital future.
Some of the other highlights included:
14 partners attending
Over 1,000 customers attending from a breadth of public sector, third sector and commercial industries
Over 100 plenary or hands on technology sessions taking place
20 different product roadmap insights revealed
Over one hundred and fifty tweets about the conference shared over the two days reaching more than thirty thousand accounts
Finally, it was an opportune moment to give our customers a preview of our inaugural Trends Survey. An extensive independent survey carried out in the last few weeks with over 1,000 business professionals, it will help us to understand how British businesses are navigating this world of change, the areas where digital technology can give them a competitive edge and inform where we can help make a difference now and in the future.
The full results of our Trends Report will be launched officially on Monday, 21st November at this year's CBI Annual Conference. It also aligns to the themes of the conference: innovation, growth and prosperity in a world of disruption.
And on to Advanced World 2017. Next year we'll be doing the same again, yet true to form we're already preparing to make it different. The conference will take place on the 10th October, bringing all our customers together on one day at the ICC in Birmingham. You can already sign up and keep up-to-date on how our plans for this event shape up. And of course, if there's something you'd like to see, or someone you'd like to see speaking, let us know; we would love to hear from you.