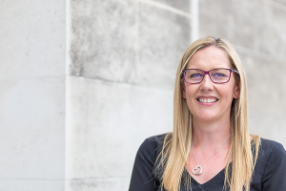 Advanced, one of the UK's largest software and services providers, has created a new C-suite role to accelerate the company's Cloud product strategy following major investment from funds managed by BC Partners and Vista Equity Partners in August 2019.
Amanda Grant becomes Chief Product Officer (CPO) following a successful stint as Product Strategy Director, where she was responsible for Advanced's product roadmap in all markets and ensuring the correct strategic investment for achieving growth. She has a strong IT background with experience in product strategy, pre-sales and training, which spans more than 20 years.
In her new role, she will accelerate the delivery of Advanced's 15 Cloud software solutions to market whilst also looking to expand this portfolio – both through its product development roadmap as well as by acquisition. A key focus will be strengthening the mission-critical bridge between the company's product management and strategy teams with its research and development delivery teams – of which the latter are managed by Jon Wrennall, CTO of Advanced. Together, Amanda and Jon will ensure Advanced remains competitive and continues to deliver the right and the best-of-breed Cloud solutions to market while achieving its ambitious growth plans.
"The investment by BC Partners and Vista Equity Partners marks the next chapter for Advanced and this new board-level position represents a key outcome," comments Amanda Grant, Chief Product Officer at Advanced. "It acknowledges the importance of the development and delivery of our Cloud products with pace, ensuring long term benefits to our customers while achieving our ambitious to become the leader in business software solutions in the UK."
Gordon Wilson, CEO of Advanced, adds: "The pace of change of technology in the highly competitive markets we operate requires us to have deep rooted knowledge in new and emerging technologies. This is exactly why we created the CPO position – and one that complements our CTO role too. Amanda's promotion will make our senior leadership stronger and, what's more, improve diversity in terms of background and experience."
Advanced's latest move sees the number of female leaders on its board increase to three equating to 33% – challenging criticism for the technology sector's lack of diversity. According to recruitment agency Inclusive Boards, only 12.6% of board members in the sector are women, compared to 30% across FTSE 100 company boards as a whole.
Amanda concludes: "Advanced has been making great strides in diversity for some time. In fact, half of our product management team alone is female and, gender aside, Advanced is an organisation that seeks people from all ages, cultures, preferences and so on. I am proud to work for a company that challenges the perspectives of the IT industry.
"I hope to be an inspiration within the industry. We all have a diverse range of skills – both technical and non-technical – and I believe we all something valuable to offer."