Tell us about your background and experience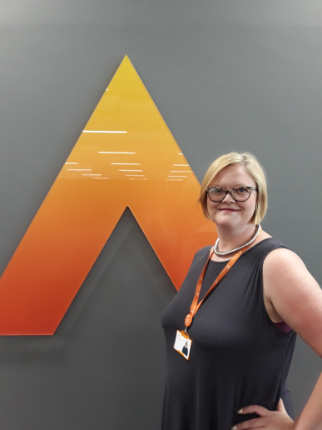 Before nursing I worked in insurance, but when I was 22 years old, I lost my Dad to cancer, which made me want to make a difference in patient care. Since then, I have worked in care homes, a private hospital, orthopaedics, neurosurgery and ophthalmology. When I was at university my Year Lead and Personal Tutor both had a strong focus on technology, and with their support I spoke at a conference and contributed to a published textbook about the use of technology. I've always been convinced that technology can help us drive change in society and am very happy that I can contribute to this. I know that if my Dad could see me now, he would be amazed by what I get to do at work. He always encouraged me to pursue my dreams, and he too was passionate about technology. He only let me have my first PC if I helped him to build it – this was a big thing for a 12-year-old girl!
What does your role at Advanced involve?
I mainly work with the Clinical Manager, Claire Sherwood, the Medical Director, Dr Alex Yeates, and the rest of the Clinical Safety Team, to ensure that our care products are safe, compliant and user-friendly. I also work closely with Product Management and Marketing to help share insider knowledge of what working in health and care is like – this helps develop functionality that we know people will use, and influences which direction products will take in the future. The best part of my job is definitely being a member of a great team – we all come from a variety of backgrounds and so have a lot of perspective and expertise. I really, genuinely love working with my colleagues in the Clinical Safety Team and across the organisation.
What are the main challenges in health and care today?
One of the main issues, particularly around technology adoption, is that people who aren't receptive to change can be obstacles to transformation. However, there are also those who embrace change and actively seek out ways technology can be used to improve care provision. Currently a lot of care homes and care agencies still use paper records, and some sector leaders fear that if records are stored on a computer they could be less reliable. Staff in care settings often come from a range of backgrounds and IT skills can be minimal, so care providers look for a software system that's easy for their staff to use. Finding investment for technology is also often difficult – the concept of care software is a lot newer than, say, financial management software – so the sector has a lot of catching up to do before technology is widely accepted as the norm. There isn't really a standard for care records at the moment, so we find ways to demonstrate how our software decidedly isn't one-size-fits-all; care organisations don't have to change any of their existing processes in order to effectively use our systems. Fundamentally, care should be person-centred, so we're working on making our technology the best fit it can be for both staff and service user care.
What's in store for the future of health and care?
In an ideal world, people in a care setting would be able to contact health and community services in a more integrated way. Health and social care are gradually becoming more linked together, a change that comes right from the top – Jeremy Hunt is now the Secretary of State for Health and Social Care rather than just 'Health'. Professional training is now much more flexible than it was in the past – you can qualify to work in health and care and fit it into your existing schedule and lifestyle. I hope that this will encourage career changers and young education-leavers to join the sector. There are many exciting developments on the horizon throughout the health and care sector driving excellence. For technology, I think the future will see even more inclusivity, with more women and girls encouraged to work in this area. The integration of technology in all aspects of our lives means that even people who don't feel particularly 'tech-savvy' can offer so much to driving change.
Three things I've learned since starting work at Advanced…
It's difficult to change the world as a frontline nurse, but if you can equip frontline clinicians with the right tools, you can be part of a solution that's driving better care for everybody. I've learned that technology can help answer challenges within health and care, leading to better communication, monitoring and integration. It simplifies and streamlines administration, allowing care workers to spend more time with those who need them. We provide the tools that enable people to do their jobs better, more efficiently, and most importantly of all to deliver excellent care.
Join the conversation by tagging #TeamClinical and #WeAreAdvanced.