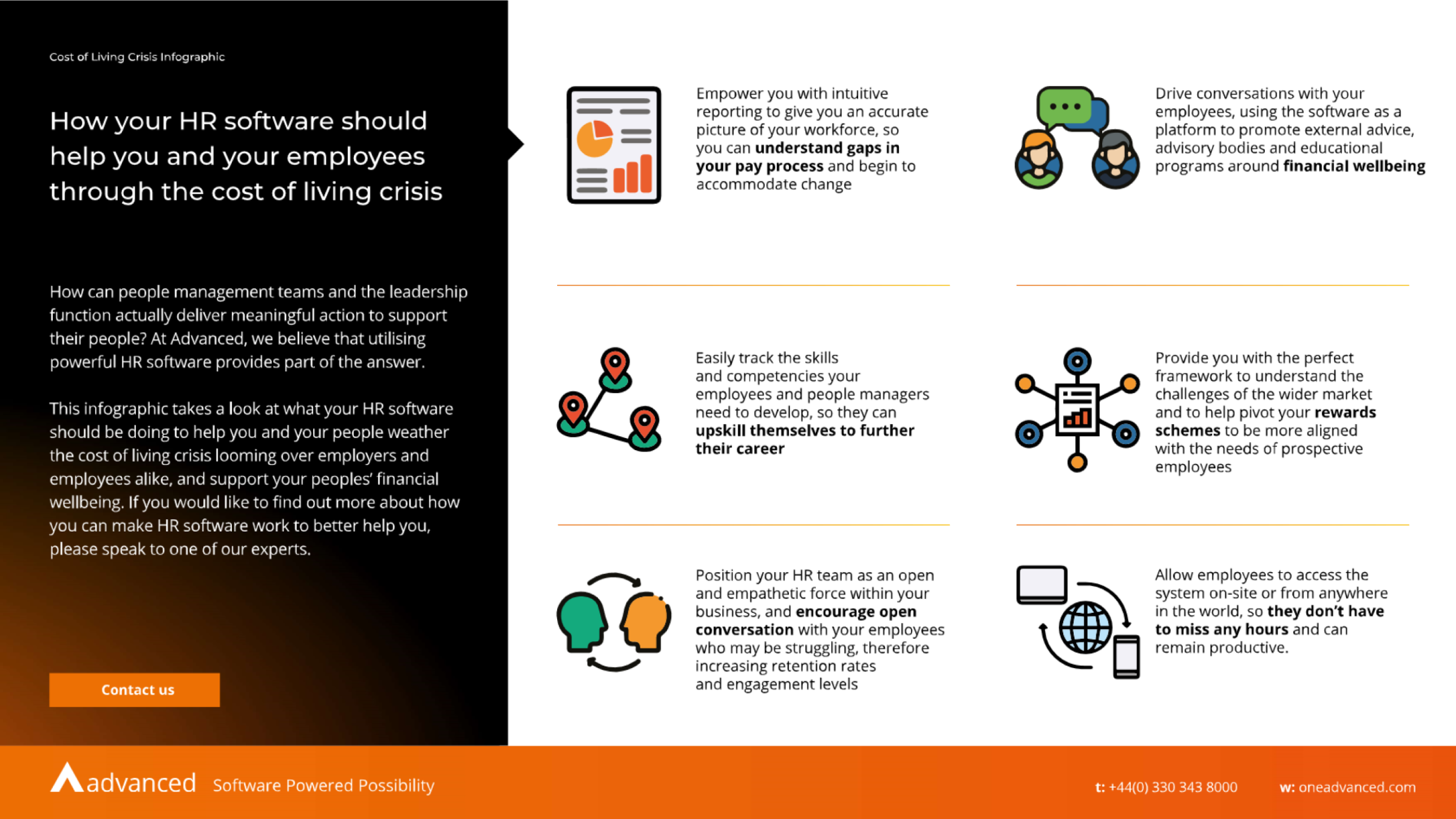 The cost of living crisis represents one of the most significant threats facing businesses and their people, the effects of which- if left unchecked; could lead to damaging long term effects not just on the finances of their people but also on their ongoing physical and mental wellbeing.
So what exactly can businesses do to help shepherd their people through the cost of living crisis? From an organisational perspective, one of the keys to help mitigate the worst of the crisis seems to lay in ensuring that your management and people teams have access to the appropriate tools needed to help shape policy, guide conversations and take meaningful action.
How effectively your organisation may be able to shepherd your people through the cost of living crisis will largely be determined by the policies and procedures put into place by your HR professionals. This is why, we've created Advanced HR with that goal in mind: to free HR teams from the burden of manual inputs and admin heavy tasks and instead, free their time so that their talents can be leveraged to truly transform their organisations.
What is the cost of living crisis?
The cost of living crisis is a multitude of factors which have combined to create the biggest decline in household income since the 70s. Experts have pointed to the long term effects of Brexit and the COVID-19 pandemic as driving elements but there is also evidence which points to more recent events such as the conflict in Ukraine and soaring energy prices as having a marked effect.
At the time of writing, inflation has also hit a 40 year high with the Bank of England reporting that inflation could rise by up to 11% by this autumn. This surge in inflation has already left its mark on food and gas prices, with staples such as meat and dairy products being hit particularly hard. This has led to an average increase of £454 a year for the average UK household's grocery bills.
Hikes in energy prices are also a chief cause for concern. Despite announced government support packages to attempt to alleviate the worst of the increases, these measures have been viewed by financial experts as relatively modest and not a demonstration of long term support, particularly with utility bills set to increase beyond initially predicted levels.
How can Advanced HR help?
How will rising costs affect your people and what exactly are your responsibilities as an employer when it comes to safeguarding the financial wellbeing of your employees? Whilst there are no mandatory requirements for businesses to step in when it comes to the financial wellbeing of their employees, there is a strong argument to be made that responsible employers will be seeking to put policy and procedure in place that mitigates the impacts on their people.
Your HR teams are ideally placed to serve as standard bearers of good financial practice and it is undoubtedly their expertise which you will need to lean upon in order to create policy and procedure to help guide your people through the cost of living crisis.
So what exactly can Advanced HR help you achieve?
In depth reporting- Gain an unparalleled overview of your organisation, understand where gaps in pay or other procedure exist and begin crafting policy and procedure to truly help your people. Advanced HR gives you access to the intuitive reporting your need to guide your people management strategy today.
Offer practical advice- Empower your HR teams to act as standard bearers of good financial practice and remove the stigma that comes with discussing financial worries in the workplace. Advanced HR offers you a platform to drive meaningful conversations with your employees, offering advice and linking to relevant external advisory bodies.
Upskilling and development- With the finances of your people likely to be strained now more than ever, one of the best ways to help shepherd your people through leaner times is by offering them a platform to further grow and develop their skillsets and allowing them to advance within your organisation. Advanced HR offers you an intuitive platform to track and maintain the skills and competencies of your people, allowing management to touch base as they need to and guide their development.
Meaningful rewards schemes- We all like to be rewarded for a job well done and an organisation's suite of rewards and benefits schemes can serve as the perfect advertisement as to why people should choose to work for you. In light of the cost of living crisis however, it is more important than ever that your rewards and benefits schemes reflect the needs of your workforce. Advanced HR provides you with the perfect framework to understand the challenges of the wider market and pivot your rewards schemes to be more in line with the needs of your people.
Be more empathetic and influential- Empower your HR teams to drive forward meaningful conversations around financial wellbeing. Advanced HR offers you a platform to engage with your employees who may be struggling and allows you a framework to create meaningful plans of action to help safeguard the wellbeing of your people. Putting the needs of your employees first can go a long way towards ensuring high levels of retention.
Remote capability- Regardless of where your people choose to work from, they should have access to the same systems as your other employees. Advanced HR can be accessed remotely, allowing staff who choose to work from home to benefit from the full functionality, without the need to be tied to an office location. This means a greater sense of business continuity and for your HR teams, It means no employees are being left by the wayside.
What's next?
The cost of living crisis is a broad issue and will impact people in a number of different ways. The important message for businesses and their people experience teams is to take the time now to take stock of their frameworks, their reward schemes and how they engage with their people and to ask what they can do to help shepherd their employees through this crisis. Remember, there's more to your reward structure than simply increasing wages and there are plenty of steps you can take to look after your people which aren't reliant on salary increases.
Fortunately, the answer lies in the systems and technologies that businesses rely on daily. Your HR systems offer the ideal platform to engage with your people, removing the stigma around discussing financial struggles and also helping guide employees towards programs of support and education.
Advanced HR has been designed to ensure that your HR teams are no longer burdened by the weight of manual processes or admin heavy tasks and to ensure that their talents are free to be utilised in more meaningful ways.
If you'd like to discover more about how Advanced HR can help empower your people teams to achieve more and guide your people through the cost of living crisis, download a free brochure or contact us.