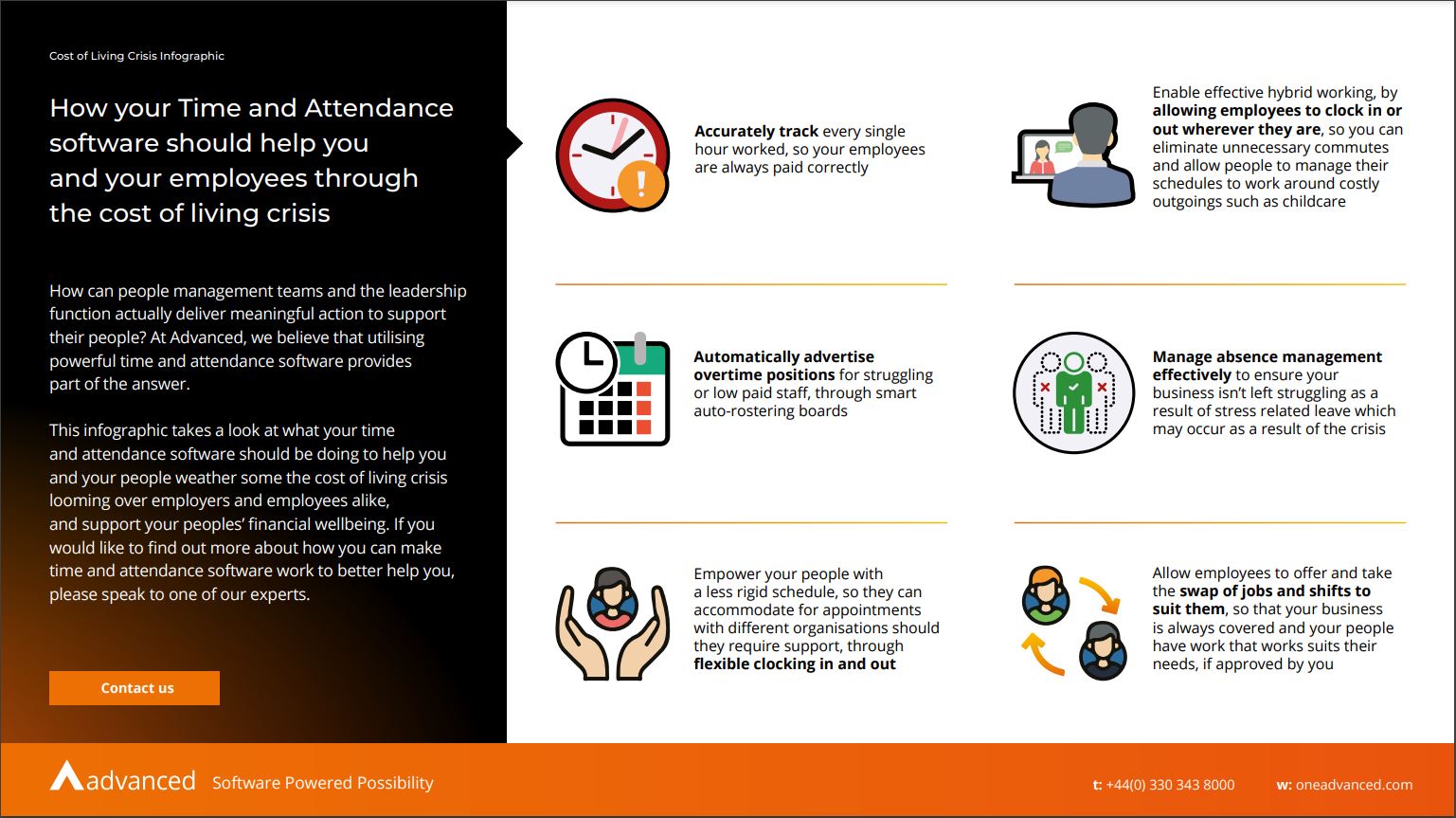 The cost of living crisis represents one of the most significant threats facing businesses and their people, the effects of which- if left unchecked; could lead to damaging long term effects not just on the finances of their people but also on their ongoing physical and mental wellbeing.
So what exactly can businesses do to help shepherd their people through the cost of living crisis? From an organisational perspective, one of the keys to help mitigate the worst of the crisis seems to lay in ensuring that your management and people teams have access to the appropriate tools needed to help shape policy, guide conversations and take meaningful action.
Cost of living crisis- How may it affect your employees?
With inflation at a high we haven't seen for decades, and with wages in many sectors not rising to meet price hikes, it is no secret that the cost of living crisis is set to have serious consequences for the long-term financial wellbeing of many.
Those in the lowest pay bands will of course be hit the hardest, with many people already having to make significant sacrifices in order to keep their heads above water financially: Research by the Office of National Statistics has found that 24 million people have already cut back on their gas and electricity usage, whilst The Trussel Trust who supports over 1,300 food banks across the country, have reported an 81% increase in people making use of their facilities in 2022.
From an organisational perspective, what does this mean for your employees? Well to put it simply, the cost of living crisis isn't an imminent threat; it's already here and presenting a harsh reality which many people are already living through. The impact that long term financial strain can have on the wellbeing of your people is significant and businesses can't afford to ignore the pivotal role their HR function can play in helping to engage with their employees and do what they can to mitigate the impacts of the cost of living crisis.
There is also an already closely established link between money and mental health, something which is predicted to become especially pronounced as the cost-of-living crisis hits home. With more and more people set to struggle to keep their heads above water, businesses cannot afford to be blind to the impact financial struggles can have in leading to spiralling instances of anxiety and depression.
How can Advanced Time and Attendance software help?
At Advanced, we believe in the power of technology to help you achieve more. We also appreciate that the cost of living crisis represents a huge threat to the people who make your businesses a success. Any organisation will want to do what they can to help mitigate the impacts on their people and create practical policy and procedure to drive meaningful change and support the ongoing wellbeing of their workforce but the scope of the challenge can make this seem daunting.
We also believe that time and attendance forms one of the cornerstones of your employee experience and that the systems and technology which you rely upon every day have a huge role to play in helping you shepherd your people through the cost of living crisis.
We've created Advanced Time and Attendance specifically to help businesses tackle the challenges which hold them back daily, helping to free HR and people teams from the drudgery of manual input and admin heavy tasks and giving them back the time they need to leverage their talents in more meaningful ways.
What can Advanced Time and Attendance help you achieve?
Accurately track employee hours worked- Now more than ever, it's important that your employees are being paid accurately for the hours they work. Advanced Time and Attendance gives you a complete overview of shift patterns and times worked, ensuring you have the oversight you need to guarantee an accurate and timely pay cycle.
Enable hybrid working- Empower your people to take charge of their schedules and work from a location which suits them. Advanced Time and Attendance allows your people the ability to clock in remotely via phone, tablet or desktop device, giving you the visibility you need whilst also allowing your employees the ability to avoid costly commutes and to work around the need for expensive outgoings such as childcare costs.
Automatically advertise overtime positions- With the finances of your people likely to be on a knife edge throughout the cost of living crisis, it's clear that you need to give them access to some of way of boosting their cash flow and rapidly. Advanced Time and Attendance utilises intelligent auto rostering boards where overtime shifts can be easily advertised and picked up by your employees as and when they need.
Manage absence management effectively- It's an unfortunate truth that financial worries can lead to stress which in turn, can result in higher incidences of absences. Advanced time and attendance takes the strain of absence management for you, with our auto rostering function ensuring you always have an up to date view of relevant cover you can draw upon in order to ensure that shifts remain populated.
Flexible Clocking- Empower your people and enable them to adopt a less rigid working schedule. Advanced Time and Attendance allows your people to clock in seamlessly from a remote location, giving you the peace of mind to let them get on with the job whilst also allowing them to accommodate for appointments or other important commitments.
Employee trade boards- Sometimes, it pays to expect the unexpected, particularly when it comes to your scheduling. In light of the cost of living crisis, it's vital that you allow your people a degree of flexibility as it pertains to shift swapping. Advanced time and Attendance's intelligent auto rostering function removes the burden from your people management teams and allows your employees to advertise and take up alternative shifts as suits them.
What's next?
Your time and attendance function offers you the perfect opportunity to help guide your people through the ongoing cost of living crisis. With the proper tools at your fingertips, you can empower your people to take charge of their schedules and give them the flexibility they need to get on with their work without the worry of accruing needless expenses from commuting. The freedom to work from wherever they choose also frees your people to make those important appointments and seek out the help they need without fear of it disrupting their work.
Our time and attendance solution offers organisations the unmatched ability to gain operational control and support for the day to day management of their workforce. Our analytics suite means the information you need to take control of your business is always at your fingertips and our market-leading self service functionality means that your employees can take ownership of their schedules, freeing your HR teams from the burden of admin heavy tasks.
We believe that technology can help you achieve more with your business. We believe in empowering your people and giving them the tools they need to thrive and help drive forward the success that your organisation deserves.
If you'd like to discover more about how Advanced Time and Attendance can help you guide your people through the cost of living crisis, Download a free brochure or Contact Us