ADVANCED SUPPLIER MANAGEMENT
Supplier Relationship Management Software
Reduce risk and get a complete overview of supplier performance.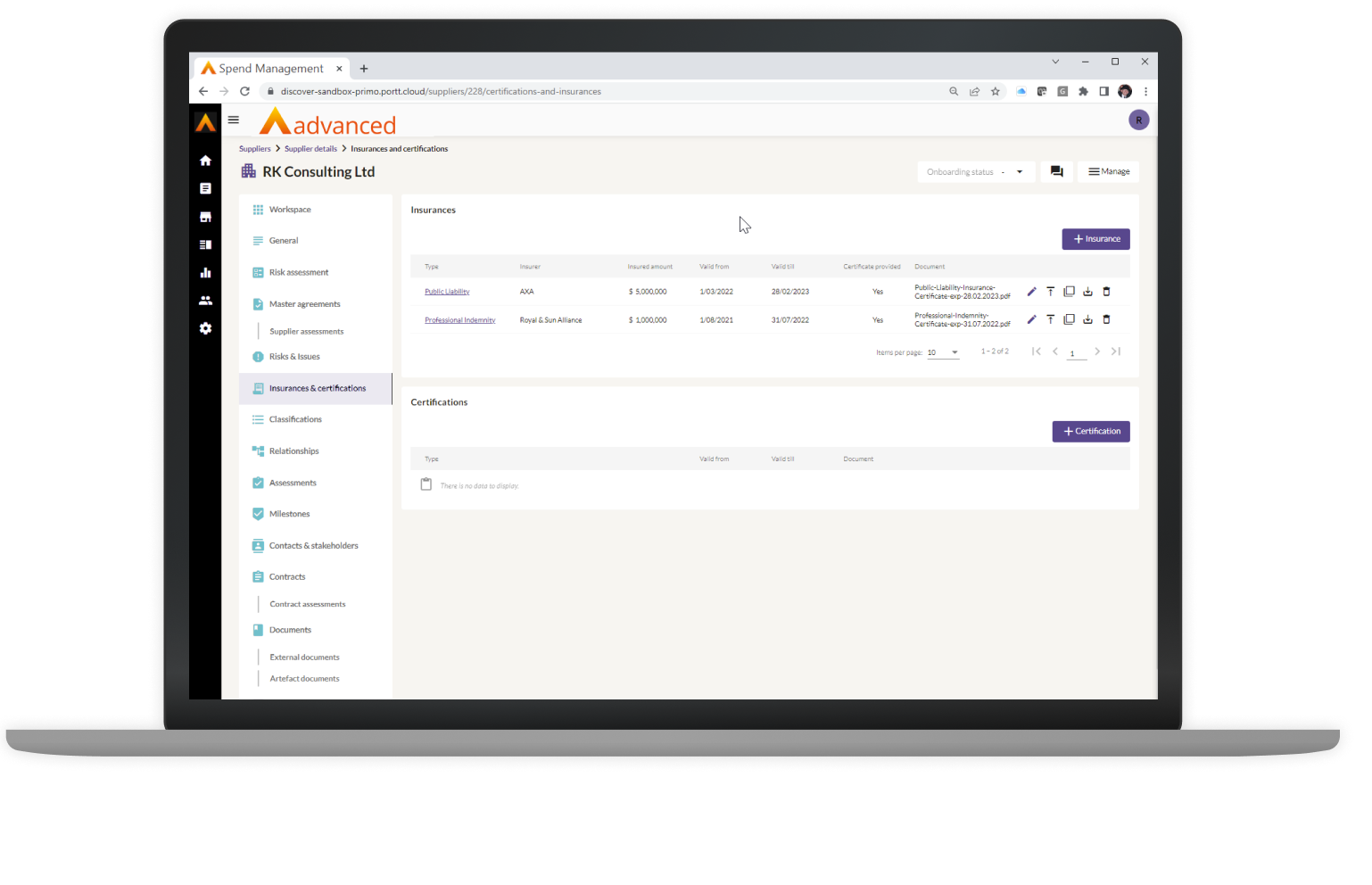 Advanced Supplier Management: Anticipate. Plan. Achieve.
Advanced Supplier Management helps organisations to thrive in an increasingly unpredictable environment.
Our supplier management solution puts you in the driver's seat for contract negotiations, by providing clear visibility of all your contracts and suppliers in one centralised location.
Visibility of suppliers is one of the main priorities for procurement teams. Whether your organisation is within the NHS, higher education, local government, or the private sector, we have a solution that enables your team to build effective supplier relationships (while improving supplier performance too).
"We highly recommend Advanced Supplier Management as a contract and supplier lifecycle management platform, as it gives organisations complete control and visibility of any task, process, or performance-related aspect of managing contracts/suppliers."
Bruce McClintock, Partner at Chapman Tripp
Key capabilities
---
Quick start contracts
---
Contract integrity controls
---
Checklists and activities
---
Alerts and reminders
---
Tracking of contract changes
---
Automated tracking/reporting
---
Fast implementation
---
Built-in dashboards
---
Modern user interface
---
Easy to use
---
We understand and solve your key issues
We build products which are designed to solve our customers' key challenges.
CAPABILITIES
More than just supplier management software
Find out more about the powerful features that sit within Advanced Supplier Management
How Advanced Supplier Management can help you
FEATURES & BENEFITS
Reporting & dashboards

Focus on strategy and performance with ease, with Advanced Supplier Management's built-in reports and dashboards

The user-friendly interface provides a high-level dashboard, with the ability to drill down for more detailed information. In addition to this, supplier insights can be configured so that individual users have access to the data most relevant to them.

Reporting & dashboards

Quick and easy access to the information you need.

Customisable dashboards

Gain insights into what is important to you and other team members

Get a quick and simple overview of your contracts, dates, and reminders

Gain real time business insight

Insights to help you make decisions

Automatic alerts and reminders on contracts and supplier insights, reducing the need for manual input

Centralised reporting ensures insights are accurate and up to date

Gain valuable insights into both individual contract and supplier management, as well as overall contract process performance

Increase business agility

More speed, less admin

Gain a complete view of business performance

Make decisions based on accurate data

Spend less time analysing and more time implementing improvements inspired by insights

Supplier & risk management

Real time insights specifically tailored for your whole team

Having access to up-to-date contract information is critical to making informed contract decisions. Without this data, teams can struggle to act and react to changing market dynamics and business priorities.

Empower your teams with full contact visibility, ensuring you are agile and efficient when making decisions.

Keep track of the health level of your contracts

Easily see which suppliers are at risk

Assign standard parameters and checklists

Encourage collaboration with increased visibility on health status and recommended actions

All supplier information in a single destination

Safely store information

Easily organise, store, and update contracts

Add functionality as your budget, scope, and maturity increase

Supplier variation management

Track changes and variations

Keep your suppliers' contacts up to date by tracking changes

Get one version of the truth with automatic updates when integrating with other solutions

Easily change suppliers' details throughout the year as and when they change

Gain complete transparency of your suppliers

Have a deeper understanding of your supply chain by linking suppliers together

Create automatic response plans for supplier risk categories and statuses

Determine supplier risk by creating score frameworks

Mitigate risk with Advanced Supplier Management

Understand your third-party relationships and impacts of possible disruptions

Predict risk and plan ahead of time

Easily view your contracts, suppliers, and compliance requirements in one place

Compliance & transparency

Adapt to legislative changes and manage information efficiently with Advanced Supplier Management

Reduce human error and manual inputting when dealing with important reports/contracts. Ensure the right people are involved and information is available for selected team members. Advanced Supplier Management makes it easy for your organisation to maintain high compliance levels.

Insurances & certifications

Align insurance obligations and dates to your contracts automatically

Manage risk and time by having full visibility of your contract relative insurances

Ensure both your contracts and insurance are valid and up to date

Easily generate custom reports and alerts

All contract data in a single destination

Safely store information

Easily organise, store, and update contracts

Add functionality as your budget, scope, and maturity increase

Reminders to prevent you from forgetting the important things

Get alerts when your contracts are expiring

Create custom reminders

Mitigate the risk of contract expirations

Public information reporting

Custom reports to ensure maximum transparency

Select custom filters for more detailed reporting

Adapt to any legislative changes regarding public reporting

Generate reports effortlessly for maximum transparency

Built-in assessments & tools

Ensure suppliers are aligned with your ESG objectives through Advanced Supplier Management

Setup mechanisms to ensure your suppliers (and their suppliers) adhere to the legislative and policy requirements around your environmental, social, and governance objectives. With regular assessments and the ability to view supplier compliance monitoring performance becomes simple.

Complying with modern slavery requirements and having a complete view of your contract/supplier performance doesn't have to be complicated. With Advanced Supplier Management you can create workflows, generate performance reports, and easily manage your modern slavery risk.

Clear visibility of supplier and stakeholder performance

Identify, tier, and link your suppliers to industry, service, and individual capabilities

Create bespoke assessments to provide a 360-degree view of supplier performance

Understand and effectively use qualitative feedback from your supplier meetings to improve outcomes

Modern slavery risk management

Specially designed for organisations with turnover above £36 million

Monitor and manage risk with a complete modern slavery framework

Detailed risk assessment and validation on all impacted suppliers

Easily generate a modern slavery report for maximum transparency

Define permission levels and automate actions

Create workflows tailored to your organisation needs

Automate manual processes

Allow different teams to focus on the contracts that are relevant to them

Designate responsible persons to speed up processes

Delegate actions to relevant team members

Send notifications when contract or supplier information changes

Speed up internal processes
IMPLEMENTATION
Welcoming you onboard
1 day
Challenge
We get a better understanding of you and your business to drive your onboarding experience towards success.
1 week
Planning
We build a plan of action for your journey to go-live with due dates and owners.
2 months
Journey
Working through the action plan, we execute the plan with you and get you ready to adopt Advanced Supplier Management.
Destination
Congratulations you're live! This is where our Customer Success program really kick in to provide you more value and make sure you are maximising your chances of reaching your goals.
Featured resources for you
eBOOK
Transforming Public Sector Spend Management with Technology
Find out what technology is propelling and facilitating transformation in the Public Sector.

Download
WHITEPAPER
Procurement Challenges 2023
Download our latest whitepaper as we identify the procurement challenges that UK businesses have recently been facing, and may continue to face for some time to come.


Download
WHITEPAPER
How focusing on customer experience could transform your procurement function
Find out how focusing on procurement customer experience (PCX) can lead to better outcomes


Download
Hi, we are Advanced.
Talk to us.
Enable the strategic capability of your supplier relationships.