It is hard to believe that Windows 11, released in October 2021, will soon be 2 years old. It has been widely adopted and it is the first operating system built specifically for the world of hybrid working. It will replace Windows 10 across most organisations by October 2025, when Windows 10 reaches the end of its support.
For those who have not yet taken the leap to Windows 11, this blog will take a dive into the key benefits of upgrading to this system, along with migration steps and potential challenges.

Performance:
Windows 11 was built for hybrid working and focuses on end-user productivity, providing better integration with cloud applications and cloud working. For example, Windows 11 is highly optimised to ensure you get the best experience; it prioritises active workloads and deprioritises idle tasks in the background for a quicker response time and better performance. This means a user with lower RAM and CPU will likely see a performance boost after upgrading to Windows 11.
Security:
Windows 11 has raised the security baseline. Microsoft have analysed common attack vectors via their threat intelligence products, and then used industry leading experts to design counter measures to create the most secure version of Windows. For example, the trusted platform module requirement in Windows 11 enables the true passwordless experience, which blocks most phishing and password-based attacks. This helps IT teams to protect organisational devices. The full potential of passwordless functionality can be utilised by using Windows Hello for Business.
Windows 11 requires UEFI Secure Boot- a booting feature that ensures that the system boots with a code that is signed by either the device provider or a vendor such as Microsoft. With the combination of the boot code and the record of the cryptographic hashes in the hardware, the verification of the integrity can be assured. This is of key importance in security, as if the system is compromised before the operating system boot, any user and endpoint security tools would be useless.
End of life for Windows 10
Windows 10 is now being slowly depreciated. Windows 10 received its final feature update in November 2022, and it will be out of support fully by 14th October 2025. To ensure your users are getting the latest features and the best possible experience, it is time to move to Windows 11.

Migrating to Windows 11
In the following section we will look at how to check Windows 11 requirements and the routes that organisations can take to upgrade to Windows 11.
Windows 11 has mandatory system requirements that must be met before you can upgrade. This can easily be checked by using the Microsoft Intune endpoint analytics portal. The portal provides an overview of how many of the company's devices are ready for the upgrade and how many do not meet the requirements.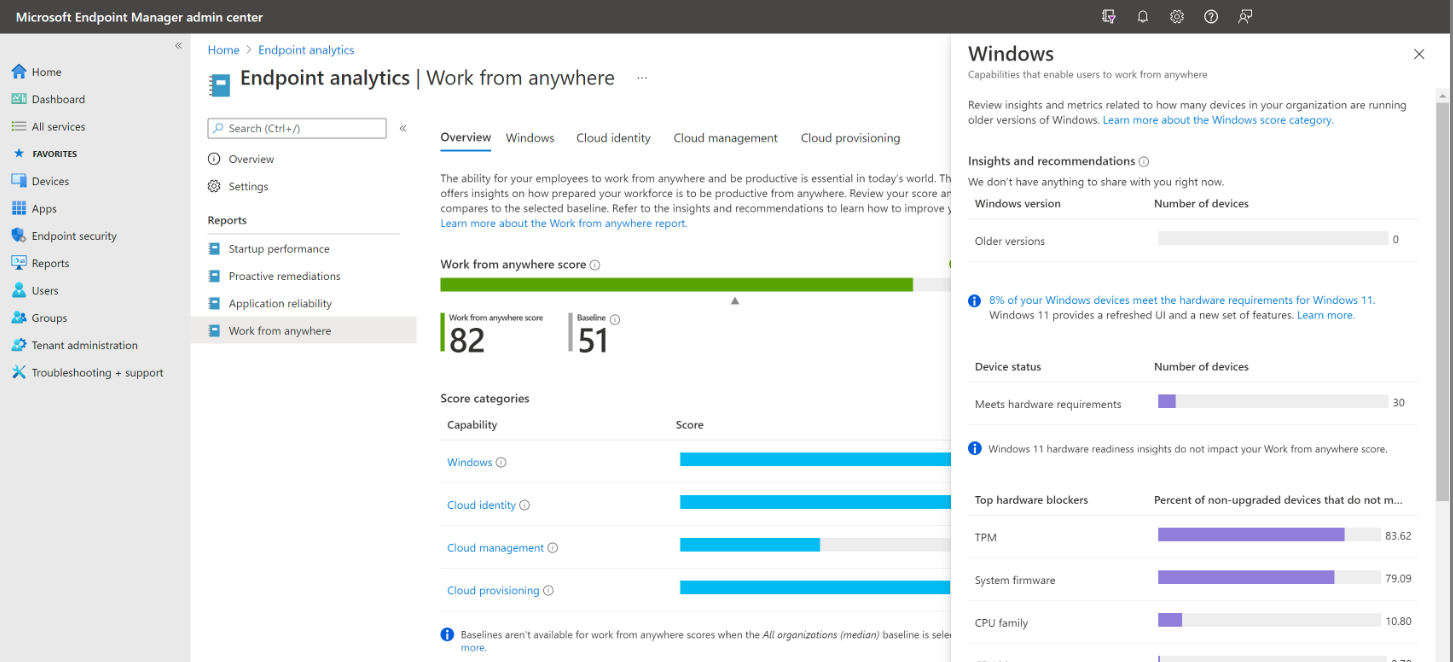 If all the devices have the system requirements, the IT team can start think about migrating to Windows 11. It is worth mentioning that an assessment of the current deployment infrastructure, tools, overall endpoints, and update management processes can be beneficial for the organisation as there could be viable options to simplify the internal processes along with the upgrade of Windows 11.
Make the upgrade easier
Advanced can help you and your organisation to drive the transition to be structured and straightforward, with as minor impact to users as possible. We can create a plan for your organisation to guide you through the various tasks including setting up Hello for Business, Intune deployed configurations, or device enrolment to Azure AD. We can also assess your environment against the Microsoft security baselines or CIS benchmark, so your new Windows 11 environment will be aligned with the best security practices.
However, even with a great planning structure, we will need to consider the possible pain points. Here are some of the possible challenges when moving over to Windows 11:
- Large roadmap to roll over to Intune if the organisation is not using Intune already
- Desktop analytics does not support Windows 11
- In-place upgrade to Windows 11 on existing generation 1 VMs is not possible
Not sure where to begin?
Advanced can help your business implement the latest innovations within Microsoft, including an end-to-end CIS compliant Windows 11 build for your organisation, aligned with your unique requirements. Reach out to our team if you would like to speak to us about next steps or to book a workshop where we can set up a test plan and an upgrade plan to Windows 11.
Written by Daniel Bereczki – Cloud Solutions Architect - Advanced