Azure Virtual Desktop (AVD) is a powerful tool that allows you to access a remote virtual desktop from anywhere. Powered by Microsoft Azure and 365, AVD is the industry standard for virtual machine desktops.
In the next 24 months, it's estimated that 58% of organisations will have AVD deployed.
Ensuring that your company is ahead of the curve and up to date on the latest technologies is incredibly important, and introducing Azure Virtual Desktop is no different.
In this blog, we'll go through the top indsutry use cases for Azure Virtual Desktop, and how you can get started now.
What is Azure Virtual Desktop?
Azure Virtual Desktop is a cloud-based virtual machine solution, that allows you to remotely connect to a virtual desktop from anywhere. All you have to do is enter the virtual desktop's server into any remote desktop tool, and you're ready to go. You can even use Window's built-in 'Remote Desktop Connection' tool.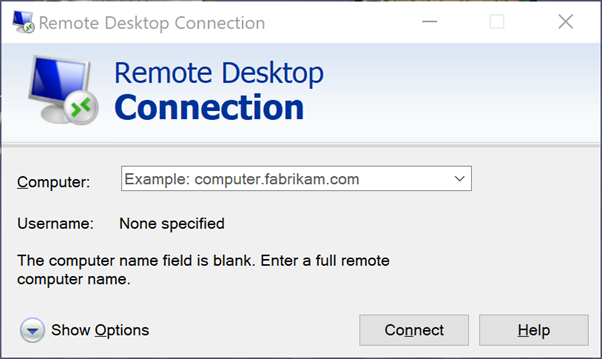 As AVD is a Microsoft product, it is the best way to run a Windows virtual machine and has the added advantage of being cloud-based — which means great scalability and adjustability compared to traditional on-prem virtual machines.
It also works directly with other Microsoft Azure and 365 products, making it much better for your workflow as a whole than any other solution.
Top 7 Use Cases
Simple Remote Working
Remote working is looking to be the future of business. With 14% of adults having worked from home exclusively, Azure Virtual Desktop is the perfect tool for the modern world.
Rather than having to carry your files on a physical computer or hard drive, Azure Virtual Desktop allows you to access your work computer system from any computer, meaning that your files never leave the workplace — but you can work on them anywhere.
And, as remote teams grow and more resources are deployed — Azure Virtual Desktop's scalability is second to none. You can onboard users easily, and can also ensure that previous employees' work drives are archived or deleted without having to physically access their computers.
Secure Healthcare
The needs of the healthcare industry are enormous due to the importance of providers' work and the amount of sensitive information that healthcare institutions carry. Azure Virtual Desktop is far more secure than any other solution and allows for data to be stored on encrypted drives that can't be accessed by physical attacks.
Also, AVD allows multiple users to access the same desktop — which lets healthcare employees have anonymous access to the files that they need whenever they need them without security fears.
Cheaper Manufacturing Hardware
Virtual machines are integral to the manufacturing industry, as they allow organisations to create a system that is accessible to employees at once.
Azure Virtual Desktop lets employees log in to a single desktop, meaning that you don't have to spend large amounts on hardware and software licensing — nor do you have to give up any security power.
Law Firms on the Go
Legal institutions need secure infrastructure as their information is often highly sensitive and prone to attacks. Azure Virtual Desktop is highly secure and protects these companies' data from ransomware attacks and data breaches.
Legal representatives will often have to travel outside of the office. Azure Virtual Desktop is the easiest solution to allow them to log in to their desktop away from their physical office, meaning they can access important documentation and files whilst meeting with a client — or even in the courtroom.
Education and Schooling
Virtual machines have been the backbone of schools for years. Being able to give hundreds of students access to computer accounts without paying for physical hardware for each student is important to educational institutions.
With schools and other institutions moving to a remote-based platform, Azure Virtual Desktop is great for moving archaic on-prem virtual machines onto the cloud. With great scalability and ease of adding and removing accounts, schools can easily give new accounts to new students whilst removing leavers each year.
AVD also allows students to access their files and school desktop from anywhere, meaning that they are able to do work at home — this lowers the amount of demand for physical hardware in school libraries/workspaces.
Compliant Finance Organisations
Azure Virtual Desktop is great for financial organisations due to its top-tier security and encryption.
Rather than having on-prem servers — that can be attacked physically — Azure Virtual Desktop allows financial institutions to safeguard themselves against ransomware attacks and data breaches.
Azure Virtual Desktop is also fully security compliant, allowing employees to access their files remotely in a secure way — whilst also limiting what employees can access or transfer to external devices.
Contractors
Companies often hire independent contractors to work for them, meaning that they need the tools and systems from the business to be able to carry out their work.
Due to the temporary nature of contract work, Azure Virtual Desktop allows employers to give temporary access to contractors without having to physically give them hardware or full access to work systems — you can easily add and remove contractors from your AVD system.
Unlock the power of virtualisation with Azure VD!
Virtual machines are incredibly useful and important to our transforming world. With more companies moving online and the increased security needs of companies with important data, Azure Virtual Desktop is easily the best tool in any successful organisation's arsenal.
AVD's security and remote working capabilities are unmatched, and its cloud-based system with Microsoft 365 and Azure integration make it a superior virtual machine solution.
Not sure if it's right for you? We are currently offering an AVD workshop to provide you with a greater understanding of the features of AVD and how it could benefit your organisation. Simply contact managedit@oneadvanced.com today to get started.
Why Advanced?
As a longstanding Microsoft Partner with an Infrastructure (Azure) designation and an Azure Virtual Desktop Advanced Specialisation, you can lean on our expertise to create an empowering roadmap, unlocking the capacity and flexibility to take your business into a stronger future.