There are more and more tools available which enable us to work with data at an increasing speed and efficiency. However, powerful data tools also come with the need for stronger security, compliance, and control. To help organisations achieve this, Microsoft have introduced Microsoft Purview - a unified data governance solution which provides businesses with valuable, trustworthy data management.
What does it do?
Microsoft purview is a family of data governance, risk, and compliance solutions that can help your organisation govern, protect, and manage your entire data estate. Microsoft Purview solutions provide integrated coverage and help address the recent increases in remote user connectivity, the fragmentation of data across organisations, and the blurring of traditional IT management roles.
Microsoft Purview combines the former Azure Purview and Microsoft 365 compliance solutions and services together into a single brand. Together, these solutions help your organisation to:
Gain visibility into data assets across your organisation
Enable access to your data, security, and risk solutions
Safeguard and manage sensitive data across clouds, apps, and endpoints
Manage end-to-end data risks and regulatory compliance
Empower your organisation to govern, protect, and manage data in new, comprehensive ways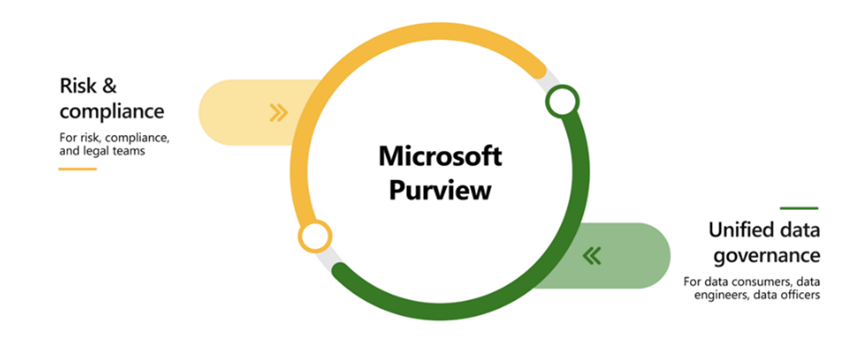 Microsoft Purview includes risk and compliance solutions that support services within Microsoft 365, including Microsoft Teams, SharePoint Online, OneDrive for Business, Exchange Online and others. There is also a unified data governance solution which helps admins to manage data services across on-premises, multi-cloud, and software-as-a-service (SaaS) estates. This includes Azure storage services, Power BI, databases like SQL or Hive, file services like Amazon S3, and many more.
Compliance and risk solutions help organisations to:
Protect sensitive data across clouds, apps, and devices
Identify data risks and manage regulatory compliance requirements
Get started with regulatory compliance
Governance solutions provide tools enabling organisations to:
Create an up-to-date map of their entire data estate that includes data classification and end-to-end lineage
Identify where sensitive data is stored in the estate
Create a secure environment for data consumers to find valuable data
Generate insights about how their data is stored and used
What are the benefits?
Data which is stored in the cloud is often difficult to oversee and manage. Microsoft purview helps overcome this by finding and labelling the data so it can be presented on the Purview overview page.


The overview page helps administrators to understand their organisation's data and evaluate potential risks, so counter-measures can be implemented to ensure the data remains secure and compliant with data regulations.


Purview is not just limited to cloud data - by setting up connectors it can also analyse data on the on-premises/hybrid environment(s), enabling you to better secure and monitor your data.
What are the pre-requisites for Microsoft Purview?
Any Azure subscription
A user account that is part of a contributor or owner role, or an administrator of the Azure subscriptions
No Azure policy that prevents storage account or Event Hub namespace creation, alternatively an exception would need to be made to the policy. For the guide, click here.
How to setup Microsoft Purview
Go to the Azure portal
Search for Microsoft Purview
Click create
On the Purview create an account page, under basic select Azure subscription
Select existing resource group or create new one to hold the Purview account
Enter account name and the location (enable Event hubs if planning monitoring programmatically - this setting can be changed at any time)
Review + create -> create
Need support? As a longstanding Microsoft Partner with an Infrastructure (Azure) Designation and an AVD Advanced Specialisation, Advanced are best placed to help your business make the most out of your technology investments and achieve your objectives. Simply get in touch today if you'd like advice or help getting started.
Written by Daniel Bereczki, Cloud Solutions Architect at Advanced