ADVANCED FINANCIALS
Accounting and Financial Management Software
Helping finance teams boost their productivity and efficiency, with powerful Cloud technology.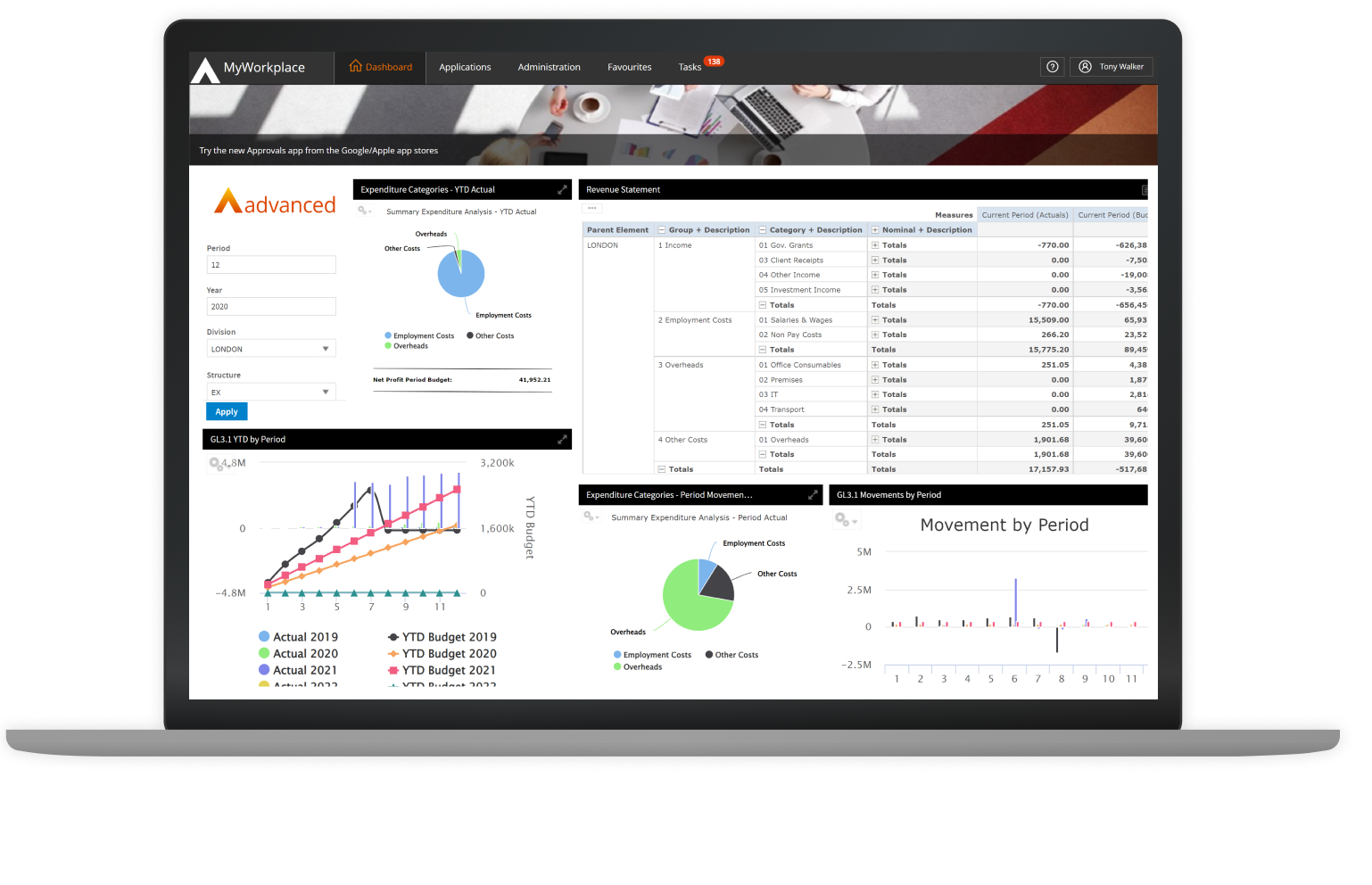 Cloud-based financial management software that has evolved over 30 years
At Advanced we believe finance is the beating heart of any successful business. Advanced Financials enables finance teams to focus on strategy and performance. By consolidating all financial activity in one place, it automates manual tasks and provides real-time business insights.
"Using Advanced Financials our processes have become much quicker and easier to complete from a finance perspective. We have been able to build the system around our own working practices which really helped us enhance financial control in the business."
Pip Abercromby, Finance and Commercial Director, West Midlands Growth Company
Key capabilities
---
Powered by MyWorkplace
---
Financial Management
---
Reporting & Dashboards
---
Document Management
---
Purchasing Management
---
Project Management
---
Inventory Management
---
Asset Management
---
Expenses Management
We understand and solve your key issues
We build products that are designed to solve our customers' key challenges.
CAPABILITIES
More than just
Accounting Software
Find out more about the powerful functionality that sits within Advanced Financials
How our CloudFinancials can help you
FEATURES & BENEFITS
Powered by MyWorkplace

Supercharge your finance team's productivity by working in smarter ways.

MyWorkplace is a centralised workspace that provides access to multiple systems in one place, allowing the user to do more at any given time. MyWorkplace enables your finance team to focus on strategic initiatives, rather than getting bogged down with remembering passwords and day-to-day admin.

Enhance the way you work with personalised Desks

The system's Desk functionality allows users to build their own unique digital workspace. They can interact with Advanced Financials, partner applications, and any other standalone applets that they find particularly useful.

Desks

You can create unlimited personalised desks, labelling them by time, theme, or priority

Amend your Desks as often as you see fit, adding and removing applets based on how useful you find them

Work in your own way. With Desks, you're no longer bound to a rigid structure. You can simply drag and drop the functionality you need, ensuring no irrelevant features are getting in the way.

Get the functionality you need with Applets

Applets are essentially snippets of functionality from your most-used systems (all of which can sit in your personalised Desks). Applets enable you to complete quick actions at the click of a button, without having to navigate in and out of multiple systems.

Applets

Quickly dive into role-specific functionality within your convenient personalised desk

Find Applets suitable for all roles, from non-finance users, to accounts payable employees, all the way through to the CFO

Save time and increase productivity by having the relevant functionality at your fingertips

Finance applets available within Advanced Financials:

Reports and Dashlets

Accounts Payable and Accounts Receivable Batched Review

Accounts Receivable Cash Allocation

Bank Reconciliation

Timesheet Entry

Financials Statement Enquiry

Aged Debt Enquiry

Update Exchange Rates

Use Task Manager to easily plan your day and prioritise obligations

Task Manager is a powerful feature that sits within the MyWorkplace platform. It streamlines the approval process by bringing all your tasks from Advanced Financials (and other partner applications) into one space.

Task Manager

Consolidated list of tasks from all connected applications

Quickly approve or decline POs, invoices, and timesheets directly from your Task Manager. Need more details? The Task Manager can take you directly into the system too

Seamlessly stay on top of your to-do list diving into each individual product

Instantly view dashboards and reports that are important to you

Your most relevant reports and 'Dashlets' can be added to your personalised Desk, making it easier than ever to monitor performance.

Reports and 'Dashlets'

Real-time report Dashlets enable you to track activity from your Desk

For an extra layer of detail, simply click into the Dashlet to dive deeper into that report

Over 1,000 built-in customisable reports within Advanced Financials

Save time by empowering non-finance users within your organisation

Non-finance users often need help using software and getting what they need. This can be a challenge for many finance teams. MyWorkplace offers simple Applets that make it easier for non-finance teams to get the information they need when they need it.

Simplicity for non-finance users

Non-finance users can complete simple financial tasks without needing assistance

They can access the functionality they need without logging into Advanced Financials

Financial Management

Take a further look at the functionality that sits at the heart of Advanced Financials.

The core of Advanced Financials is powered by robust accounting and financial management functionality. Our financial management software enables finance teams to manage all accounting activity effectively, with capabilities around general ledger, accounts payable, credit management, bank reconciliation, and much more.

Work more efficiently across the accounts payable and receivable functions

Accounts Payable

View payments, approvals, and reports at any time, and from any place

Save time with automated accounts payable processes

Gain a real time view of accounts payable liabilities

Accounts Receivable

Streamline workflows across the accounts receivable cycle

Accelerate your cash retrieval process by shortening invoice and payment cycles

Automate collection notices

Carry out effective end-to-end credit management

Sales Invoicing

Save time through automated invoice management

Painless cash collections

Improve cash flow

Credit Management

Manage all elements of the credit management lifecycle

Easily implement dunning processes

Minimise credit risk

Automate the financial close process with bank reconciliation

Bank reconciliation

Say goodbye to spreadsheets with bank reconciliation functionality

Receive real time balances from the general ledger

Automatically match bank transactions to invoice or bill payments

Advanced Financials is scalable, matching your specific needs

With further robust functionality such as:

Intra company accounting

Direct Debit mandates

Accounts payable service ledger

Receivables contract billing

Reporting & Dashboards

Prioritise strategy and performance with Advanced Financials' built-in reports / dashboards

Many finance teams want to contribute more to key strategic decisions. However, this can be difficult if they can't effectively access or analyse their data. Advanced Financials has a plethora of pre-built reports and dashboards at its core. This allows finance teams to easily access accurate and up to date information.

Over 1,000 customisable reports

Painless reporting

Find relevant insights, whether you're in the accounts payable team, a functional lead within the business, or the CFO

Gain an instant overview on a single screen, rather than endlessly searching or exporting to spreadsheets

Drill down into granular detail when you need to, gaining a deeper level of analysis for your personalised report

Gain real time business insight

Continuous accounting

Centralised reporting ensures insights are always current and consistent

Eradicate multiple versions of the truth. Rather than consolidating many spreadsheets, Advanced Financials holds all the data in a single place

Have the latest data at your fingertips and remove the burden of version control

Increase business agility

Clarity around performance

Gain a complete view of business performance

Drill down into specific areas for a more detailed analysis, and to better understand strengths and weaknesses

Make impactful decisions that are informed by high-quality data

Financial forecasting made easy

Prepare for future cash flow scenarios with our cash flow reporting tool

Gain a clear picture of emerging trends and patterns so you can future-proof your business

Make strategic decisions that are driven by accurate financial forecasts

Document Management

Documents and invoices can be managed seamlessly in Advanced Financials and fed back with complete accuracy.

Managing paper and PDF documentation can still be an arduous and manual process for many finance teams. Advanced Financials has integrated document management functionality, ensuring the process is simple and accurate all of the time.

100% accuracy with automated invoice processing

PDF Invoicing

Reduce operating costs by automating invoice processing, with no need for human intervention

Increase data transparency with PDF invoices that are automatically processed into Advanced Financials

Eradicate human error and achieve 100% accuracy with patented AI

Reduce the manual aspect of invoicing

Universal Invoice Capture

Automate all inbound invoices, including images and digital documents

Achieve greater automation adoption through rules that are tailored to each of your suppliers

Information is taken straight from the data-layer of the PDF, guaranteeing complete data accuracy

Protect your business, with data you can trust

Invoice Fraud Protection

Detects suspect invoices before they enter Advanced Financials

Issues alerts to the finance team so they can verify

Full audit trail and archives available for review at any time

Purchasing Management

Ensure all purchases are recorded accurately and efficiently, with Advanced Financials' built-in purchasing management functionality.

During the purchasing process, it can be challenging to keep on top of finances. Advanced Financials enables finance teams to stay in control, with complete visibility of vendors, orders, and the purchasing cycle as a whole.

Manage the procurement process with streamlined purchasing

Purchase Orders

Stay on top of purchasing by connecting purchase orders to accounts payable, cash management, and inventory

Gain an overarching view of the entire purchase management process

Input purchase management workflows to improve financial control

Purchase Requisitions

Complete purchase requisitions quickly and efficiently

Track performance of budget and purchase requisitions as they come through

Simplify the purchase requisition process

Unified view of billing and invoicing

Commitment Accounting

Categorise outstanding purchase orders by their general ledger account

Commitment reports frequently updated for a real time view

Snapshots of commitments over different time periods

Goods Receipts

Effortlessly match goods receipts to purchase orders

Capture and monitor goods receipts in one centralised location

Ensure continued cash flow

Project Management

Seamlessly plan for projects and track associated costs

The ability to budget (and track costs) for large organisational projects is crucial when understanding their financial impact and overall success. Advanced Financials' project management feature allows finance teams to monitor the costs over a project's lifespan (to ensure it stays within budget).

Monitor budget, cash flow, and progress

Project Tracking

Keep on top of projects with one clear and current view of progress

Track each project in line with its budget over the given timeframe

Gain a clear view of cash flow generated from a project

Keep track of time spent by employees

Timesheets

One clear view of employee timesheets, which can be assigned to specific projects

Understand the salary costs associated with each project to gain financial clarity

Get a detailed breakdown of the hours logged against a project



Gain clarity around the billing related to each project

Billing

Assign invoices against projects to ensure complete transparency around payments and billing

Complete control over billing for projects, ensuring payments are constantly updated

Track billing continuously to ensure the budget is adhered to

Inventory Management

A single version of the truth when it comes to stock control

The control of inventory can often be a top priority for finance teams. Advanced Financials' built-in inventory management functionality ensures all related activity is fulfilled in one system.

Continuously track inventory levels and pre-empt recurring orders

Stock Take

Clear visibility of inventory across the business

Track stock levels at multiple sites

Get ahead by predicting when you'll need to repeat the same orders

Successfully integrate with warehouse management

Pick Lists

Collaborate flawlessly with your warehouse team and their warehouse management software via pick list integration

SKU numbers, quantities, and locations enable a complete view of inventory

Streamline the order fulfilment process

Inventory control

Smoothly move products from inventory to picking

Keep adequate inventory levels by getting notified when it reaches replenishment stage

Easily calculate Economic Order Quantity

Asset Management

Understanding the financial value of your assets has never been easier with our asset management software

A company's assets are often as important as its sales, meaning finance teams must take appropriate measures to monitor both.

Monitor the full cycle of an asset's life and depreciation

Asset Management

Manage the entire asset management process, across planning, depreciation, tracking, and reporting

Maximise tax savings and reduce operating costs by tracking exactly when they will become fixed assets

Protect your business's finances by fully understanding the cost of assets

Expenses Management

Streamline the expenses management process for your employees through automation

For many finance teams, managing expenses can be a time-consuming and frustrating process. Our fully integrated expenses management tool enables businesses to automate the activity, ensuring the submission, approval, and reporting of expenses is no longer a burden.

Instantly match receipts with corporate cards

Corporate card matching

Intelligent receipt matching ensures receipts and corporate cards are paired correctly

Accurate monitoring of all corporate cards

Increased efficiency for senior employees when submitting expenses

Manage everyday expenses with ease

Petty cash management

Eliminate the need for paper receipts

Complete visibility and control of office floats

Integrated pre-approvals against petty cash helps to speed up the process (and prevent overspend)



Report on all types of expenses

Mileage tracking

Point-to-point mileage increases the speed of expenses submissions

Enhanced accuracy with more detailed expenses tracking

Policy discrepancies automatically flagged to finance admin

Automated policy compliance

Pre-define your organisation's policy for effective filtering

Non-compliant claims are immediately rejected by the system

Finance team no longer have to manually check the legitimacy of each claim

Submit, approve, and track expenses dynamically

Mobile App

Manage expenses at any time, and from any place

OCR technology enables users to photograph their receipt and submit a claim in seconds

Any changes sync across all devices, including mobile, tablet, and desktop


CUSTOMERS
The people who succeed with us
From charities to distribution and logistics, our customer base is diverse
"We were really impressed by the reporting capabilities offered by Advanced Financials. Being able to drill down into our financial data easily and efficiently is crucial for us as we continue to scale. "
— Nick Playford, Finance Manager
Monavate
Top rated by our customers
IMPLEMENTATION
Welcoming you onboard
Day 1
Understanding
We gain a better understanding of your business's needs to ensure a successful onboarding.
Week 1
Planning
We build a plan of action for your journey, with clear timelines, actions, and accountabilities.
Month 2
Executing
The action plan is executed, with each step taking you closer to full Advanced Financials adoption.
All done!
Congratulations, you're up and running! This is where our Customer Success team take over to ensure you're getting optimal value from the system and have everything you need to succeed.
Frequently asked questions
Featured resources for you
eBOOK
End of Life Software - Are you aware of the risks and consequences?
Find out how transitioning early from your EOL software holds the key to staying ahead of the competition and maintaining success over time.
Read eBook
WHITEPAPER
How Covid changed the role of the finance director forever
Author: Tim Adler
Tim Adler discusses the impact of Covid on the way a finance director works.
Read whitepaper
REPORT
2021 Workforce Trends Survey Report
Examining the business productivity lessons learnt from Covid-19.
Read report
In the world of financial planning, predictive analytics can make it easier for finance teams to make timely and accurate financial decisions to help them achieve their organisational goals.
Read blog
22 Feb 2022 by Amanda Grant, Product Management Director, Advanced
In this helpful guide, we look at the different types of productivity that exist within the business world.
Read blog
14 Feb 2022 by Claire Ross, Head of Culture and Engagement
In this article, we discuss what expense management is, why it's so important, and how to build an effective expense management process.
Read blog
10 Feb 2022 by Andrew Pearson, SME Product Manager
HOW CAN WE HELP?
The future of finance is bright with Advanced Financials
Experience the transformative capabilities of accounting management software. Book a demo with us today.