ADVANCED HR
HR Software
We help HR teams remove complexity and enable them to do their best work with simple to use HR software.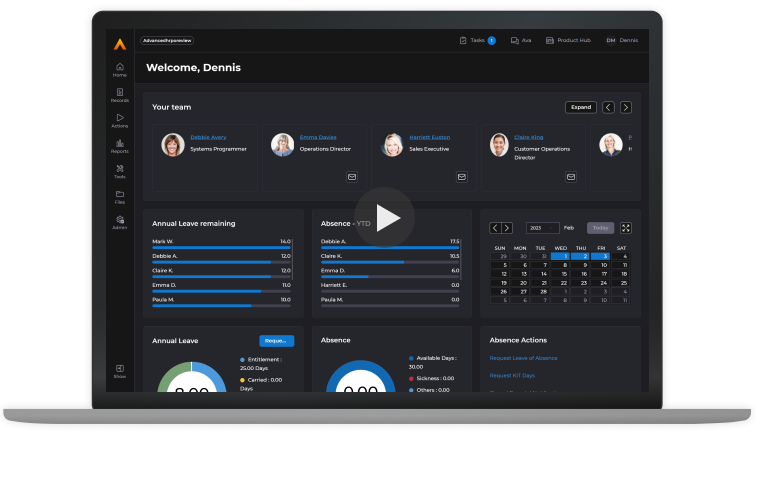 The HR system that makes core HR processes simpler to get done and easier to get right
Our HR management system, Advanced HR, is designed to help people teams get the basics in HR done right. Our easy to use solution ensure HR teams have access to reliable people data, automated processes and simple self-serve capabilities to drive success.
"Advanced HR has been a huge benefit for us. It is so easy for staff to access and use the system – booking annual leave and being able to see your team's diary has never been easier."
Jessica Lucas, HR, Burnley Football Club
Key capabilities of our HR software
Employee Data Management
Document Management
Fleet Management
Absence Management
Reporting
Payroll & Payslips Integration
Mobile
My Workplace
Accessibility focused
We understand and solve your key issues
We build products that are designed to solve our customers' key challenges.
CAPABILITIES
Making HR processes simple to get done and easy to get right
Find out more about the powerful features which sit within our HR software
PRODUCT TOUR
Want to look at our software in more detail?
See how Advanced HR can solve your biggest HR management challenges in our 2-3 minute self-guided product tour.
IMPLEMENTATION
Welcoming you to easy to use, beautiful HR software
1 day
Challenge
We get a better understanding of you and your business to drive your Onboarding experience towards success with our HR software
1 week
Planning
We build a plan of action for your journey to Go-live with due dates and owners.
2 months
Journey
We provide the action plan to get you ready to adopt Advanced HR, our cutting edge HR software.
Destination
Congratulations, you're live! This is where our Customer Success program really kicks in to provide you with more value and make sure you are maximising your chances of reaching your goals with your HR system.
Frequently asked questions
Featured resources for you
BROCHURE
Advanced HR Brochure
Discover how Advanced HR makes HR more human for your organisation.
Read Brochure
GUIDE
HR Software Buyers Guide
In this guide, we will be exploring some of the main benefits of Core HR systems and hit upon some of the key points you need to be aware of when searching for a new HR solution.
Read Guide
Our ebook offers a new perspective on daily people management processes that will transform your outlook on the people experience and the role it has to play in the transformation of your organisation.
Read eBook
It's not overstating things to say that HR serves as the beating heart of most organisations. After all, when your employees are the lifeblood of your business, the frameworks and personnel designed to support and nurture them should come as a top priority.
Read blog
7 July 2023 by Nick Gallimore, MD of People Management
We've put together this quick checklist to help HR teams identify the key symptoms of whether their HR processes are too complicated.
Find out more about the philosophy behind Advanced HR from Head of Product, Chris White.
HOW CAN WE HELP?
HR Software designed to simplify the complex
Find out how we help HR teams remove complexity and enable them to do their best work with simple to use HR software.