ADVANCED HR
HR Software
We provide easy workforce management software so that HR teams and employees can say yes to focusing on what matters: making HR more human.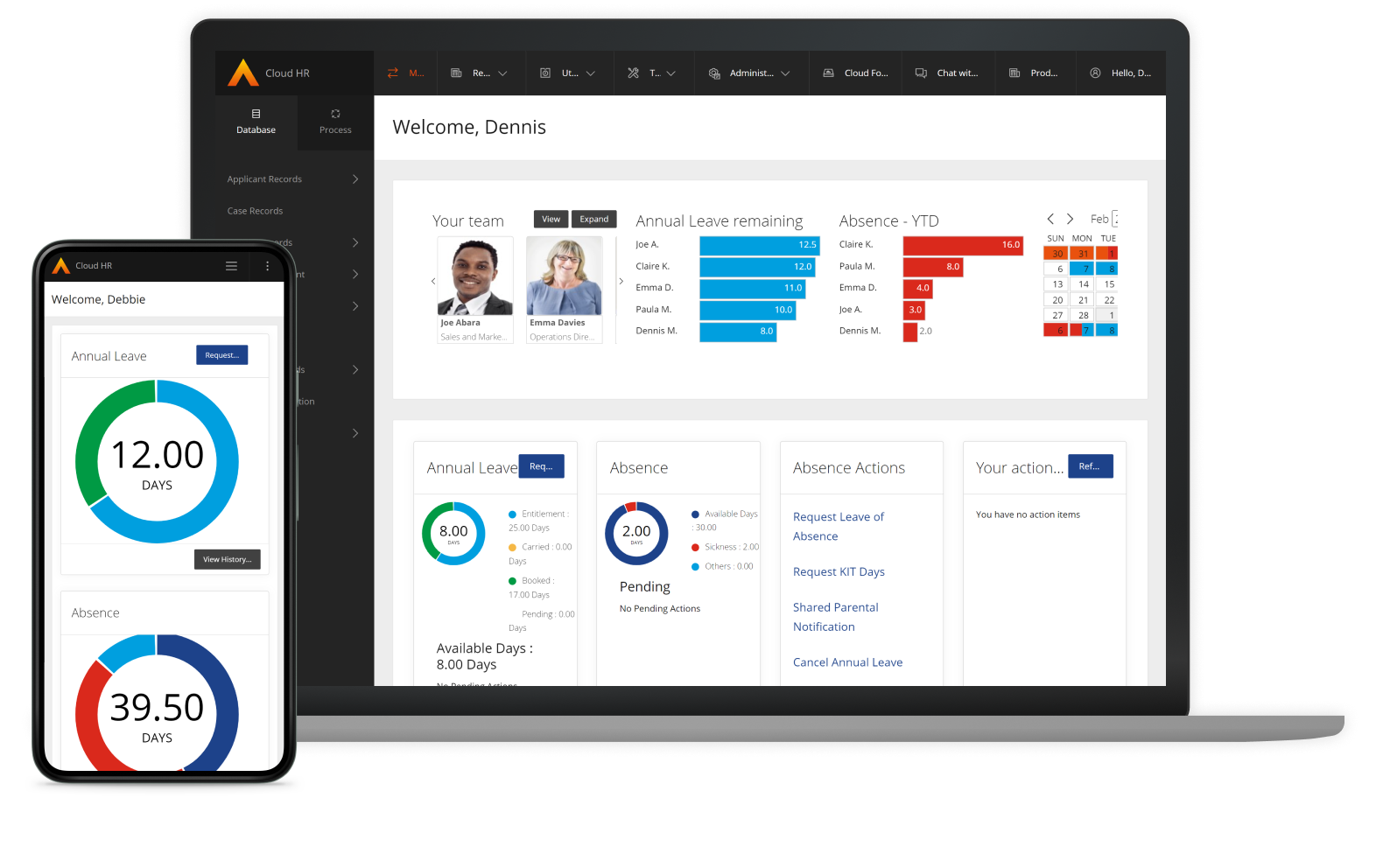 HR Software from Advanced allows you to better support your employees' needs - both now and in the future.
Our HR software, Advanced HR, requires one single sign on and gives HR teams and employees quick and simple access to all HR functionality, whether that be booking annual leave, logging sickness, logging a personal development plan or booking training. Say yes to HR being pioneers, not task robots.
We understand and solve your key issues with cloud-based HR software
We create HR software designed to solve our customers key challenges.
Technology Adoption Fund
The Advanced Technology Adoption Fund is designed to help businesses keep investing in their people despite the increasing cost of doing business.
Applications for the fund close shortly, so get in touch with us to claim your share.
Key capabilities of our HR software
---
Powered by MyWorkplace
---
On-Boarding to Off-Boarding
---
Case Management
---
Performance Management
---
Dashboards & Reporting
---
Advanced Virtual Assistant
---
Document Storage
---
Absence Management
---
Employee Self-Service
---
CAPABILITIES
More than just
HR Software
Find out more about the powerful features that sit within our workforce management software
How our Advanced HR can help you
FEATURES & BENEFITS
Powered by MyWorkplace

Say yes to supercharging your HR function's productivity by working the way you want to.

MyWorkplace is a centralised work space that unifies access and user experience across multiple solutions, and vastly improves personalisation across your teams. MyWorkplace enables your HR team to transform your people's experience to make real change, because one size doesn't fit all.

Personalise the way you work with your own, customisable desks

The Desks functionality in the platform enables users to build their own personalised way to experience and interact with HR functionality.

Desks

Personalise as many Desks as you want to, labelled by time, theme or priority for what you require.

Edit your Desks with the applets and functionality which is important to you, around the clock.

Stay close to dashboards that matter to you, for example, diversity and inclusivity reports.

Quickly get to heart of the functionality you need with feature Applets

Applets are powerful functionality areas within the system, which can reside on Desks. Applets enable you to quickly and easily action tasks and dive into the system without the need to navigate the enitre workforce management software.

Applets

Quickly dive into the functionality needed for your role by having this in an easy access area on your personalised Desk

Applets available for all roles – from employee, to manager, HR admin and Chief People Officer

Save time and increase productivity by having the functionality you need at your fingertips

Use Task Manager to easily plan and prioritise your day

Task Manager is just one element of the MyWorkplace platform and streamlines the approval process by bringing all your tasks from Advanced HR (and any other Cloud solution or partner application) into one place.

Task Manager

With a combined list of activities from all connected applications, you're clear on priority actions.

Enables quick approval of holiday, absence, sickness and more directly from your Task Manager.

Stay on top of your to-do list without having to dive into specific solutions, making your day simple and efficient.

Employee Management

Take a closer look at the employee management functionality that sits within Advanced's workforce management software.

Employee management sits at the heart of our HR software, and we believe it should be the number one priority for your organisation. Without an effective people management strategy, how do you expect to transform your people experience for the better? Say Yes to transforming your people experience.

Salary, compensation and benefits

Empower your people with complete visibility of their salary, financial compensation and the benefits available to them.

Salary, compensation and benefits

Employees are able to plan for the future using salary and compensation figures as well as available benefits.

Financial transparency forms part of your employee value proposition serving as an element of talent acquisition and management.

Track turnover and stability

Always have your finger on the pulse of your people's needs. Get insights into turnover in specific teams and departments to help you predict why and when employee churn may occur, before it happens.

Turnover tracking

Our HR software enables you to plan for potential high points of churn, allowing you to allocate recruitment or retention resources in advance.

Taking a deeper dive into individual teams turnover can highlight managerial or hierarchical issues.

A single version of the truth

All records that include appraisals, absences and more can be stored in our workforce management software, Advanced HR, which becomes the single source for HR teams and managers.

Single source for information

Appraisals can be viewed in one place, making it easier for employees to see progress and track development.

Hold information on new employees and those that are leaving without having to worry about physical documents.

Self-service of information takes away the pressure from HR teams who too often find themselves losing valuable time.

Training Management

Take a closer look at the training management functionality that sits within our HR software.

Invest in your people through integrated training management, enabling employees say yes to having access to courses and modules that will enhance their development and skills and support them in their journey within your organisation.

eLearning and courses

Direct access to eLearning and courses helps employees take charge of their own learning and development at a time that suits them.

Training

Online courses can be completed either during work hours or outside of working hours, whichever fits the needs of your people.

Developing your employees through eLearning and training will drive forward engagement and ultimately, reduce churn levels.

Course planning is made easy with venue and room availability built in.

Skills and competency tracking

Track employees' skills and competencies within Cloud HR, allowing HR, managers and staff to see exactly what they need in order to progress or change roles.

Skill progression

Knowing what skills you have in your organisation can give you the edge you need against competitors.

A well embedded programme of learning and development can help you be seen as a more attractive place to work.

Applicant Management

Take a closer look at the applicant management functionality that sits within our workforce management software.

Ensure a seamless and accurate applicant journey. We help you Say Yes to holding and tracking relevant applicant information, storing documents and managing new starters all on a single, easy to use platform.

Stored records & documents

Storing your documents in one place makes it easy for HR and Talent teams to manage applicant volumes and details for a particular role.

Document storage

Help to attract top talent by having easy access to each individual applicant record.

Reduce the cost of retraining new talent and get the right people in the right positions first time.

Keep applicant records on hand for future roles, whether you work with CVs or not.

Offers/Contract management

Seamlessly make an offer to an applicant directly from your HR software with contract and associated information attached.

Streamlined offer process

Ensure you provide a professional recruitment experience to all of your applicants by using one single application.

Track the status of each applicant's journey and their position in the process.

Improve your organisations environmental footprint by eliminating paper contracts.

Dashboards & Reporting

Take a closer look at the dashboards & reporting functionality that sits within our HR software; Advanced HR.

Our dashboards and reporting functionality delivers new ways of understanding your workforce, talent and prospective talent pools - empowering your HR teams to Say Yes to making data-driven decisions.

Diversity and inclusion

Filter reports to view age, gender, ethnicity and more detailed employee analysis to delve deeper into your organisation's DEI initiatives.

Diversity and inclusion initiatives

To be a desirable organisation is to be diverse and open about your workforce values.

Unlock more innovation with a diverse workforce and succeed in new markets.

A wider range of viewpoints brings more experience to decision making resulting in better performance.

Personalised dashboards

Our optional dashboards are flexible to your reporting needs, enabling HR teams to get a clear view of accurate information at a glance.

Flexible dashboards

Set up your own daily reports and attach them to your Desk for easy access.

HR teams can split their focus between departments by using reports tailored to them.

Reduce data input

HR experts didn't take up a career in HR to manually input data into employee reports, they became a HR professional to make a difference and transform their people's experience.

Less manual processes

More time to focus on driving performance and analysing reports to contribute to important decisions.

Never more than a click away from getting the oversight and vital information you need.

Accuracy of data is maximised through automation and less manual input which removes the chance of human error.
Top rated by our customers
IMPLEMENTATION
Welcoming you to cutting edge HR software
1 day
Challenge
We get a better understanding of you and your business to drive your Onboarding experience towards success with our HR software
1 week
Planning
We build a plan of action for your journey to Go-live with due dates and owners.
2 months
Journey
We provide the action plan to get you ready to adopt Advanced HR, our cutting edge HR software.
Destination
Congratulations, you're live! This is where our Customer Success program really kicks in to provide you with more value and make sure you are maximising your chances of reaching your goals with your HR system.
Frequently asked questions
Featured resources for you
BROCHURE
Advanced HR Brochure
Discover how Advanced HR makes HR more human for your organisation.
Read Brochure
WEBINAR
Advanced HR Product Overview
Find out more about the powerful features that drive our Advanced HR solution.
Watch the Webinar
GUIDE
HR Software Buyers Guide
In this guide, we will be exploring some of the main benefits of Core HR systems and hit upon some of the key points you need to be aware of when searching for a new HR solution.
Read Guide
Find out how Advanced HR can help you transform your Employer Value Proposition to become a dominant force in today's fiercely competitive jobs market.
Find out how Advanced HR can help you guide your employees through tough times by providing you with the framework and tools you need to support financial wellbeing.
Read blog
22 September 2022 by Nick Gallimore, Director of Innovation
Martin Eade is the Vice President of the Human Capital Management (HCM) division here at Advanced. We recently sat down with him to discuss how the field of HCM.