ALB
Legal Practice and Case Management Software
Modernise and boost service delivery to meet the demands of a fast-moving legal market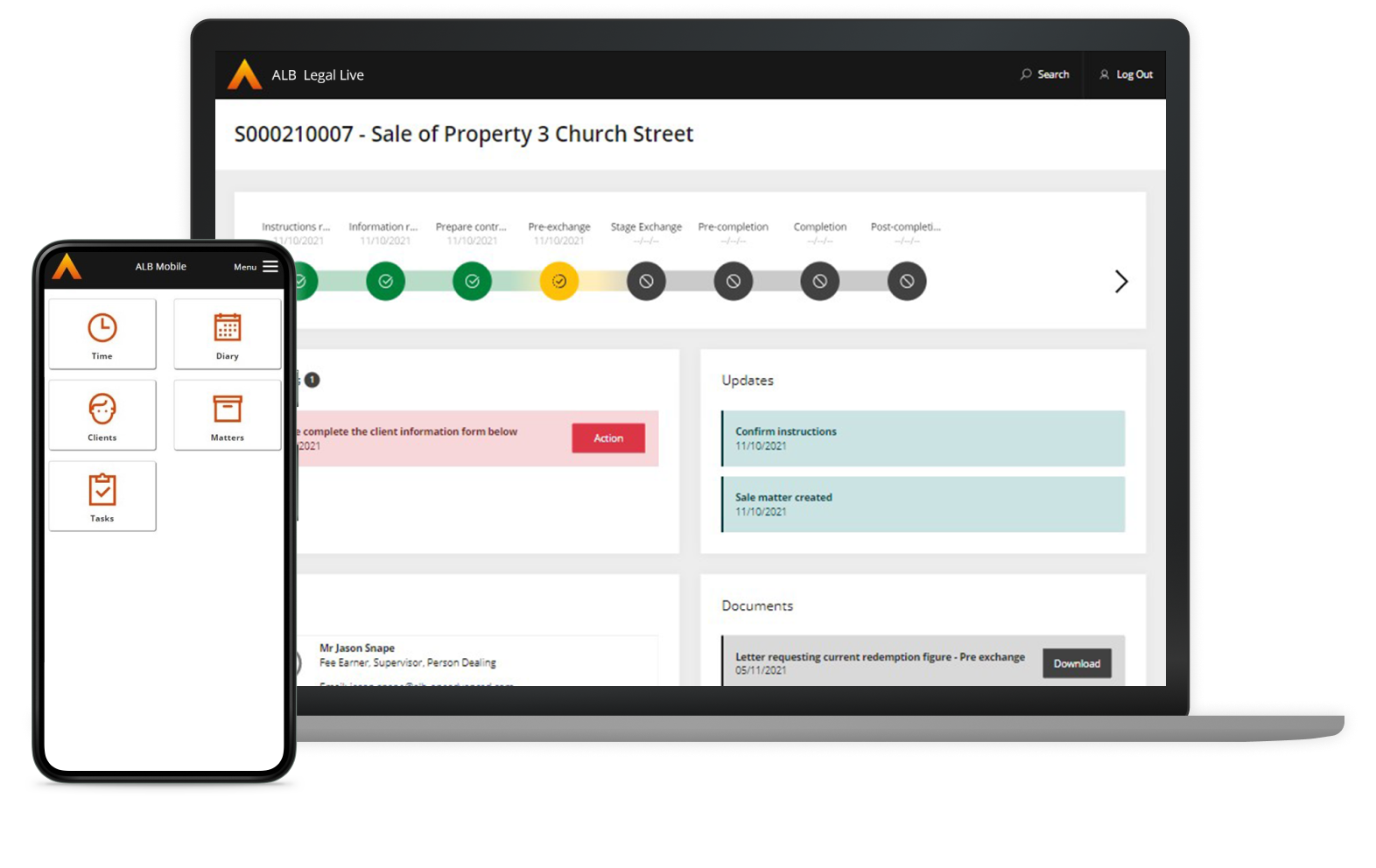 A fully integrated PCMS that gives you total control of critical work
ALB integrates all aspects of a firm into one comprehensive legal software platform that manages financial, client, matter and document processes. It allows you to create greater efficiency, and improve compliance, through the simple and flexible customisation of your business workflows.
"ALB has generated significant time savings and improved the way our staff manage and use their time."
Anne Smith, Managing Partner, Harrisons Solicitors
Key capabilities
---
Client, matter and task management
---
Reporting and performance monitoring
---
Legal accounting and billing
---
Bespoke workflow capability
---
Document and versioning management
---
Enhanced mobility capabilities
---
Digital communication channels
---
Key technology integrations
---
Collaboration tools
---
Compliance and security management
We understand and solve your key issues
We develop legal technology that's designed to help our customers overcome their business challenges
Featured resources for you
WEBINAR
The ALB - Cloud Forms Integration
42 minutes
Watch this informative webinar that highlights the integration between ALB and Cloud Forms from a user firm perspective.
WEBINAR
ALB Conveyancing Agenda and Workflow Tutorials
8 minutes
This video demonstrates how ALB's Conveyancing workflow helps firms save time and costs, and reduce risk.
REPORT
Recovery and Growth
Author: Doug Hargrove
The role of technology in helping firms achieve their post-pandemic goals
Read report
CAPABILITIES
More than just case management
Learn more about the powerful efficiency features that sit within ALB
How our ALB Software can help you
FEATURES & BENEFITS
Practical Management

Integrated efficiency

At the centre of ALB is an extremely capable engine that offers all of the key functionality you need to run a thriving law firm. By combining tried and trusted technology with ease-of-use, it can help your firm to drive efficiency, and reach higher levels of productivity and success.

Ease-of-Use

ALB has been designed to give you complete control of your processes while reducing your workload. Using it, you can do more with fewer resources, so you can focus on service delivery.

A familiar interface

An interface built on modern, intuitive Microsoft styling ensures instant user familiarity

Intuitive navigation delivers agile system adoption and saved time

Screens are free from distractions and important information can be found quickly

Full text searching surfaces required information or documents quickly

Safe client onboarding

ALB offers a structured approach that supports fast and complaint client onboarding and matter creation

When adding a client, ALB automatically performs a conflict check, comparing data against existing records

AML checks load client ID which is stored at client level, with an icon to confirm checks are completed

Client types can be saved as multiple connected records where appropriate, without rekeying

Document Management

ALB makes it simple to create, store, find and reference documents, or other collateral, and integrates with the Microsoft functions you already use every day.

Joined up thinking

Ensure compliance by setting up documents and precedents centrally, and enable fast completion and revisions

Integrated document management allows documents, emails, faxes and scanned items to be added to a client file

An integration with Outlook allows users to email directly from ALB and save relevant messages within a matter

ALB Cloud Documents are also available to enable 24/7 remote access to current and historical documents

Flexible functionality

Create standard document templates that ensure best practice and compliance

Automatic versioning makes the current draft apparent, allowing easy version comparisons and reduced risk

Track every document's history to see who compiled, or revised, a document - and when

Convert Word documents to .pdf format easily

Financial Management

ALB Accounts help cashiers, secretaries and fee earners track spending, safeguard client monies, simplify billing, control WIP (work-in-progress), and manage profit and loss.

Organised and controlled

Compliant with SRA and HMRC rules, simplified entry of data transactions minimises effort and errors

Offers a wide range of reports, VAT returns, bank reconciliations, purchase ledgers and cashflow forecasting

A single database environment provides comprehensive control of accounting functions

Takes accounts data from ALB and provides a compliant VAT digital submission directly to HMRC

Simplified billing

ALB's full draft billing wizards speed up the bill-to-cash process and reduce administration time

Ensure best practice by setting up approved processes for your team to follow, from drafts through to completion

Easily create a set of regularly used narratives, preventing the time taken by retyping text

Billing frequency can be set in months and the system will set the next bill due date automatically

Information Management

Easily accessible, structured information is vital to law firms. It supports practitioners in using time and resources wisely, so they can make decisions, progress matters and hit performance targets.

Keep track of time

The ALB diary provides a centralised view that allows fee earners to instantly see their daily commitments

Capture billable time with a choice of mobile, silent, system-prompted or user-driven time recording features

Automated time recording also collects fee earner details and associated charge rates for documents and emails

Integration with Outlook provides time capture prompts against documents and emails

Digital Dashboard

All the information you need to work effectively is available from ALB's user-configurable dashboard

Access case information at the touch of a button, or see and post to your timesheets

Immediately view accounts, ledgers, documents, dairies and appointments

Monitor performance through KPI and other crucial business reports

Data Management

A single SQL database provides a stable, scalable platform where data integrity is assured. It provides access to the exact same details for multiple processes, ensuring consistency and compliance.

Precise information

Where client / contact data is no longer linked to any live or archived matters, ALB will report it

ALB's digital shredder allows the safe removal of historic electronic data that is no longer needed

Clean-up tools identify duplicated data and merge multiple records into one up-to-date, accurate file

Data compliance

ALB was designed to record only the personal data necessary for the provision of legal services

Reduce GDPR risks by ensuring correct marketing opt-ins and methods of consent are recorded and maintained

Lock down clients and matters to minimise who can process personal, identifiable information

Enhanced Productivity

Do more, in less time

ALB provides the tools you need to save time and work more efficiently. You can choose from our off-the shelf workflow solutions or an innovative toolkit that enables you to design your own tailored, process-specific workflows.

Optimise your processes

Incorporate a structured approach and increase productivity by providing dedicated work environments that store transaction data, and enable day-to-day running of a file from one location.

Case Management

Probate / Executry Agenda assists firms in managing estate administration and probate matters

Conveyancing Agenda supports tasks around the sale, purchase and equity transfer of residential properties

Personal Injury Agenda records the data relevant to PI claims and creates standardised documentation

Family Agenda supports activities around family legal matters such as divorce and financial settlements

Billing workflows

Comprehensive time recording and data capture abilities that support claims

Legal Aid Agency billing

Criminal and Civil Legal Aid billing

Family Fixed Fee billing

Workflow efficiency

Our workflows were developed to help firms deal efficiently with high volumes of specific matter types. Managing all standard processes, they can also be expanded to incorporate bespoke requirements.

Workflow modules

The Conveyancing Workflow, for residential conveyancing tasks, supports all standard processes

A convenient Debt Recovery Workflow is ideal for dealing with volume debts and subsequent recovery methods

The Personal Injury Workflow manages fast, or multi-track, caseloads which fall outside of the MoD portal

A Lasting Power of Attorney (LPA) workflow is an invaluable tool for your Court of Protection specialists

File Quality Review

Create a bespoke workflow process for in-house file reviews

Determine best practice, reducing risks of missed actions and negligence

Confidently conduct reviews or engage fee earners to undertake corrective action

Centralise the status and outcome of collaborative assessments

The Workflow Toolkit

A powerful, flexible suite of development tools you can use to create bespoke, automated workflows - or amend current versions to suit your own working practices.

Controlled automation

Create unique processes, screens, fields and module environments

Choose and customise the level of automation you need to ensure best practice requirements are easily met

To develop pre-defined outcomes, easy-to-use pick lists provide multiple choice content for workflow fields

Define formulas for automated calculations that can be tested directly within the toolkit environment

Develop user precision

Improve performance by providing compliant, easy-to-follow prescribed processes for individual users or teams

Pre-created workflows remove the risk of required actions being missed

Approval processes ensure matter supervision and compliance for less experienced users

This toolkit was created to be practical and accessible, without the need for extensive coding experience

The Digital Workplace

The freedom to work where, and when, you need to

The pandemic accelerated the adoption of digital technology, with firms scrambling to find solutions that enabled efficient home working. It also changed client behaviour. ALB can deliver the tools you need for joined up hybrid working, and consistent engagement with clients.

ALB Mobile

The modern workplace demands flexibility. ALB Mobile is filled with optimised features that were specifically developed to make sure fee earners can work efficiently, at home or in the office.

Support hybrid working

Our secure, browser-driven mobile application works on any web-enabled device (mobile, tablet or laptop)

24/7 access to matter information including contact details, notes, disbursements and financial overviews

Manage daily tasks including key dates, limitation dates or standard matter tasks

All updated information syncs back to ALB Desktop to ensure smooth, uninterrupted continuity

Remote progress

When a task is completed, ALB Mobile automatically encourages time capture

Record time on the go – you don't have to be at your desk

Choose to view ALB diary appointments in monthly, weekly or daily views

Add, and view, key appointment information and directly record time against completed appointments

ALB Cloud Documents

By replacing your local document facility with ALB Cloud Documents, your firm will benefit from having both current and historic documents safely stored, and instantly available from anywhere, 24/7.

Organised and accessible

Access client or matter documents securely, with full case details available from any location, at any time.

Offer easy collaboration with authorised co-workers, clients and relevant third parties

Two-way synchronisation means you can easily create, edit or delete items from ALB or Cloud Documents

All that's required to access Cloud Documents is an active internet connection

Safe and secure

Cloud Documents provides a multiple level document folder structure for quick access and retrieval

You're always in full control as access permissions can be added or revoked quickly and easily

Enhanced document security provided by Microsoft OneDrive

Any document destroyed using ALB's digital shredder is also removed from the Cloud environment

Advanced Cloud Forms

This integration offers firms the opportunity to move smoothly from desktop forms software to a solution that offers form libraries in pdf and digital format, along with a digital submission platform.

Next generation forms

Available to authorised users 24/7, from the office, or at home

An easy transition for current desktop forms users

Offers easy, collaborative working with colleagues and clients, speeding form completion

Existing Laserform and ALB alignments automatically carry across, with no additional custom mappings required

Controlled submissions

Cloud Forms manages the entire submission process, offering assured accuracy, control and security

Submit directly to Companies House, HMRC for Stamp Duty and Land Registry.

To ensure smooth completion, data from relevant forms is automatically imported into submissions

Risks associated with missed deadlines or rejected submissions are managed by a pre-authorisation process

Advanced Digital Dictation

This integration allows users to save time by starting dictations directly from a matter or client record, with key details passed automatically from ALB into Digital Dictation

Dictation efficiency

Easy-to-use Cloud dictation software that delivers all of the comprehensive functionality you require

Dictations are associated with the correct matter, making it easy to attach required documents or information

Copy revisions, or additions, can be completed quickly and easily within the correct place in the dictation

Monitor performance and release dictation bottlenecks by using a role defined dashboard to track all activity

Data protection

Every dictation is encrypted while in the transfer stage and is fully protected by HTTPS transmission

Flexible levels of authorised access for single or multiple roles

Secure Cloud back-ups ensure your data is always secure and available

Private dictations can be easily identified and accessed by a nominated private typist when required

e-Signatures

With electronic signatures now widely accepted by court authorities, and with more jurisdictions accepting the practice, it's the right time to offer your clients a more convenient signatory process.

Speed service delivery

ALB offers a full integration with DocuSign, the market-leader in digital signatures

Provides the ability to sign any document, from any location, at any time, on any device

Replace the cost and time-consuming activities associated with paper, postage and document chasing.

e-Signatures make turnaround much faster and provides a more convenient process for your clients

Secure convenience

Use your existing document template library

Documents are securely sent from, and delivered back to your PCMS, utilising ALB contact data

Automated reminders and expiry dates speed response, and completed documents are saved in the matter history

Your data remains safe, protected by encryption, anti-virus software and malware detectors

Hosting and Managed Services

A reliable, single point of service and support

A fully managed hosting service from Advanced provides a secure, high performance operating environment for ALB. Our services are flexible, so they can meet your exact system and support requirements today, and far into the future. Whatever that brings.

Advanced Hosting for ALB

Many law firms are moving from on-premise hosting to outsourced management of their IT infrastructures. They do it to gain the significant benefits of on-going system availability and robust security.

24/7 maximum performance

Hosting provides a secure, always-on environment that is easily accessible to all users, from any location

Includes the protection, repair, monitoring and updating of your PCMS to ensure optimal performance

A unique end-to-end solution that can be further expanded to manage all your applications and infrastructure

Delivers much faster implementation timescales compared to traditional on-premise deployment

Security as a priority

Delivered from UK data centres, and monitored 24/7 to offer your firm complete peace of mind

Comprehensive managed backup, helping to ensure your data is always protected

Provided in accordance with ISO 27001:2013 controls

Deployed in reliable, stable and fault tolerant environments, with ongoing investment

Choose an ALB hosting solution that's right for your firm

We use our years of experience to ensure that key performance indicators, service levels and budgets are fully aligned with your firm's critical business objectives.

You control the cost

Choose the level of service you need, based on performance requirements and desired investment level

Predictable monthly charges reduce unforeseen operational expenditure

No additional charges for Infrastructure renewal, which includes updates to software and hardware

Protects your firm from escalating costs associated with facilities, insurance and IT management

Service and support

Delivers proof of service via SLAs

Single point of contact for ALB applications and outsourced IT services, offering a one stop support solution

Consistent IT support services with physical access to server data centres and infrastructure

You can choose the level of service support you need - from 9 to 5, all the way up to 24/7

Communicate, collaborate

Make working together easier

ALB provides the tools you need to keep lines of communication open. It allows the easy and convenient sharing of matter information between authorised fee earners, support staff, clients and all relevant third parties.

Legal Live

Tech savvy legal consumers now expect 24/7 online access to their matter information. This solicitor/client interface delivers a solution for all involved parties.

Client self-service

ALB automatically emails a registration link and clients simply enter an email address and password for access

Clients can see information online and easily find the details they need on a searchable summary screen

A milestone tracker allows users to clearly see what stage their matter has reached, and what is due next

Documents can also be easily sent from ALB to Legal Live, allowing clients to complete and return them.

Fee earner efficiency

Solicitors can quickly and securely share forms and documents with clients and 3rd parties from within ALB

The ALB user controls who sees each document and can notify users when a document is ready for them to view

Client self-service eradicates the need for lengthy telephone calls and paper based data collection processes

Access permissions can be revoked at any time

ALB Connect

Process 3rd party information requests quickly with ALB Connect. This configurable API framework acts as a channel between fee earners and suppliers, speeding response and matter completion.

Automated delivery

Connect compiles information requests, along with required data in the correct format, from within ALB

The request is transferred to an authorised third party who picks it up, and processes the request

When the procedure is completed, required results are delivered directly back into ALB

The fee earner accesses the information, from within the current workflow, and incorporates it into the matter

Simplified completion

User firms can create multiple integrated communication channels quickly and easily

Required data fields are clearly displayed, making it easy for the users to enter the correct information

Inbound API calls, such as a client quote requests, can be dealt with just as efficiently

All transmissions are protected and secure

Dynamics CRM (Customer Relationship Management)

Grow and succeed by using CRM technology that enables your firm to send relevant, engaging communications. You can build your brand, maximise client satisfaction and reach new audiences.

Marketing made easy

Dynamics CRM is a bespoke email marketing tool that delivers an easy way to stay in touch

Integrating ALB with Dynamics CRM provides a single source for contact data and marketing-critical information

Use that information to segment prospects and clients, providing messages that generate interest and response

Develop targeted, measurable campaigns, and use response data to build even greater success in the future

Build strong connections

Monitor performance and service delivery by asking clients about their experience with your firm

Promote your firm's expertise with thought leadership pieces that will engage and inform your audience

Identify allied cross-selling opportunities such as offering a will to clients who've just adopted a child

Expand business development activities by inviting clients and prospects to webinars or live events

The Quote Tool

ALB provides a platform that allows your firm to provide 24/7 online price details. Client-friendly web quotes deliver reliable, on-going service and ensure you never miss an opportunity.

Easy online quotes

Automatically react quickly to quote enquiries, even when your office is closed

Provide access to readily available costings to help clients make an informed choice

Use this technology to find to potential clients and increase your number of new business leads

Compliant and efficient

Supports compliance with the SRA compliancy rules

There's no requirement to rekey quoted information when a matter is created, ensuring saved time and accuracy

The Quote Tool easily integrates with Hoowla, Brighter Law and Tonic Works for even greater potential

Key integrations

Incorporate additional value into your PCMS

We help you leverage the use of ALB by offering seamless integration with other market-leading legal technology providers. These high performance tools help you remain complaint, boost functionality and save time - all from within ALB.

Lawyer Checker

The market leader in fraud protection, Lawyer Checker provides the information you need to protect you, and your clients, from deceitful activities.

Prevent fraud

Market leading platform, used by 1000's of legal firms throughout the UK

Conveniently access Lawyer Checker from your ALB Actions Menu to perform searches against account details

The outcome is instantly recorded against the relevant service record

Search history is easily available from the ALB notes tab

Save time and cost

Authorisations are required to request searches, eliminating unnecessary work, and additional cost

A validation prompts the user to approve the request data prior to submission, ensuring details are correct

If a duplicate search is attempted, ALB will recognise this and state the previous confirmed results

InfoTrack

Conveyancers can save significant amounts of time with easy access to an Infotrack integration that streamlines conveyancing workflow and provides a single source of truth for every transaction.

Faster search results

Improve efficiency by requesting searches from directly within a matter

Speed turnaround times, with much less effort required

The order screen is prepopulated with the matter reference, and details of the person who ordered the search

Results are always available and instantly accessible from within ALB

DocsCorp

The task of combining multiple PDF documents into an electronic bundle is a slow, painstaking task if done manually. DocsCorp automates the process and completes bundles up to 75% faster.

Easy bundle creation

Quickly convert documents to .pdf format from Microsoft Office

Automate the conversion, and assembly, of documents into a complete bundle

Generate an interactive table of content. and add bookmarks and links, for easy navigation

Distribute bundles quickly and securely by email or electronic file transfer

The National Will Register

The National Will Register is the UK's provider of Will Registrations and Certainty Will Search services. The Register holds more than 10 million Wills and is used by thousands of legal professionals.

Protect and Grow

Protect your firm by ensuring that no Will is left unknown or untraced at the time it is needed

Minimise the risk of another Will being discovered after an estate has been distributed

Prevent probate income loss by registering Wills and allowing searchers to quickly and confidentially find you

The Register is built around the needs of Wills and Probate solicitors, and offers firms cost neutral pricing

Easy Will management

Securely register your entire Will Bank

Search for both registered and unregistered Wills, directly from within ALB

Find, later or unknown Will versions to confirm a client's assumed position around a Will they have presented

This API integration is available to all ALB users who are members of The National Will Register

Thirdfort

Ease client onboarding with Thirdfort. It's the only platform to combine best-in-class digital verification alongside Open Banking and transaction specific data - and it's easy to use within ALB.

Protecting your firm

Easily manage growing fraud and money laundering risks and ensure onboarding compliance

Quickly click a button and add the client's name and phone number before selecting the type of checks needed

Clients can immediately enter required information from their phone, and upload any required documents

The current status of each check is clearly displayed on the Thirdfort dashboard within ALB

Removing efficiency barriers

Verification time is reduced by up to 75%, compared with manual processes

Allows firms to serve a geographically wider client base with no time delays

Meets increasing client expectations of digital self-service
CUSTOMERS
Who succeeds with us
Every day, thousands of users depend on ALB to get the job done

"Without ALB's digital work tools, we would not have succeeded to the extent we have. In fact, we have thrived".
— Adrian Barker, IT Manager

"The simplicity of using the Workflow Toolkit to modify ALB allows us to respond to changes in the market and improve our processes with ease".
— Philip McBride, Partner

"ALB provides us with the tools we need to deliver our services smoothly and efficiently and to remain competitive".
— Andrew Perry, Practice Manager

"It is important that we fulfil clients requirements in a timely and efficient way, and ALB enables us to do just that."
— Anne Smith, Managing Partner
IMPLEMENTATION
Welcoming you onboard
1 day
Starting your journey
We're fully invested in making your journey a success. Our team of knowledgeable experts will meet with your teams to provide product demonstrations, ask questions, and discuss your requirements.
1 week
Understanding your challenges
We'll present a comprehensive PCMS offer with solutions based on our previous conversations. We'll make any adjustments required until you are fully satisfied that this offer delivers what you need.
2 months
Planning your journey
Once you have signed up with us you will have an introduction call with your new Customer Success Manager who will explain who they are and how they can help through the implementation process.
2 months
On the road to go live
To ensure a smooth implementation, our experienced Project Delivery Team will build a plan of action and set up a UAT which is like a comprehensive test drive for your PCMS before it goes live.
Delivery and up and running
We're all ready. As your product goes live, we make sure we're on hand with any help you might need. Our implementation packages are designed to fit around each customers individual needs.
The utilisation of legal transcription software is crucial to maintaining documents, here are the questions you should be asking.
Read blog
4 Feb 2022 by Doug Hargrove, Managing Director - Legal and Education
Law firms are undergoing a rapid transformation as they transition at pace to a digital future. Here, Doug Hargove, MD for Education and Legal at Advanced, shares some thoughts on how to manage your firm and workforce to achieve successful implementations.
Read blog
5 Jan 2022 by Doug Hargrove, Managing Director - Legal and Education
For chambers and law firms alike, time is money. Which is why it is so important to be able to record time quickly and easily. And let's be honest, it isn't barristers' favourite task to do either.
Read blog
27 Oct 2021 by Doug Hargrove, Managing Director - Legal and Education
HOW CAN WE HELP?
Transform your legal team with Advanced Practice and Case Management
Get in touch to find out more.