ADVANCED DIGITAL DICTATION
Dictation and transcription software
Move to a customisable Cloud dictation solution that will deliver instant cost and efficiency benefits to your organisation.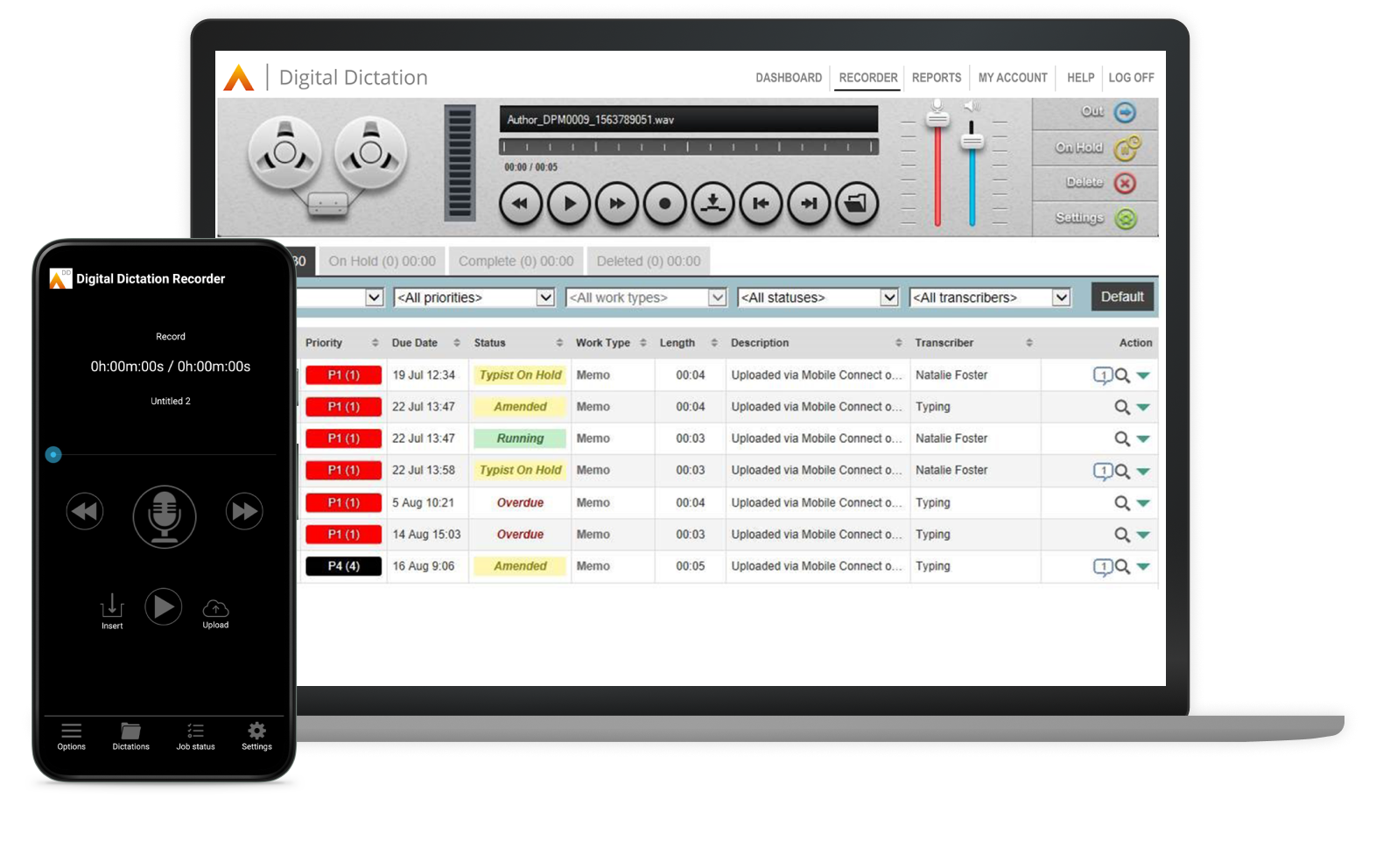 Produce documents quickly, and easily, so you can focus on higher value tasks
Advanced Cloud dictation technology offers an extensible solution that can be configured to meet your exact requirements. In addition to a traditional dictation workflow, users can also benefit from a native mobile app, two versions of speech recognition, and a flexible outsourced typing resource.
"For a reasonable cost, we were able to source a flexible, easily managed dictation and transcription system."
Helen Powers, Head of IT, Bridge McFarland
Key capabilities
---
24/7/365 access
---
Speech recognition modules
---
Outsourced transcription resource
---
Bi-directional mobile app
---
Monitor and report progress
---
Role specific dashboards
---
Intelligent job routing
---
Free updates
---
PCMS integration
---
Secure and compliant
---
We understand and solve your key issues
We develop software that is designed to solve our customers key challenges.
Years of experience
in dictation technology
30
Transparent annual
license fee
One
Featured resources for you
WEBINAR
Drop into Digital Dictation
21 minutes
Monthly online events that provide an overview of our dictation technology, with a Q&A at the end of the session.
REPORT
Recovery and Growth
Author: Doug Hargrove
The role of technology in helping firms achieve their post-pandemic goals.
Read report
CAPABILITIES
More than just dictation and transcription software
Find out more about the powerful features that sit within Advanced Digital Dictation
How our Digital Dictation software can help you
FEATURES & BENEFITS
Digital Dictation

Achieve complete dictation efficiency at a reasonable cost

Delivering all of the features and functionality you expect in a modern dictation system to ensure your firm's users can work quickly and efficiently to beat tight deadlines and produce accurate, high quality document transcripts.

Agile functionality

Digital Dictation lets you choose the specific process solutions you need to make your document production workflow smooth, efficient, and easy to manage.

A comprehensive solution

Authorised users have 24/7 access from any windows web-enabled device, wherever they are

Our bi-directional mobile app is suitable for use on both Apple and android devices

Real time and deferred speech recognition modules allow fee earners to produce their own documents quickly

An outsourced transcription service will help your firm ease reliance, and pressure, on support teams

Boost efficiency

Intuitive ease of use with little, or no, training required

Role specific dashboards provide a clear view of dictation workloads to every user

Reporting functions can be configured to ensure complex information is easy to view and understand

All users have on-going access to our friendly and knowledgeable helpdesk team whenever they have a query

Free up resources

Instead of investing resources in updating an internal infrastructure, you can easily move to a Cloud solution that will deliver measurable time and cost savings across your organisation.

Control Costs

A leaner, more effective business model that's based on operational funding rather than capital expenditure

Save the time and expense needed to roll out, store, upgrade, manage and maintain onsite servers and software

Our transparent charges help you easily forecast annual payments, with price guarantees of up to three years

Unlimited dictations means there are no additional charges related to the quantity of dictations produced

Spend less

During your contract term all Cloud software releases are supplied to you free-of-charge

Only pay for what you need. Cloud scalability means you can add or remove user licenses when you need to

Outsourcing transcriptions is a cost-effective and reliable alternative to hiring temps to cover busy periods

A smooth user experience

Workload transparency

With easy to follow, role-specific dashboards, users can easily view the information they need to manage dictation workloads efficiently. This modern application delivers what's needed to enable immediate reaction, quick completion, and efficient resource management.

Agile document completion

Digital Dictation gives lawyers the ability to capture information quickly and easily, and the peace of mind to know documents are being processed, completed, and delivered in a timely manner.

Authors

Dictation revisions or additions easily slot into the correct place on the recording

All supporting comments or documents can be attached to each transcription, as required

Each dictation can be prioritised according to urgency, with expected due date and time inserted

Intelligent job routing allows fee earners to send transcripts to one specific, or many, typists

Typists

The priority of each dictation is clearly identified when delivered, so urgent work can be completed first

Each file is classified by document type to aid the prioritisation of non-urgent work

All dictations include relevant amendments, attachments, and comments to prevent any misunderstandings

Superior, high-definition sound quality, with volume control that adjusts to the user's environment

Reduced pressure on support teams

Digital Dictation is accessible, extensible, and secure, so it reduces the management and maintenance burden, saving time and freeing vital members of staff to focus on more productive tasks.

Administrators

An administration dashboard allows monitoring of live updates and tracking for every dictation

Measure the value of the work being processed

Release bottlenecks by calling in additional typing resource whenever needed

Audit minutes worked by each typist to uncover, and improve, any performance issues

IT Services

System updates and maintenance included, and client-side updates take place without user disruption

Scalability allows fast, easy management of user licenses

Supports Citrix Terminal Services & virtual environments. Hardware drivers are delivered within the software

SQL server as standard

Speech Recognition

The perfect efficiency tool for modern law firms

By incorporating the powerful benefits of speech recognition technology, law firms of every size can significantly reduce the time, administration, and money spent on document production tasks.

Deferred Speech Recognition

Developed in accordance with customer demand, this module uses Automatic Speech recognition (ASR) to convert the spoken word to completed text in just minutes, while fee earners progress other work.

The power of AI

24/7 access and intuitive ease-of-use with a modern interface

Provides highly accurate transcriptions, even for legal-specific words and phrases

Fee earners can work much more quickly, with reduced reliance on support staff

Deferred Speech Recognition licenses are required for authors only

How it works

The author dictates the transcription and with one click, sends it to our AWS server

Within minutes, a fully typed transcript of the dictation is returned

Either the author, or a nominated typist, can pick up the file and make any amendments or corrections

The document is pasted into the required document template and the process is completed

Real Time Speech Recognition

Real Time is an ideal solution when instant results are required. Whether an urgent email, letter or memo, the user simply speaks and the words appear immediately on the screen as they are dictated.

Instant Results

Installation is quick and straightforward

Contains add-ins for Word and Outlook, or users can copy and paste into a different template if required

Immediate transcription results

Available 24/7

How it works

Words appear on the screen as the author speaks

Any required changes can be made directly on the screen

The author can choose to finish the document or send it to support staff for completion

PCMS integration

Gain even more dictation efficiency through your practice and case management system

Create new dictations more quickly via this integration which streamlines the dictation process by allowing Advanced Digital Dictation to be launched from directly within ALB and P4W.

A streamlined dictation process

This efficiency solution provides a more accurate process for completing everyday matters, and decreases the number of tasks fee earners and authors have to undertake in order to achieve completion.

Saved time, less effort

Recover more time by not having to rekey client and matter information

Client name, matter reference and matter description fields are automatically completed, using PCMS data

Prevent human error and ensure all dictations are directly connected to the correct matter

Ribbon menus can also be used to record flexible, ad hoc dictations that don't require PCMS data

Secure and protected

We understand the critical importance of security to your firm

To protect confidential information, we've put everything in place to ensure that no unauthorised person can gain access to your dictations. Even If your internet connection is disrupted, your data remains secure and is uploaded as soon as connection is restored.

Putting the barriers in place

We make effective job sharing, workload transparency and mobile working safe by ensuring everything is in place to guard against unauthorised access to confidential information.

In-built safeguards

Flexible, centrally controlled levels of user access, for single or multiple roles

Private dictations can be easily identified and accessed by a nominated private typist when required

Secure data back-ups ensure that in cases of system failure or disaster, data remains easily retrievable

World class security

Your data is protected by an HTTPS connection, providing industrial layers of encryption

An updated TLS-security protocol facilitates on-going privacy and data security for internet communications

As a Cloud application, all data is stored in private, highly secure data centres

Azure or AWS Cloud storage, with stringent ISO and other international standards in place

Outsourced transcription

There when you need it

We offer full integration with two specialist legal transcription providers. Delivering high quality, trusted assistance to 1000's of UK legal practitioners, these flexible services offer the transcripiton support you need, when you need it. There's no minimum usage terms, just 24/7 availability.

Assured experience

To ensure uninterrupted progress of dictations, integration is fast and easy. You can quickly access a team of experienced, UK-based legal typists, whose accuracy and speed are guaranteed.

Invaluable support

Files are transferred directly from Digital Dictation

Completed documents are delivered as an encrypted email attachment, or returned directly into your PCMS.

Documents are returned within your chosen turnaround time. An urgent priority service is also available.

Outsourcing offers a cost effective solution for firms of all sizes, from sole practitioners to large firms.

Tried and trusted

UK based secretarial teams who have a broad range of legal experience, and in specific areas of law.

Specialist typists undertstand legal terminology and the required layout of legal documents.

High quality, accurate transcripitons are guaranteed.

Mobile apps are available so dictations can be sent for completion wherever you're working.

Certain security

Holding internationally recognised standards for information security management, these transcription services are fully accredited to ensure you of the safe transfer, and management, of your data.

Always protected

UKAS accredited ISO 27001 (information security), ISO 22301 (business continuity), ISO 9001 (quality).

Registered with the ICO for data protection, and fully compliant with GDPR regulations.

Fully compliant with the SRA guidelines.
CUSTOMERS
Who succeeds with us
1000's of users rely on digital dictation every day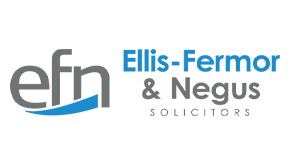 "We're all feeling the benefits of time saving and increased productivity. We don't know how we got by without it."
— Jess Raebitt, IT Officer, Ellis-Fermor & Negus

"Cloud has decreased the pressure on our internal infrastructure. You can't argue with the advantages of getting a much better system for less money."
— Richard French, Partner, QualitySolicitors Burton & Co

"I can instantly measure the productivity of each individual and plan resources around that - outsourcing or keeping dictations in-house."
— Jamie Abrahams, Operations Director, Harold Benjamin

"We plan to further expand our dictation capabilities with the addition of speech recognition. We're excited about the advantages this can offer us."
— Helen Powers, Head of IT, Bridge McFarland
IMPLEMENTATION
Welcoming you onboard
1 month
Starting your journey
We're fully invested in making your journey a success. Our team of knowledgeable experts will meet with your teams to provide product demonstrations, ask questions, and discuss your requirements.
1 month
Understanding your challenges
We'll present a comprehensive offer with solutions based on our previous conversations. We'll make any adjustments required until you are fully satisfied that this offer delivers what you need.
1 week
Planning your journey
Once you've signed up with us, we will arrange an introduction call with our implementation team. They'll explain how they will help you through the incorporation of Digital Dictation into your firm.
1 month
On the road to go live
To ensure a smooth implementation, our experienced Project Delivery Team will build a plan of action and perform a comprehensive test drive of the system before it goes live.
1 month
Delivery and up and running
We're all ready. As your product goes live, we make sure we're on hand with any help you might need. Our implementation packages are designed to fit around each customers individual needs.