SMART ASSESSOR
Learner Management System
We provide a class leading e-portfolio designed to handle your apprenticeship program with ease.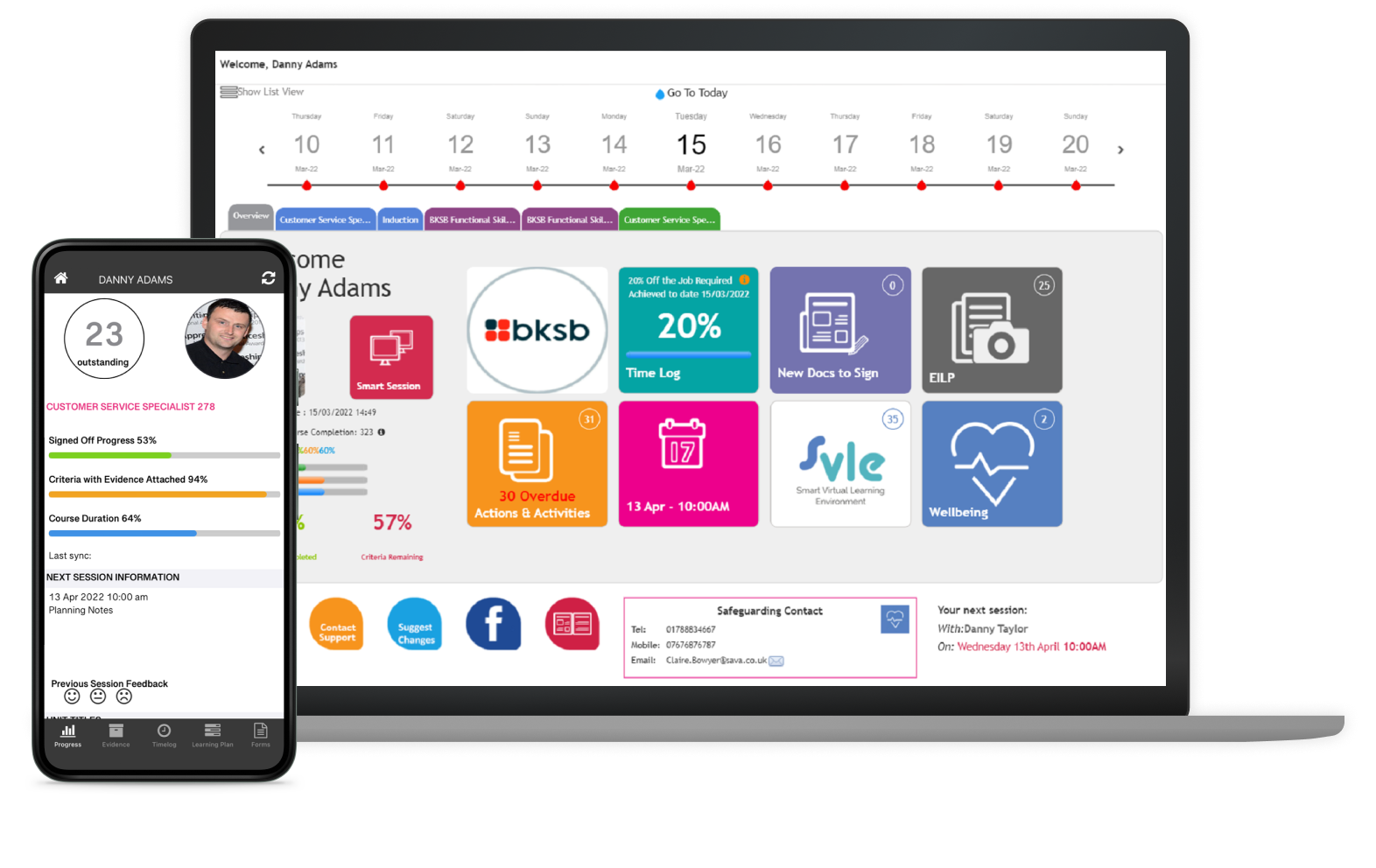 Market leading e-portfolio platform making up part of an unrivalled suite of solutions
Smart Apprentices provides end to end digital learner management system and e-portfolio system that offers a comprehensive hybrid learning platform for apprentices.
Our innovative suite of technologies for apprenticeship delivery is used by learners, employers and assessors within over 50% of Colleges in the UK. Our learner management and e-portfolio systems are highly customisable and enable you to track progression throughout the learning journey for apprenticeship standards, traineeships, NVQs, AEBs, SQAs, commercial courses and much more.
The bespoke learner management and e-portfolio evidences and maps KSBs; knowledge, skills and behaviours, automates dashboard reporting details learner progression against Ofsted three I's framework and the latest legislative changes. Our solution is the only LMS to have customisable delivery milestones as well as offline apps, for both providers and employers. Our solution plots any off the job training, monitors gateway assessments and offers out of the box reporting with Ofsted audit compliance dashboards.
We have reduced the time staff spend doing repetitive, time consuming tasks to be able to focus on more high value activities. Our industry experts regularly review the software and update the system to ensure its compliance and relevance to the latest legislative changes.
Key capabilities
---
Course Planner
---
Gateway readiness checklists
---
Evidence Libraries
---
Milestone Trackers
---
Powerful Reporting
---
Personal bespoke user
dashboards
---
Electronic Enrolment
---
Employer Engagement Apps
We understand and solve your key issues
We build products which are designed to solve our customers key challenges.
CAPABILITIES
More than just
an e-portfolio platform
Find out more about the powerful features that sit within Smart Apprentices
How our Smart Apprentices software can help you
FEATURES & BENEFITS
Apprenticeship engagement

Engage easily and efficiently with your apprentices with Smart Assessor

At the heart of Smart Asssessor is the ability to manage and effectively communicate with your learners throughout their apprenticeship from onboarding all the way through to offboarding with ease. The solution covers all the essentials such as: electronic enrolment, course planning, milestone tracking and more.

Interactive Learner homepage

In a digital age it is vital for learner's to have all the key information they need online. The interactive learner homepage provides learners with a clear view of all their important course data.

Features

Assigned work and activities logged in a timeline at top of learner dashboard

Learners can view a calendar of key upcoming dates such as reviews and progress meetings

With simple to understand widgets Learner's can see all the key data they need such as how many days are left in their course

View off the job progress and key dates such as next sessions / visits

Prompt and guide learners through their learner plan

Our Learning Plan feature encompasses everything the learner has completed or is due to complete throughout their whole learning journey.

Features

Learning Plans tailored to each individual apprenticeships requirements

All amendments to the learning plan are version controlled for ease of use in the future

Changes can be made by master admin users only and applied to courses/standards

Track and prompt learners to complete outstanding documentation

Using the Smart Assessor electronic form feature you can view which paperwork is still outstanding for any specific learner and where they are missing information.

Features

Easy to view list of documentation required from a learner

Tracking system shows any outstanding information from a learner

Send prompts to learners to complete work they've yet to submit

Tests and Exams

Achieve a better understanding of learner skill level through entering historical exam data in order to exempt them from KSB assessments they've already achieved.

Features

Customisable learner milestones to show progress on a course

General milestones can be set for multiple learners, or made uniquely for each learner

Smart Annotation

Providing constructive feedback to apprentices on their evidence of work is crucial to a learner centric delivery model facilitating reflective continuous improvements. Smart Annotation makes giving digital feedback easy.

Features

Mark up your digital evidence, including pdf, audio and videos, with feedback and comments

Provide feedback to learners either with written comments or audio voice recording

Enhance your learner's understanding of your explanations with the ability to attach videos and images to their feedback

Build quality courses

Empower your learners with quality bespoke courses

Create high quality bespoke courses for your apprentices with our easy-to-use course building features including: learner plans, episodes of learning, and review planning.

Course builder

Course planner features allows your staff to create a customisable templated learning plan. This template can be applied to all learners on that standard/programme.

Features

Learner plans are tailored as per each individuals apprentices' requirements

Through the course builder you can manage the input of all standards and qualifications that include all units and criteria

Map all knowledge, skills and behaviour against your course

New versions of standards updated as they change so that new learners can be registered on the new standard

Learning Plans

Each learner has a learning plan where key information is recorded. All relevant information to the learner will be held within their learner plan and follows them through their apprenticeship journey

Features

Key information such as enrolment forms, qualifications, visits and sessions can be recorded

The learning plan will track all sessions booked / delivered and attended for each learner

Schedule review dates, times, durations, location as well as attach a digital review form for completion and add actions

Create individual actions for each of the assessments that the learner will be taking as part of the wider EPA

Episodes of Learning

Episodes of learning is a feature which will ensure the clean break between completing one apprenticeship and moving onto a new apprenticeship programme

Features

If Episodes are set up then each apprenticeship program is self-contained into its own episode

Episodes can be assigned to the learner as they are set up with their courses / qualifications as part of their apprenticeship

All relative courses, progress, OTJ hours are all self-contained and won't reflect into other episodes of learning

Review Planning

Reviews in the solution can be auto-scheduled with notifications when user defined KPIs aren't met to provide the high quality data you need, when you need it.

Features

Set custom KPIs and custom timeframes to flag reviews and when these aren't met receive automatic notifications

Both RAG rating of progress and scheduled reviews are availability immediately for the learner to see within one click on the mouse

Review paperwork is created in Smart Assessor whereby electronic digital signatures are required for the associated roles you set

Learner progress tracking and evidence mapping

Supporting your learners

We understand that tracking learner progress and supplying evidence is crucial to apprenticeship success. That's why we've designed an LMS that aims to supply your learners with everything they need for a success.

Learner aims that integrate with your MIS

The Smart Assessor dashboard reports on both overall progress and progress by learning aim, such as main apprenticeship standard aims or functional skills in maths and English scores.

Features

All reporting capabilities can be split by learning aim

Learning aims integrate with your MIS so you can be assured that the correct aims are attached to each learner

All Smart Assessor users can view their caseloads (including Talent Coaches and IQA's) and overall progress updates split by learning aim

Gateway readiness checklists and evidence libraries

Ensure your learners are Gateway ready with evidence checklists that take place prior to assessment.

Features

Smart Assessor is the only e-portfolio with a dedicated Gateway Checklist feature which is completely customisable

The solution operates a tick box checklist whereby formal sign off is required before the learner progresses to EPA

Each apprentice learner will have a different Gateway checklist dependant on which standard they are on

Milestone tracking

Smart Assessor is the only e-portfolio on the market that includes customisable delivery milestones to demonstrate learner progress.

Features

Customisable learner milestones to show progress on a course

General milestones can be set for multiple learners, or made uniquely for each learner

You have complete control over how many milestones points you

You have control over how many activities are attached to each milestone

Off the job tracking

Track both your learners on and off the job hours for any given time, with innovative features designed to give you a clear view of the data you need.

Features

Learners and assessors can log time against a learner's record within the time log

The time log shows how many hours, the learner has ascertained so far both for various time periods

Data posted in a calendar view, so you can see how the learner has progressed towards their off the job requirement

Evidence Tracking

Evidence tracking is an essential part of any apprenticeship program, and Smart Assessor makes this easy for users with clear evidence tracking views.

Features

Evidence can be mapped against every version of your apprenticeship standard or KSB if required

Mappings are coloured for a clear view of apprenticeship progress

Easily export a complete summative portfolio of all the learner's evidence

Comprehensive reporting to demonstrate results

Powerful reporting

The solution comes with powerful reporting capabilities allowing you to produce reports around every aspect to an apprenticeship to spot trends in learner data.

Real time progress

View your course data in real time to get a clear view of all the key information you require up to date as and when you need it.

Features

The system allows staff to view information relating to their assigned apprentices at any given time, on or offline

Select apprentices from any one cohort or employer to provide a real time report on all active employees

Administrative roles have an interface that presents information clearly in one view and can be exported

Audit, Governance and Ofsted reporting

The Smart Assessor Management Dashboard will enable you to be better prepared for external audit with an easy to use Management Dashboard full of compliance data reports

Features

When it comes to your Ofsted inspection, you can create bespoke reports pulling key evidence from your database

Our systems support the Ofsted Intent Implementation and Impact Framework

We update our platforms in line with Ofsted developments

Progress Reporting

Build useful progress reports around key learner data such as learner engagement, OTJ tracking, KSB progress, academic achievement and more.

Features

All users have access to out-of-the-box prebuilt Smart Assessor reports

Users can build their own bespoke reports with ease

We are the only software provider to provide back-end access to the database via SSRS reporting

Create bespoke reports

If the built in Smart Assessor reports do not meet your Organisation's requirements then your users have the ability to build their own custom reports.

Features

The report builder allows you to create custom reports based on any field of information saved within the system

Automate and schedule reports so that they get sent out to key stakeholders regularly when needed

Access all your key reports away on the go using any mobile or tablet device

Create bespoke forms

Much like the report builder users can create their own bespoke forms, ready for use either at your computer or on the go.

Features

Forms are available both on and offline. If created offline they will populate into system once internet is restored

Create your own fields, or utilise a field already in the system such as Forename or Surname

Add validation to a field by not allowing a user to continue or save unless they have populated a certain box

Dashboarding and filtering

View all your key information at a glance

The solution comes with a wealth of dashboarding functionality allowing your staff to have a clear view of any key data they require in their job role.

Tutor dashboards

Tutor's can view learner data with ease with their own dashboards tailored to their job role, with the ability to drill down or export any set of data they require.

Features

When tutors log in they will immediately see a dashboard of activity for their caseload of learners

Tutors have a clear view of tasks to complete today and this week, as well as any overdue tasks

Widgets enable the tutor to see key learner information such as if a learner has any overdue actions

Management dashboard

The solution comes pre-built with dashboards custom built for a management level showing all the key data you will require to manage your staff and learners effectively.

Features

The management dashboards are customisable person by person

Spot trends by comparing College / Organisation performances against others within the group

The dashboards are bespoke so will only show data relevant to the assigned job role

RAG Ratings

RAG ratings are included in the system as standard, regardless of the learners course showing if a learner is behind (red), on course (amber), or ahead (green).

Features

RAG ratings are available overall for the learners whole apprenticeship or split by learning aim

All reports are available either against overall progress, by learning aim, or both

RAG ratings are also available for progress reports and scheduled reviews

Employer engagement

Improve employer engagement

Engaging employers as part of your levy offering of standards is crucial, and we have a number of features that makes this process quick and simple.

Bespoke employer dashboards

Smart Assessor allows you to provide direct access to the system for employers so they can see real time progress and tracking information for their apprentices.

Features

Employers can see their staff member (the learner) and their journey in its entirety via their dashboard

Employers can sign documents and get directly involved in the training aspect to really make it employer led

View apprentices progress, key information and outstanding actions for each apprentice as well as more

Data segregation for your Employer partners

Data in Smart Assessor is segregated in the way in which you choose. This means that you can allow your employers to only see what you want them to.

Features

Segregate by employer so employers can only see their apprentices/staff members.

Configure by Employer Overview and Employer Manager record.

Bespoke employer reporting

With the employer login your employers can also view real time progress and tracking via our bespoke reporting system.

Features

Create bespoke reports from the custom reports area of the system

Build reports around apprenticeship progress, or around data such as tracking liability insurance

A complete digital-hybrid learning solution

Modernise your apprenticeship program

We know how crucial it is to have the most up to date technology for your apprenticeship program, that's why we included key features such as offline capability, electronic enrolment, digital feedback and more.

Offline capabilities

Your geographical delivery model can be challenging, especially in the more rural areas where internet connection is hard to come by – That's why Smart Assessor comes with offline capabilities.

Features

Offline app means your staff are still able to do their job, without any paper and without internet connection

Our app is available for smart devices across IOS, Windows and Android

We have developed our offline app to also include offline forms

Smart Assessor is also the only eportfolio provider to provide an 'offline laptop/PC app

Electronic enrolment

The Electronic form feature allows clients to recreate their paperwork entirely to work both online with internet connection and offline without internet connection.

Features

The forms feature operates an easy to use drag and drop feature

The system allows clients to make use of the 16 standard fields in the system

Clients can also create their own fields in the forms feature to capture absolutely everything they require

Smart Rooms (Zoom integration)

With the Smart Assessor built in zoom web conferencing, colleagues can create group sessions which apprentices are invited to.

Features

Send invites to all students on a course or just a select few

All learners who attend get the session attached to their learning plan, including attendance, for reporting purposes

The session is recorded and automatically uploaded to the cloud for easy access for the students

Internal messages

Clear communication with your learners is vital for any Apprenticeship program. With internal messaging from tutors and talent coaches Smart Assessor makes this easy.

Features

Messages are sent out from the system via email to learners and replies are sent back to the system

All communication is logged against the contact diary for a clear learner audit trail

Product Integrations

Talk with other systems

Smart Assessor can fully integrate with any MIS on the market as well as additional benefits from integrations with our ProSuite and bksb products and also partners.

MIS Integrations

Smart Assessor can fully integrate with your chosen MIS solution with any new apprenticeship data pushed from your MIS to Smart Assessor.

Data Transfer methods

File Transfer protocol

Bridge Tool - Combine Interfact technology

PICs API - Direct Interfacte from PICs environment

Application program interface

Additional information

Only FTP & Bridge Tools are a one way integration options

API and the PICs API are capable of inserting specific data back to MIS systems from Smart Assessor

Each of the tools can support a variety of datasets to provide input into Smart Assessor

Two way connection is often specific to indivisual client's system designs and configurations

Advanced Solutions integrations

Smart Assessor currently integrates with ProSolution (MIS), ProMonitor (learner monitoring) and bksb (functional skills) providing you additional benefits and data sharing, with further integrations coming soon.

Features

ProMonitor users can have access to their ProMonitor reports from within Smart Assessor

Easy to view widgets in Smart Assessor showing key information from ProMonitor

Jump straight onto the bksb login page from within Smart Assessor

Power BI

Power BI is a new feature for Smart assessor that allows users to query their data in a more effective and efficient way than our built in system currently allows.

Features

PowerBI Dashboard is able to query and display data and run its different reports quickly and efficiently

Enables users to build queries and slice through your data much faster than our existing report suite
CUSTOMERS
Who succeeds with us
A rich, diverse customer base from charities to distribution and logistics

"It allows access to off-the-job work for apprentices from day one."
— Hannah Badman, Assessor
IMPLEMENTATION
Welcoming you onboard
Step 1
Mapping the project
The first step we have to take when starting your new project is to map out an exact plan of action. The meeting will cover key points such as: mapping out your data so we get a better understanding of your processes such as which systems you use, how many learners you have and how much data you have in your current systems.
Step 2
Data mapping
Depending on which software you use, we can create a bespoke plan for moving information over from your old system to your new one and you will meet with our Data Lead to choose the right import method.
Step 3
Uploading your qualifications on our systems
Whether you wish to offer a new qualification or want to upload existing ones our team are able to help you with what you need. We will populate Smart Assessor with your standards and frameworks, building these courses into your system in advance of your 'go live' date.
Step 4
Training
The final stage of your onboarding will be the training of your staff. This can be done in parallel with other processes running at the same time so that we hit your go live date on time.
Delivery and up and running
Once we execute the system, it will be live for learners and your wider organisation. Your client account manager will keep your teams trained and up to speed on system developments as we keep developing the products. Our support team will be able to assist on ad hoc queries.
Featured resources for you
WEBINAR
Connecting data through the learner journey
37 minutes
Speakers: Steven Dunnell, Ben Brownlee, Andrew Beaumont
Following the 2021 acquisition of Smart Apprentices and bksb by Advanced, we are excited to share with you news of the first phase of integration between our class-leading education software solutions.
WEBINAR
Now is the time to switch to Smart Apprentices LMS
59 minutes
Smart Apprentices is unrivalled in the breadth and depth of functionality our LMS system offers. There has never been a better time to make the switch.
WEBINAR
Ofsted… How ready are you?
62 minutes
Speaker: Tony Allen
What can you do to contend in an increasingly competitive market? Join our webinar to find out how we can position you as a best in breed provider.
HOW CAN WE HELP?
Hi, we are Advanced.
Talk to us.