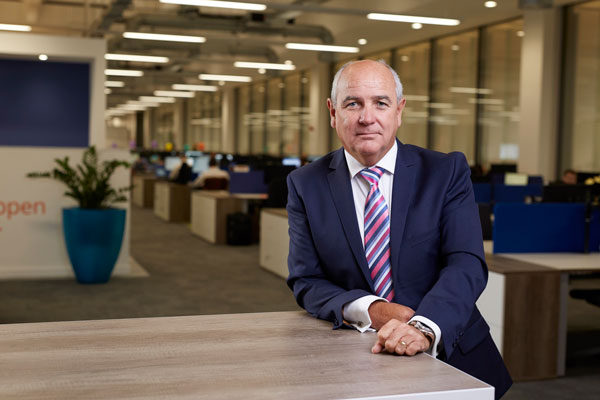 Gordon Wilson, CEO of Advanced, one of the UK's largest software and services providers, has been named one of the UK's Top 50 Most Ambitious Business Leaders by LDC, the private equity arm of Lloyds Banking Group, and The Telegraph. Gordon received the prestigious accolade in recognition of his work to transform Advanced over the last four years, acquiring five businesses and consolidating 13 disjoined business units to create a successful, high growth £250m+ turnover technology business.
Under Gordon's leadership, Advanced has grown into the UK's third largest UK-headquartered software business with customers including the NHS, British Gas, National Express, the BBC and Virgin Atlantic. Earlier this year, Advanced announced the acquisition of a 50% stake in the business by PE firm, BC Partners, in the UK's biggest software industry deal in a decade. The business now employs 2,350 people and has delivered 20 percent year-on-year EBITDA growth
Gordon Wilson, CEO of Advanced, says: "The fact that the LDC Top 50 recognises ambition is of particular relevance to me. I'm delighted and proud to be recognised alongside such a fantastic group of business leaders. People say I'm a turnaround guy but I'm not, I'm a growth guy. We have a goal to take Advanced to £0.5bn in sales within three years and to create a major global force in enterprise software, headquartered in the UK. This is only the start in our growth journey."
According to the LDC Top 50, Gordon's leadership strategy helped Advanced to cross sell different products to create more complete solutions and offer a better service to customers, boosting revenues. Gordon has also pioneered a unique hiring strategy for the business, focusing on talent and enthusiasm, and then training in-house, rather than demanding a degree.
Gordon continues: "Finding the right talent has been a huge factor in the growth of our business. It's been amazing to give so many young people the opportunity to get into IT, no matter their background, and I'm proud to say we've recruited 800 under-25s over the last four years."
As the private equity arm of Lloyds Banking Group, LDC invests in a diverse range of mid-market businesses across every region and sector of the UK economy. The LDC Top 50 Most Ambitious Business Leaders is made up of the CEOs and Managing Directors of UK-based, high-growth, profitable medium sized business, all of whom have demonstrated a strong track record of delivering growth, a clear vision and plan for the future.
According to Andy Grove, Head of New Business at LDC and a driving force behind the Top 50, one key strength of high-quality management teams is that they will prevail no matter the economic climate. "They turn barriers into opportunities. They are quick to make strategic adjustments when markets turn. This is why we are so fascinated by the business leaders showcased this year - these leaders have been tested and come out fighting."