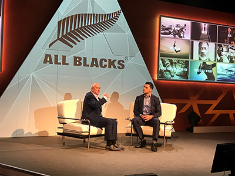 No British business can rest on its laurels during such volatile and uncertain times. For us at Advanced, our ambitious growth plans have been well documented and we're proud to report year on year growth over the last few years. But that doesn't mean we haven't had to dig deep and keep focused to achieve these results during such complex times.
Taking time out to celebrate the wins is really important. And that's exactly what our annual Best Practice Sharing Summit (BPSS) conference that took place this week aimed to do. It enabled us to rally the troops, regroup with a new concerted effort and leave feeling inspired to achieve the goals for our financial year which is to build on improved customer satisfaction and faster technology innovation as well as support our organic growth with complementary acquisitions.
For me, it's all about teamwork – how to create the right team mindset and ensure this propels us to continue to evolve as a winning team. Therefore, who better to inspire us with a keynote speech than Doug Howlett, the record-breaking winger from the All Blacks rugby team, he is currently the seventh-highest try scorer in rugby union history and first on the all-time highest try scorers' list for the All Blacks with an incredible 49 tries in 62 tests.
There's little doubt that the All Blacks are synonymous with success. As the best winger ever in the rugby world, who represented the best sporting team in the world and undisputed winning team, Doug enlightened us with some of his top tips to create that winning mindset.
To provide some perspective, when Doug was playing with the All Blacks during 2000-2007, the team had a win ratio of 86%. Across its history, the team has a whole win rate of 76% – an incredible achievement.
When considering the reasons behind his success, his over-riding message was the importance of teams and collaboration. Whether we are in the world of sport or not, his point was that we are all part of multiple teams – work, businesses, supporters, family, friends and gym buddies. All of these teams require you to be the best you can be and, to get there, we have to work closely and better together to get the best out of each other.
The sporting world has dealt with this for a very long time, where they are forced to work together in teams. As Doug explained in his keynote, as a winger, he was on the edge of the pitch. For him to do his job, there were 14 other team members that he relied on to do what he needed to do and finish the job with a try.
So here are Doug's nine key points which, I believe, can inspire all of us:
There is an 'I' in team – what I mean is that for the All Blacks to be the best team, I had to be the best winger and finish opportunities – the props and hookers did their best job and that allowed us all to become the best. This was an important lesson. What are you the best at? I came into an All Blacks environment with three other wingers and I was faster than the three of them. That was my point of difference, and I worked to be the best at that.
Build the team around you – you're the average of the five people you spend the most time with so choosing the team to surround yourself with really makes a difference.
Purposeful practice – we all understand the importance of preparation, and that it builds confidence which then spills over to other team members. The knock on from this is responsibility. If I put you in a position to close a deal, I expect you to do that – and that is where trust and belief starts to build.
Running from deep within (i.e. the gut) – we've heard a lot about data but, if we wait to get that 100% answer, we might miss the opportunity. Sometimes you simply have to trust your gut instinct.
Be a beta – everyone is a work in progress. You transition in life but you need to upskill and continue to invest in education and learning.
Physical intelligence for life – we're all familiar with cognitive intelligence and emotional intelligence but I really like this physical aspect. The fitter you are, the better able you are to deal with tough situations and that drives performance. Don't let those busy schedules allow you to let this go.
Want more/be more – in the All Blacks environment, we were always challenging each other and our environment, team against team to drive to be more, want more, to be the best in the world. If you have that mindset, it certainly changes your mindset.
Show mana – it's an unspoken respect which is brought about by doing the right thing, and the simple things, all the time. It's easy to say but it's hard to nail – to become the person that your teammates can rely on, and be described as 'he's a man of sound mana'. Surely that's something that we should all strive for?
Take the Kaizen approach – winning teams require a constant challenge. Never forget that, when you become number one, the easy thing is to just stay put. If you're static, you become the target – always remember to evolve and change.
Doug's insight really is refreshing and, for me, it's also about creating an environment that people can flourish and deliver great results. And we all have to dig deep at times – especially in the current climate. It's also about embracing the best talent and keeping them grounded to focus on doing the best – which means taking that responsibility of not letting down your team.
It was a truly inspiring session that I believe will pay dividends over the coming months, and inspire my team to exceed the expectations of our customers, partners and their colleagues. As we work towards the collective goal of delivering technology solutions and services that make the complex simple, these golden tips will help to keep us focused on delivering the best.