DOCMAN 10X
GP Clinical Document Management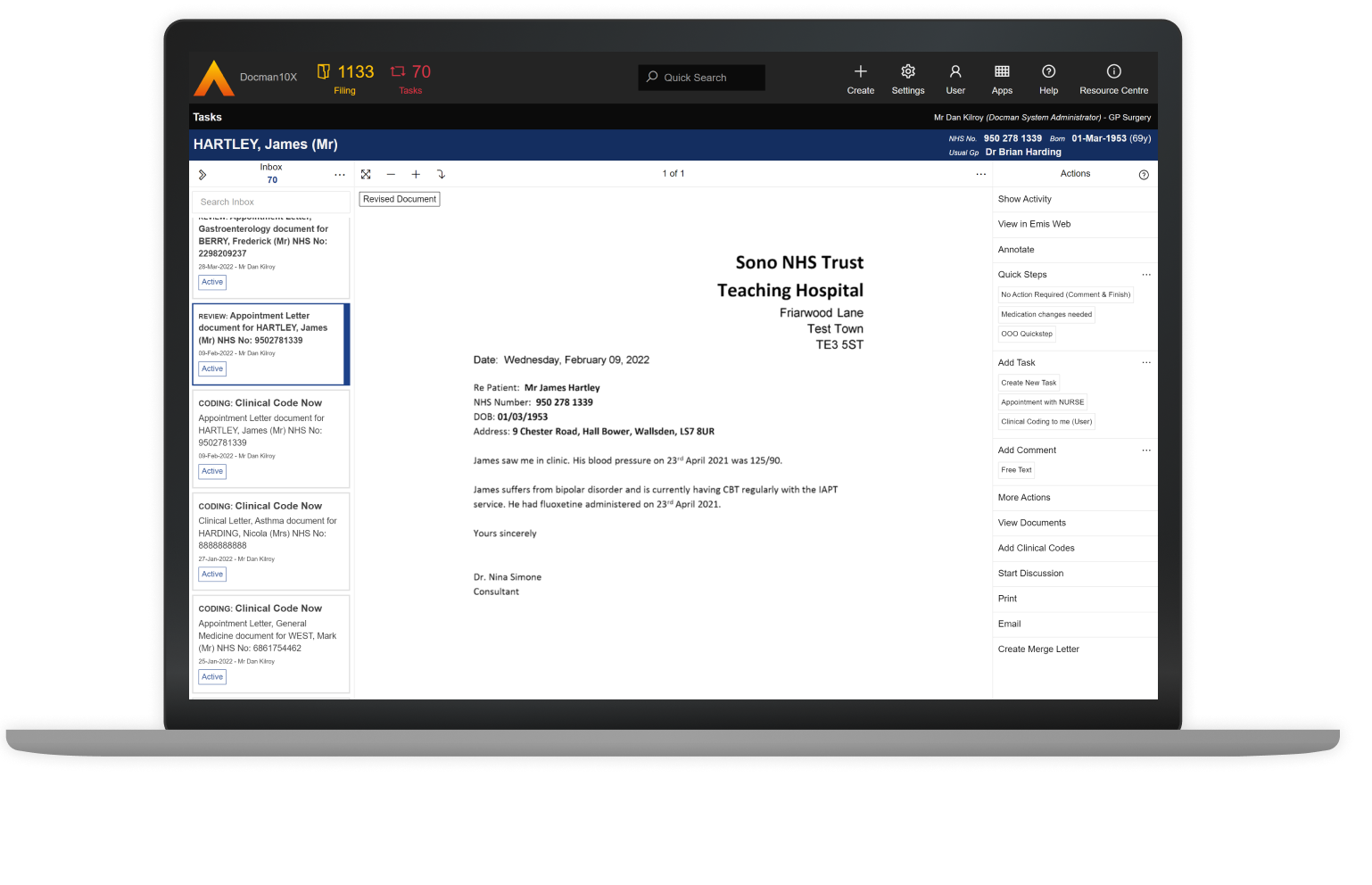 Streamlining document workflow
GP practices have to manage up to 500 clinical documents per day. Documents are received in various formats from numerous care providers. Using Docman10X, We help your process, share and store electronic documents effectively and securely.
We understand and solve your key issues
We build products which are designed to solve our customers key challenges.
Key capabilities
---
Cloud based
---
HSCN approved
---
Streamlined workflow
---
Auditable
---
Lightening document search
---
Reporting & Dashboards
---
Available on GPIT Futures
---
SNOMED coding
CAPABILITIES
More than just GP Clinical
Document Management
Find out more about the powerful features that sit within Docman 10X
How Docman 10X can help you
FEATURES & BENEFITS
Managing records

Our solution Docman10X enables healthcare professionals to manage and workflow clinical documents from anywhere, any time with any device.

Managing inbound clinical correspondence

Docman10X is a Cloud-based workflow management software platform, which helps staff streamline the process for managing inbound clinical correspondence.

Streamlined Processes

Save time

Use resources more accordingly

Improve accuracy

Working Remotely

As a Cloud-based solution which uses the secure and HSCN approved, Docman10X is designed to support staff who work remotely, making it easy and secure.

Cloud based

Access anywhere anytime

HSCN Approved

Secure process

Supports home working

Share documents

Docman10X processes Clinical Document Architecture (CDA) messages for the Electronic Health Record (EHR) and uses the secure and approved HSCN to share these safely.

Supporting integrated care

Share documents

Provide the most up to date view

Growth and performance

Docman10X is scalable solution, which can provide any GP practice with access to enhanced reporting and a full audit trail for every patient.

Providing the information you need

Docman10X has a powerful lightning search feature to help staff find the correspondence they need quickly. Its accessibility through mobile and tablet devices makes it more flexible too.

Lightning search

Find correspondence quickly

Save time

Flexible accessibility

Auditability

Docman10X provides a full audit trail, which gives staff instant access to the document history. This includes reviews, annotations and actions around the transfer of care documents.

Document history

Understand the full picture

Make the most appropriate decisions

Instant access

Cross-organisational working

Docman10X supports individual staff needs by enabling cross-organisational workflow, messaging and tasking. This can be customised and quick steps provided for specific requirements.

Supporting integrated care

Collaborative working

Give a regional picture

Centralise resources

Fully customisable

Document Control

Docman10X is built with our 1 click philosophy in mind and designed with clinical experts to improve clinical document workflow activities within a GP practice. We provide you with the tools to understand an control document workflow in your practice.

Meet HSCIC performance targets

Docman10X is assured against the HSCIC performance targets issued as part of the GP IT Futures contract.

Assurance

Listed on GP IT Futures

Used by 1000's of Practices

Managing over 1 billion documents

Dashboards and reporting

Docman10X is intuitive and easy to use, providing an enhanced reporting suite and dashboards to improve data visibility and improved practice oversight.

Data visibility

Understand the data you need most

Make the correct decisions based on real time data

Improve outcomes for patients

Workflow tools

Docman10X provides comprehensive workflow tools, which enable staff to review, information stamp, redact, highlight, annotate, action and action transfer of care documents and messages.

Manage documents

Add vital information to documents to provide full insight

Keep all comments in one place
CUSTOMERS
Who succeeds with us
Supporting 1000's of GPs across the UK

"Docman has not only saved us time but has increased our productivity which greatly benefits the patients we serve."
— Tracey Dell, GP Manager
Plane Trees Group Practice
Featured resources for you
WHITEPAPER
The Path to 21st Century Healthcare
How technology is shaping the NHS, from the Five Year Forward View to the Long Term Plan.
Read whitepaper
WHITEPAPER
Innovation in Primary Care
The whitepaper has been authored by Dr Zahid Chauhan OBE and explores some of the remarkable innovation, which has taken place within primary care over the last 12 months.
Read whitepaper
HOW CAN WE HELP?
Hi, we are Advanced. Talk to us.